Coco's occasional blog

or the world according to Coco.
Crufts 2013 and other celebrations 12th March 2013
So it's snowing again! Of course not as much here as in the arctic regions where Cousin Jabari lives, just enough to make the pavements dangerous for decrepit Old Girls to walk on....
Our show season started in February - we don't do Manchester because every year it is on a Thursday and teachers and their pets are not allowed to go. We think somebody on the organising committee for Manchester has a grudge against teachers and hounds.
Our preparations for the show season began in earnest with me being taken to the vets so I could have my nails trimmed under a general anaesthetic, possibly the most expensive nail trimming procedure ever at £100. It took me ages to come around and regain my bearings and dignity after the long sleep. I instantly realised that my nails were shorter when they didn't leave their usual trace on the OG's legs when I demanded to know why she'd taken me against my wishes to the vets and abandoned me there. According to her the vet cleaned my teeth after they'd attacked my nails but I've never seen inside my mouth so don't know if that's true. While I was at the vets the Big Toy tackled Tammas's nails. I know this because I followed several trails of blood all over the house from Tammas's left back paw where the BT had cut one nail TOO SHORT. Judging by the quantity of blood he lost Tammas should have immediately been put on life support.
I have only been to 2 shows this year and I know it's going to be all down hill from here.

At the SGHC Limited Show in February I was awarded Best Open Dog (out of 3), then Best Dog, then Best in Show. by that most discerning and amazing of judges, Carolyn McCormick-Smith. You can imagine the universal surprise. The OG was so shocked, she thought she had fallen asleep en route to the show and dreamt it all, so it didn't matter that she didn't take a single photo of me. There were great prizes, the best as far as I am concerned was a 15Kg bag of Purina dog food which I am generously and willingly sharing with Tuppence. I'm less keen on sharing it with Tammas as he never, of his own free will, shares his fattening Royal Canin Energy food with me. I have to steal it when nobody is looking and I get into lots of trouble if I get caught.

There was a very enticing Afternoon Tea Party laid on after the judging at the Limited Show, and you'd think as BIS I might have been Guest of Honour! Was I heck? I didn't even get a sniff of the beautifully presented savoury delicacies as I languished in my crate next to Tammas and Tuppence at the end of the hall furthest away from the food. The BT ate my share of the savouries and the OG ate a jelly on her own behalf and a lovely violet cupcake for Jabari's Jacki. Thank you to Annette Buckley for photos below.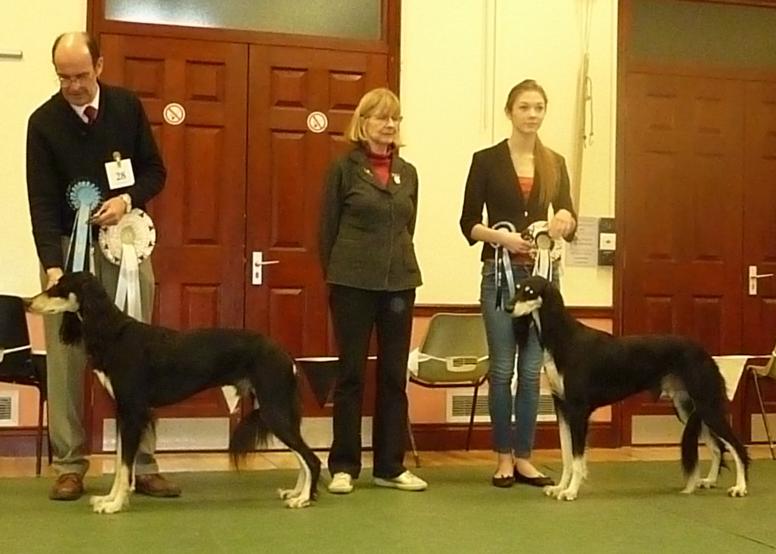 I've just realised that there is an emerging theme to the dog shows I've attended this year and it is CAKE, not SALUKIS. Lovely as the SGHC 90th Anniversary Birthday cake was, I don't think it could top the surprise Birthday Cake at Crufts made by Kathy Webb to celebrate several birthdays including my OG's on the day itself. And I've not been allowed to have a piece of this cake either even though she got to bring the leftover cake home.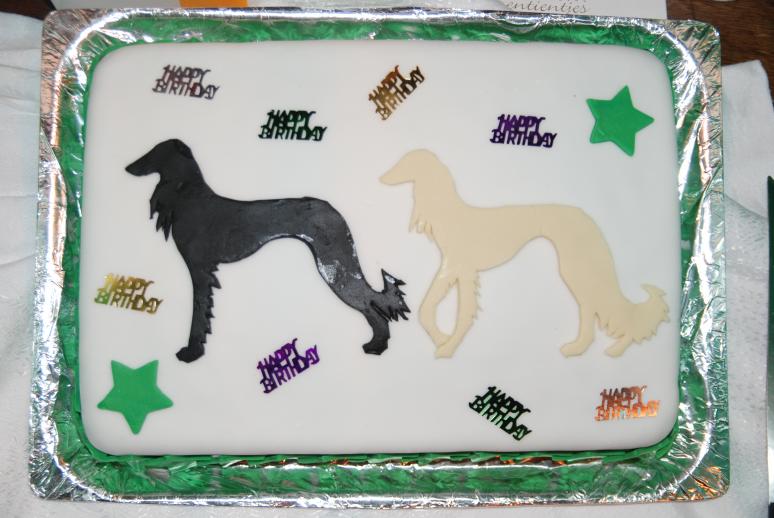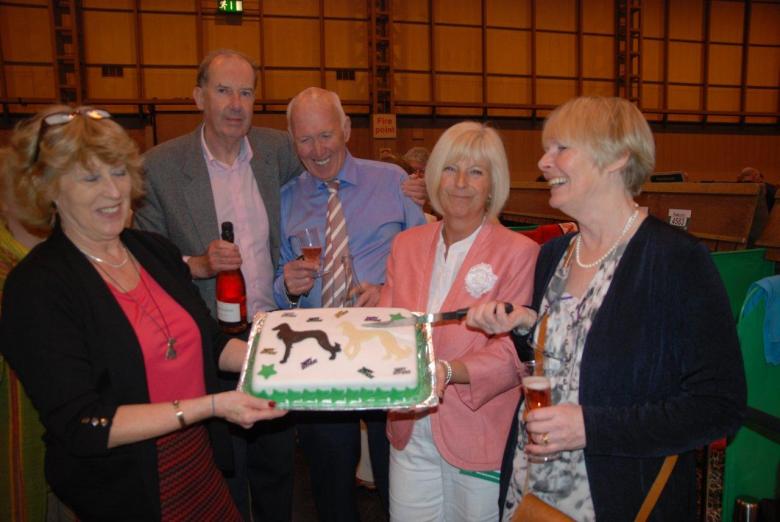 For me personally Crufts was a triumph. The OG excelled herself again this year by yet again entering me in the smallest class at Crufts - only one entry this year in Good Citizens Dog - so I again came away from Crufts with a 1st and 2 Rosettes. (You get 2 rosettes for 1st in GCD or GCB). She blotted my copybook though by entering me in another class - Limit Dog - so no place this year in the Lineup. I did surprise the onlookers, the BT (and possibly the judge!) by coming 2nd in Limit Dog ahead of a Classicus boy in 3rd place so qualified for Crufts 2014.

And how did they celebrate this amazing achievement? Was I feted and treated and made a big fuss of? No, I was abandoned yet again on the bench under the kind attention of Jane Nicholas and Annette Buckley while they disappeared off to drink champagne, fizz and eat cake and chocolates. Did the adoring masses sing 'For he's a jolly good fellow' to me? No, but I heard from my distant bench a fairly raucous rendition of Happy Birthday sung to the OG. Did I get lots of photos taken of me in my hour of triumph? Again no, she'd taken 2 cameras with her with the intention of taking lots of pics. She took none. But she has been sent photos of the birthday cake and herself in her favourite position, with a hand securely wrapped around a glass of fizz.
Thank goodness Peggy's friend took some photos of Georgie, also in Limit Dog, into which I've squeezed myself.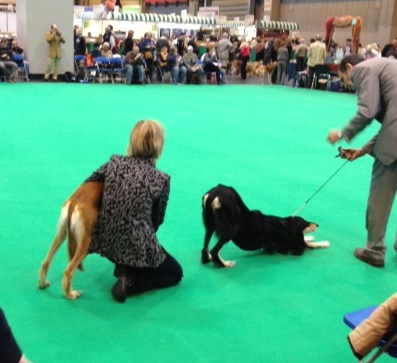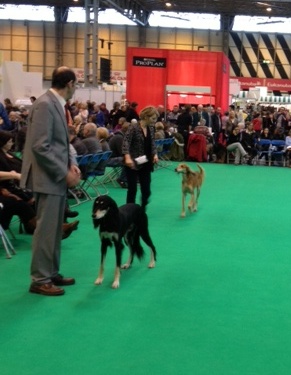 Tammas, like so many other good dogs was unplaced. I can't believe I've allowed myself to use the word 'good' and 'Tammas' in the same sentence. I must be getting generous in my old age.


Congratulations to sister Maddie on another CC from Open Bitch, to Jabari on getting placed in a stupendously large Open Dog class at Crufts and to the remarkable number of salukis who did well at both the NSC Open in September 2012 and at Crufts in 2013.


Hoping for dog-friendly liver CAKE, sunshine, and no traffic at the next show we attend.....


Just because.... 13th February 2013

So it's snowing again which at least makes a welcome change from the persistent rain. I am so bored I thought I'd tell you about an adventure that befell Becca and Pip when I was but a twinkle in Inqi's eye.

Rescue Saluki Becca's encounter with the otter


It was a warmish day on holiday in the Yorkshire Dales and the BT, OG, Pip and Becca were on the homeward route of their pre-breakfast circular walk along the Swale from Isles Bridge to Gunnerside. Pip and Becca were off lead and Becca was diverted by something lying in the rough grass. She wouldn't come away when called and the humans went to see what was so interesting. It was an injured creature that they didn't instantly recognise, could it be a polecat or a mink. Eventually they decided it was an otter even though it was quite a distance from the Swale. They left it and went to seek help from anybody in at the houses at Isles Bridge, about half a mile away.

Fortunately somebody was at home in one of the row of houses and after the BT explained the situation they contacted the RSPCA to report the sighting. All of the party were in great excitement at the imminent arrival of an air rescue helicoptor complete with TV cameras. Their excitement was short-lived as the advice from the RSPCA was to pick up the injured animal and take it to the nearest open vets. The RSPCA's contribution to the rescue was to be the offering of a case number for the vet which would cover approx. £60 treatment! The householder who had made the phonecall searched out a cardboard box and the BT set off with the box and dog towels from our car to collect the otter. The OG stayed with Pip and Becca by the car.

He returned shortly with the injured and bleeding otter wrapped in a towel in the cardboard box. Pip and Becca got into the back of the car, the OG sat on the back seat with the otter in the box on her knee and the BT drove off. While they were still driving carefully and quite slowly through Low Row, a good eight miles or more from Leyburn, the otter quite naturally started wriggling about and tried to escape from the box. In response to the OG's cries of panic the BT stopped the car in the middle of the road and got out to try to help the OG keep the otter in the box. Miraculously the car behind them overtook and stopped, sensing that something was amiss. Deducing that the otter was alarmed by the close proximity of Becca and Pip behind the grill in their car, they offered to escort them to Reeth and the Information Centre there. The BT took over holding the box on the front seat and the OG took over the driving, her first and only attempt at driving an estate car.

Their arrival at the Information Centre caused a bit of a stir but the staff were wonderful. A local lady offered to fetch her secure cat box for the journey from Reeth to Leyburn, a member of staff contacted the various local vets and ensured that the vets at Leyburn would be expecting them even though they were closed for lunch. They said goodbye and thank you to the kind people who had stopped to escort them (and who were the only people with the wit to take a photo of the otter) and proceeded on their way to Leyburn with the otter back on the OG's knee but securely fastened into the cat box.

Another stir at the vets at their arrival with assistants and vets all coming to see the otter. Like the BT and OG, none of the staff had ever seen a live otter before in such close proximity. The BT & OG were completely taken aback by the size, thickness and length of the gauntlets the vet put on before attempting to examine the otter. The vet explained them as being necessary as this was a frightened animal in pain and shock who might bite him as a defence. The poor thing had done nothing of the sort to them protected from its sharp teeth only by a towel and cardboard.

The vet was not optimistic about its chances of recovery as it was a head injury probably caused by being hit by a car, but they were hopeful as it had survived the terrible ordeal of being enclosed in a strange car with frightening interested salukis and driven by an incompetent. They left in high hopes and headed for their favourite pub – The Bridge at Grinton – where they regaled the barman at length about their adventure and had a very late breakfast/lunch.

The telephone call to the vets that evening to check how the otter was doing was not so happy. He had been put to sleep as his injuries were so severe. The vet reassured them that this was a better outcome for the otter than dying slowly, possibly being eaten alive by other animals had they left him in situ. Naturally this didn't stop them spending the evening in tears. Apparently it was a beautiful animal with the loveliest glossy shiny healthy coat and what had seemed like a determination to survive.

They have yet to see another otter on their walks in the Dales and have since that day not had any confidence in the RSPCA's claims to give a damn. They were disillusioned with that organisation well before that infamous television programme!

A note about Becca. When I arrived she was an elderly grumpy old lady, little different from how she'd been when she arrived at 6 years old, except fitter and even more feisty. If you've ever seen the long video on my website of me 'being loopy under the M1' you'll have noticed that although she was quite slow and frail by then I knew better than to get in her way. She scared me! She also taught me how to bark at any and everything. She adored the BT but still wouldn't behave herself. Many were the times when he had to take her home from their local on a Saturday lunchtime and give her a 'good talking to' because she'd suddenly frightened the landlord by barking and grumbling at him. She liked to 'mix it up' with any dogs she encountered which was ludicrous as really she was terrified of other dogs but would irrationally draw attention to herself by barking and jumping about whenever she saw another dog. Walking her was by all accounts an absolute nightmare. The only occasions when she behaved nicely was when she accompanied Pip to dog shows when she clearly recognised she was outnumbered and would slink about trying to make herself invisible. She learned to 'sit' and 'down' and 'stay' by watching Pip respond to all his training, and even chose of her own accord to go into his crate instead of her bed, so when they bought his bigger crate she made his old one her own.

Her one great claim to fame (apart from her thwarted rescue of the otter) was when she won 'Best Rescue in Show' at Rosie's Welfare Day, this was the only time she was ever entered in a show and they were very proud of her. They brought home for a year the most beautiful trophy they'd ever seen. When a version of this statuette came up for sale on the welfare stall some time later the OG practically snatched it out of Daphne's hands and it has pride of place on the mantelpiece.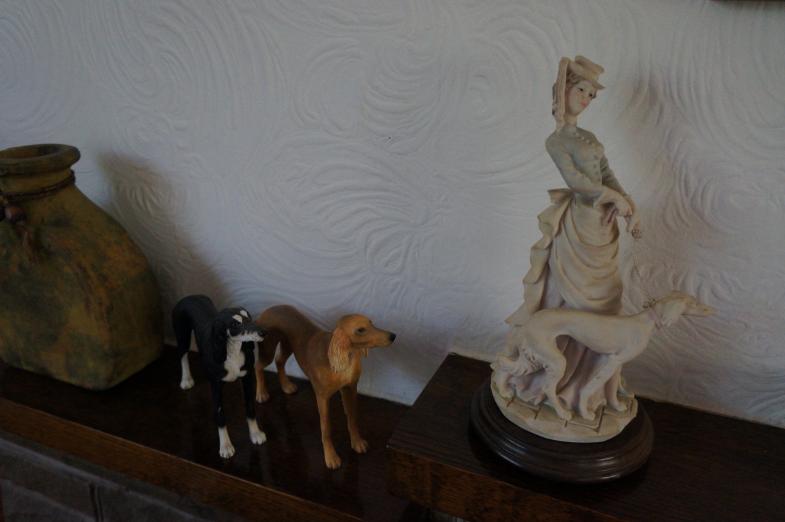 Christmas Greetings to both my readers! 21 - 23 December 2012
Yes, that time of year when we decant from the privations of home to the luxury of fitted carpets at Grandma Joan's and the glorious gardens of Auntie Mariel is almost upon us. We can't wait as I'm sure it cannot possibly be as wet in Kent as it is in Derbyshire.
It has been so bad here that the winter coats have been brought out for Tammas and Tuppence. I am saved the indignity of having to wear one as they are labouring under the mistaken belief that if I am walked without a coat I might burn off some of the surplus calories I have stolen from 2p's bowl and become a little sleeker. Tammas and Tuppence have to wear their coats to try to help them retain their weight. You can imagine how mortified they feel when they walk down the road past hardy gundogs who laugh in their faces and call them 'sissies'. It doesn't help that some drivers even seem to be veering towards them in disbelief when they catch sight of them, pointing at them and demanding to know 'WTF is that?' Luckily for me I only go out after dark with Tammas when his impersonation of a blue and orange striped tiger is less noticeable.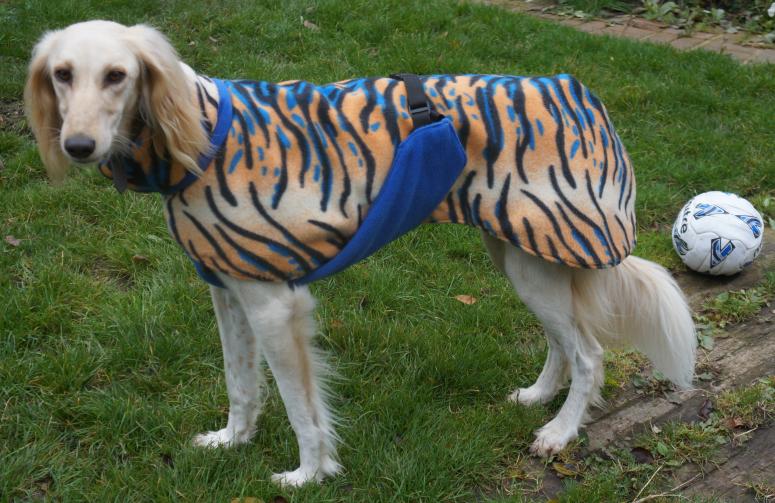 I do feel sorry for Tuppence though, her coat is very warm and cosy but it does look like it's a hand-me-down from a big sister that her mother is sure she'll grow in to one day. As it was bought for me before I got so fat I think it is exceedingly unlikely that it will ever fit her. They did take some comfort when they observed that the horses in the fields have now all got coats or blankets on and nobody calls them nesh.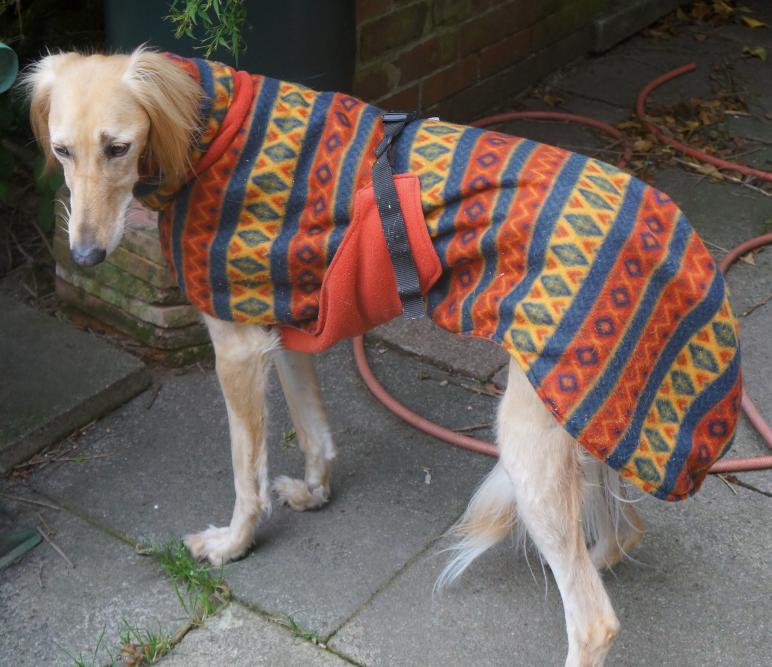 The dire weather has not been helpful in the constant efforts to keep the homestead mud and doghair free, efforts which went into such exaggerated overdrive recently that we were convinced a state visit from the Queen or our pal Jimmi Johnston-White was imminent. Jimmi is the undisputed BIS Supreme Champion Domestic Goddess of Household Cleanliness and Order. Tales of his exploits with his vacuum cleaners and mops leave the OG with feelings of exhaustion at the sheer amount of energy expounded and shame that despite many more years of practice she cannot begin to match Jimmi's achievements. She is definitely a Veteran Beginner by comparison. Nevertheless she has been known to brag that there was a time (before we salukis came into her life) when she held down a full time professional job, raised a child, cooked 4 course meals for dinner parties and still managed to have a home so clean and tidy that she felt comfortable and confident welcoming friends and strangers across the threshhold. If memory serves that time was precisely 7pm on the 5th June 1987 - just before Dandy, one of the cats, threw up on the pristine kitchen floor!

The original Kitchen Goddess is Grandma Joan who taught the OG all she knows about jam - making and preserving. In a truly bonding moment early on in their acquaintance Mother-in-Law (she wasn't yet a Grandma) asked the Old Girl (who was then quite young) how she mananged to keep her dishcloths so beautifully white and clean. The surprised OG who didn't think she had anything to teach her esteemed M-in-L modestly and honestly responded 'I always put a new one out before you come.' Ever since then at Christmas the OG has given Grandma Joan a festively wrapped roll of Wilkos dishcloths.

Back to 2012. Neither the Queen nor Jimmi turned up, but Sue and Mike did. They are wonderful gardeners and are only allowed to visit after dark in the winter months so they cannot see the appalling state we have reduced the garden to. Sue and the OG used to attend Plant Fayres with the same enthusiasm now wasted on Dog Shows, and spent pretty much the same amount of money on buying plants as is now shelled out for entries.

The battle against dog hair is one that we ensure the Old Girl is never going to win. She often grumbles that doghair being a condiment is supposed to be a joke.
When they were deciding which breed of dog they wanted they looked through the Encyclopaedia of Dogs and fell instantly in love with salukis. Salukis were perfect, in every way they fitted their ideal, the dog they had drawn, imagined and wanted without knowing they existed. They read everything they could about our wonderful breed, especially all that the SGHC website had to say. In addition to not being small, yappy, in-your-face, fat or slobbery, salukis were tall, elegant, beautiful, feathered, slim, reserved, quiet, healthy, devoted, relaxed, clean and they did not shed hair! We have done our best to live up to all their expectations about salukis but have collectively failed in just this one respect. The OG has concluded that she has yet to meet the mythical saluki who does not shed hair. She wouldn't mind if we left our surplus hair in the shed, it's the thoroughness with which we layer it on every surface and article of clothing inside that she objects to.
We have a unique situation here as we approach Christmas. For the very first time ever we are ALL collectively in their good books! This is because Tammas finished the show season on a high, coming 1st in PGD at LKA to universal surprise, and Tuppence and I did not destroy the Christmas tree (erected just the day before) or tear open all the Christmas presents under the tree when we were left home alone while they spent the day at the NEC.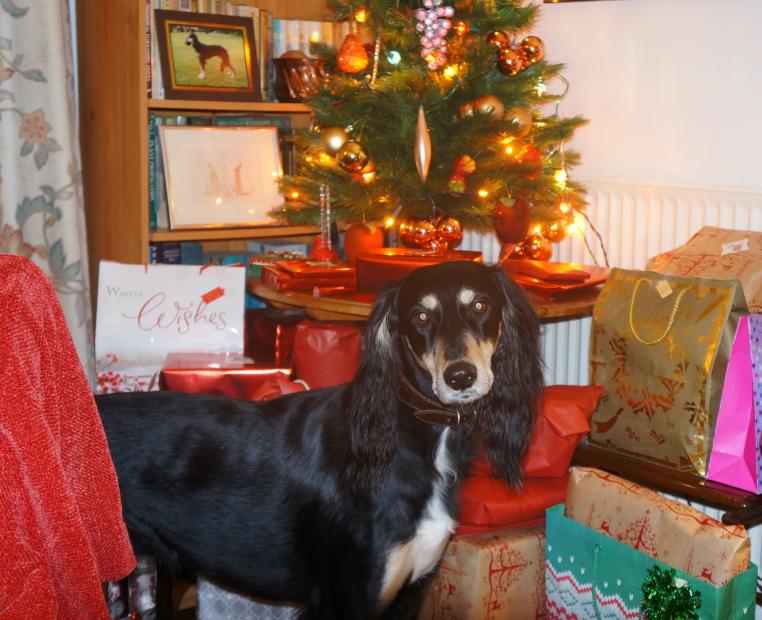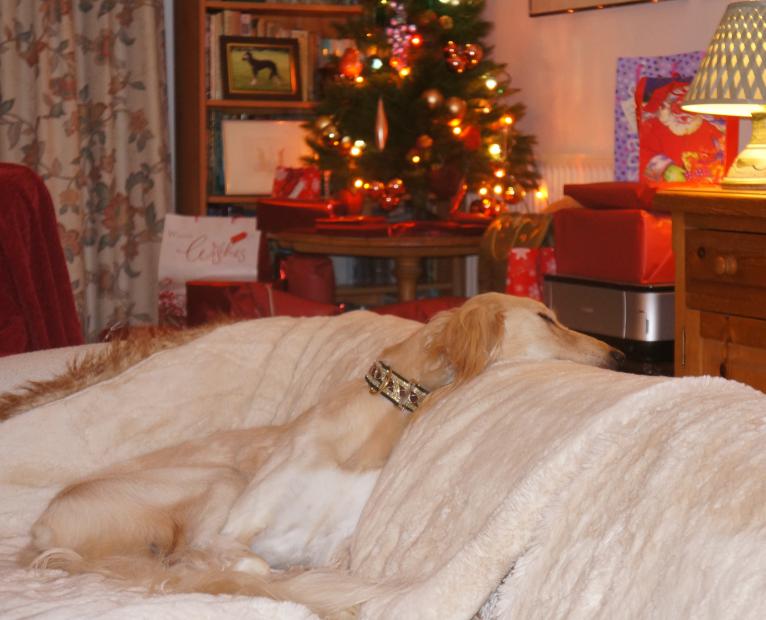 Our reward for being so good was to be given our Christmas presents (a new collar each) early. I am delighted with mine as it has 2 rows of studs and makes me look like a hard dog, not to be messed with. Tuppence's collar has a very soft fluffy lining so she's quite happy, but Tammas came off worse as his is blue with a jewelled flower on it (ideal for pulling ear feathering out) and makes him look even more girly.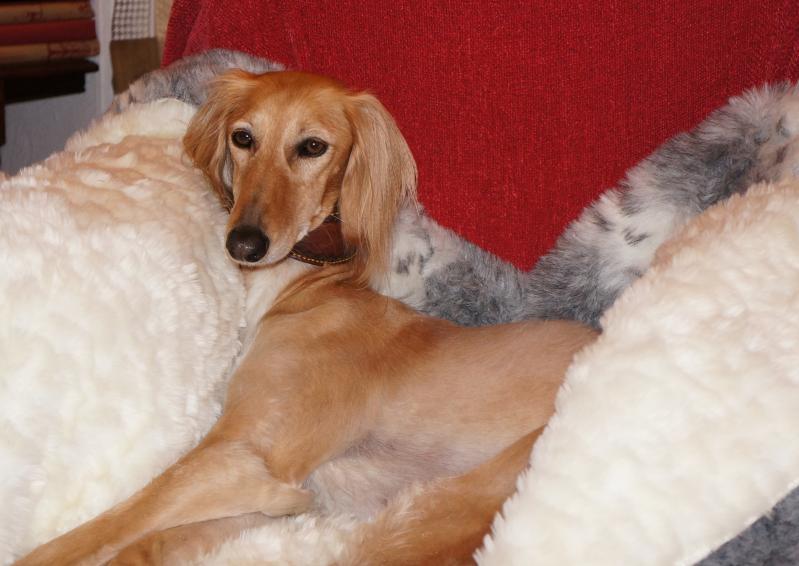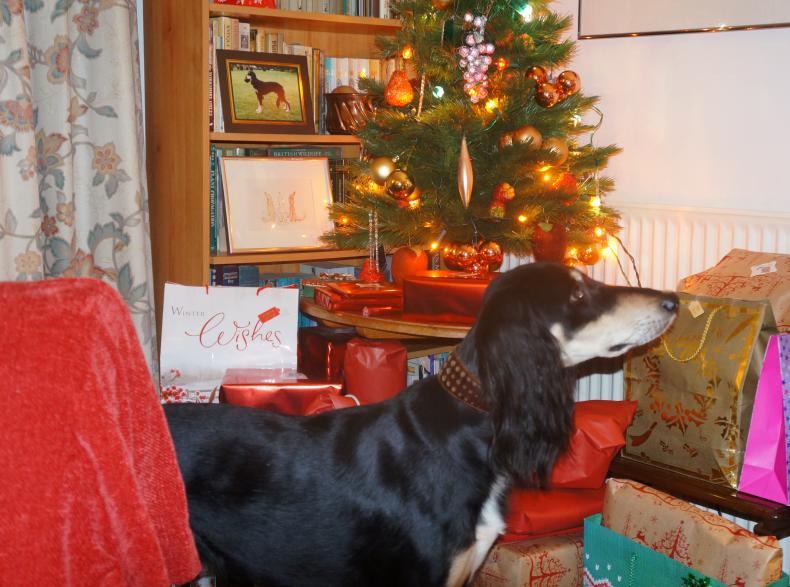 Photos are of Tuppence in her new nest, and another one of me in my old collar.

The observant amongst you may have noticed that the same fake Christmas tree features in our Christmas photos year after year. This is because the original real Christmas tree that used to live in a pot and came in annually for many years eventually grew too big and had to be planted out at the bottom of the garden.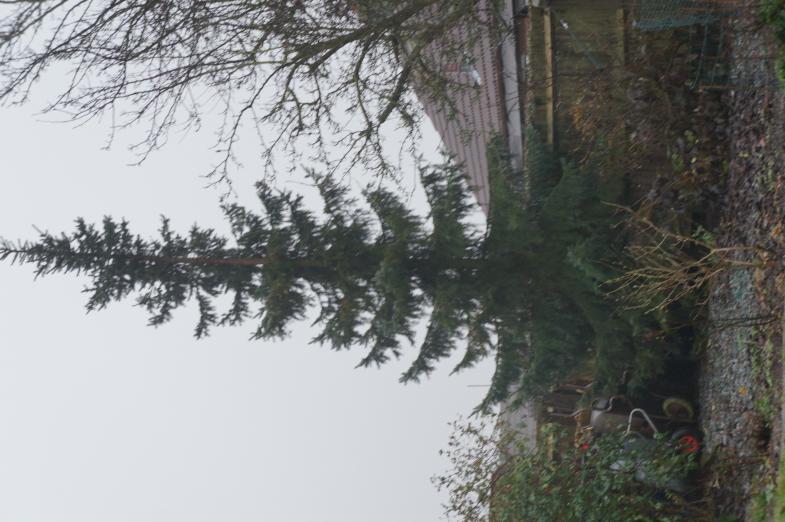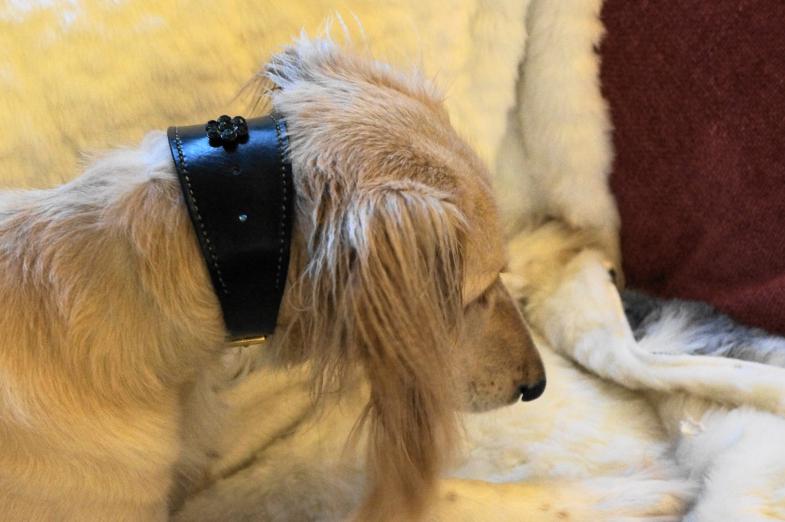 photos: tree - sideways demonstrating its immobility & a wet and bedraggled Tammas wearing his new collar

We don't normally get Christmas presents because they don't believe we actually understand about Christmas – even though they expect me to write a Christmas blog every year and have been making derogatory comments about how long it is taking for me to get off my fat arse and write it.
They also brought another 2 new fluffy throws back from LKA and Tuppence has commandeered one for her favourite armchair and made a snug nest for herself. She is threatening to hibernate in it for winter if the rain doesn't stop.
Well I must finish now and go and help the OG pack her clothes for the trip to Kent. It should only take a couple of hours trying to find smart enough clothes she can still get into. At least the underwear choice is straightforward - she always saves her best knickers (which means most recently purchased huge Sloggis) for trips away and more bizarrely Dog Shows even though she's never been able to give a coherent answer to the question Why? The mind reels at wondering who she thinks is going to notice her nice new knickers under 13 layers of coat and jumpers, without even considering who would want to!

On that preposterous note I wish you a great Christmas and a happy, healthy and drier 2013!
Happy Birthday to Me! 14th November 2012
Today is my 4th birthday which officially makes me a grown up. Nobody seems to have noticed so I have had to take matters into my own paws to make the day special. It started off so well when for the first time in a couple of months I managed to make the puppy (who is actually over 2 years old now) squeal. I achieved this by cornering him in the kitchen at breakfast. When the Old Girl came flying through the kitchen door in response to the squealing and banished me to my crate upstairs I told her it was all her and Tammas's fault as she had inadvertently left the backdoor ajar and the stupid boy had come back in from the garden where he normally plays while Tuppence and I eat a leisurely breakfast before he feasts in splendid isolation and I chose my favourite spot on the sofa. I do not expect to be disturbed while eating, especially not on my birthday, and told him so in no uncertain terms. She said (among other unrepeatable remonstrations) that she was 'profoundly disappointed in me'.
Later in the morning she drove Tuppence and I to the field (my birthday treat and a first for a school day during the day but as it's too dark now in the evening to go after school and the meagre rent they pay has not persuaded Joyce to install floodlighting, hopefully one to be repeated on a regular basis). At the field I spent a happy half hour making a nuisance of myself barking through the fence at the people next door who were burning garden waste. I was duly informed that I was there to exercise and that she would be 'deeply disappointed' in me if I didn't at least have a good chase around with 2p and get very muddy. Naturally we obliged. After an hour at the field we got back into her car and I spent much of the journey home barking at dogs on the pavement as we sped past, standing up instead of lying down and blocking her view of the cars behind who were travelling very close to get a better view of Tuppence and me. I was told that having the backseats of her car reconfigured with costly grill and bedding was MY birthday present so we could travel more comfortably on future trips out with her and since our return home no further treats have been forthcoming. So much for Happy Birthday Coco.
Non-birthday stuff
About a month ago Tuppence had a very novel experience. She was showered on a Wednesday evening and she hadn't been rolling in fox poo or burying herself in mud to such an extent that it merited an unscheduled shower. Tammas and I waited with baited breath for our turns and nothing happened. Prior to the shower the Old Girl had spent hours trying to remove some of the fluff which has invaded 2p's coat since she was spayed and the only conclusion 2p could arrive at was 'I'm going to a Show! I'm going to be important for a day'. The next day dawned and Tuppence was almost relieved when nothing happened. She seems to have acquired the OG's aversion to being observed. The Big Toy disappeared early morning and didn't take her with him, we walked and mooched about as normal. Perhaps the BT had just wanted some female company in the shower. When he got home everything was as normal – chaos. And then he took 2p out in the car on her own which you can imagine did not please me. I moaned long and hard at being left behind with Tammas and the OG. The BT and 2p did not return for hours and hours. 'They've left home for good' said Tammas but the OG didn't seem perturbed. I demanded answers from 2p as soon as they returned. She was very excited, she had been 'the star' of a seminar on beagles and salukis and everybody had wanted to touch her and look at her. And she hadn't been sent back to the bench or kept in a crate. Naturally we didn't believe a word of it and she did eventually admit that there had been other salukis there including my Champion sister and my breeder and my brother. I was very put out not to have been invited and wondered what 2p had got that I hadn't. It would seem that I am not an example of how small a saluki can be and still be within the standard. The organiser (my erstwhile friend Adele) had promised that they weren't inviting 2p as a 'bad example' for the examiners to rubbish.
A few days before Tuppence's adventure in Sheffield I too had a truly novel experience. You'll have read about it in emails from the OG or in the national press (well the dog press really - in the critiques for SWKA). I almost got the Reserve Dog CC and a stud book number. According to the critique I even 'pressed hard' for it. (Note to self – must improve my pressing and ironing skills, it's the shirt sleeves I find difficult). But I didn't get it, the judge unhappily gave it to a Champion of venerable age whose owner didn't appear to want it.
A week later I returned to form and won –you'll never guess – oh you did - yes - Special Beginner – again – at SGHC Champ show and the following week at my last Champ show of the year I achieved the year's low point by getting chucked from Limit Dog by Jerry Robertson who has been promoted to the top of the 'never ever again list'*, a position for which he had some serious competition. *– even if it's a judge under whom my breeder has again offered to and then arrived too late to show me!' I guess if even your own breeder doesn't want to be seen with you, you've got to be pretty awful or maybe even 'that bad'.
On to happier things, our daily walks with the OG have now been split so I don't have to walk with Tammas anymore, just have 2p to keep me company and our walks are much calmer now. Tuppence isn't really interested in any of the small dogs we encounter although she's got an eye for the big boys and gives them lots of come hither glances. My only interest in small dogs is as fodder and by the time I've calculated if I've won enough money in the stakes classes to order, say, the toy poodle from the rotating snackbar menu we pass each morning, I'm on to considering the next option of Yorkshire Terrier (way too much hair, not enough meat). I tend to ignore the bigger macho boys, discretion being much the better part of valour, unless their stupid owners let them run off-lead at me and 2p, both on short leads, when I have been known to jump about a bit and get the OG all hot and bothered, tangled up in the leads and swearing under her breath at other incompetent and ignorant dog walkers. Of course she's now getting twice as much exercise as the rest of us put together (and she needs it) as she repeats the same walk she's had with me and 2p with Tammas. I complain loudly at the window as she disappears down the drive with him as if I've been abandoned and mistreated and the world is coming to an end, but as soon as they are out of sight I raid 2p's bowl for any leftovers and make a beeline back to the settee to snuggle up with 2p and try unsuccessfully to wheedle from her the last bit of her dentastick, having inevitably inhaled mine before Tammas and OG are even through the front door. I enjoy a snooze dreaming about all the squirrels I'm going to catch on the day I slip my lead and get to chase them through the wood. They won't look so smug then.
September 24th 2012 Tuppence has a traumatic experience and I have a few gripes.
Well, would you believe it, you wait almost 6 months for a blog to come along and then along comes another in less than a fortnight. I think it's because the weather is even worse than normal. It is tippling down outside the French windows and not fit for a saluki to set paw outside. Of course I've insisted on checking that it is also raining outside the back door and hoped for better weather at the front door but didn't find it. I also seem to have been surgically attached via a short lead to the Old Girl's wrist (along with the mop) which is severely curtailing any entertainment I might otherwise have enjoyed bullying Tammas. It is very boring having to trail after her performing minor household chores and Tammas jumps into my seat every time we leave the room so I have decided that the best way of dealing with this is for me to sit on her on the sofa and address myself yet again to my very select readership.
Back to Tuppence and her traumatic experience which had nothing to do with me but was related to me at length on Saturday afternoon on my return from Driffield. 'OMG' she cried as soon as she saw me, 'don't ever leave me alone with her and Tammas again!' 'Why not?' I enquired. 'I think she is trying to kill me, Tammas and even possibly herself,' 2p replied . Now while I am at best ambivalent about Tammas and wouldn't mourn long and hard over his demise, I am actually quite fond of the OG and positively devoted to 2p, so I was alarmed enough to ask for further details. I will precis the very long and rambling account given by 2p complete with several distressed interjections by Tammas as follows:
It was a sunny day across the country. They'd had a miserable start to the day because the Big Toy and I had departed (3 times – he had to come back twice because he'd forgotten several essential items) early for Driffield. 2p and Tammas eventually stopped looking for us and moaning about being left behind after an hour or two and the OG got on with all the jobs she can't do when I'm permanently attached to her and seemed quite pleased with herself. She knew by lunchtime that I'd done no good at Driffield as she'd seen a photo on Facebook of the dog line up and I didn't feature in it again. She'd tried ringing the BT but his mobile is programmed never to answer hers. So she decided to take 2p and Tammas out. So far so good. 2p found it a trifling unsettling that instead of just having her lead put on she was, through some acrobatic manoeuvures, 'dressed' in her car harness. Getting Tammas into his was even more challenging but eventually they were through the front door and this is where their real nightmare commenced. The Old Girl unlocked the Proton and tried to persuade 2p and Tammas to get in. Tammas had never been in it and had no understanding of the etiquette of sharing a back seat with anybody else. Once his seatbelt was on he moved over to the space where Tuppence was supposed to sit and even when she was in and safely belted up he obviously felt more comfortable sitting on her. They both looked around for the BT (otherwise known as the DRIVER) and were bemused when the OG got into the driver's seat. Surely she wasn't going to drive... Where on earth could they be going that was so important that she was going to drive.
(An aside from me, a little gripe.. we go in cars lots of times but you never tell us where we are going so we are always in a state of anxiety about whether we are going somewhere fun or somewhere not so nice, how long the journey will be, should I have gone to the loo first..., will there be anything to eat where we are going, will there be cosy chairs to sleep in, will there be other dogs, will there be anywhere to run... I think we are very trusting to go along with you without any fore knowledge of what will be happening next.)
Naturally Tuppence assumed the worst – they must be going to the vets and she was convinced she was right when the car turned along the vet's road. She and Tammas were by now lying very low on their backseat hoping to be invisible or that the OG would forget they were there. Imagine her temporary relief when the car continued past the vets... Now the OG is a very experienced and reliable passenger or back seat driver, it's a real wonder that the BT ever travels alone anywhere safely without her constant stream of advice, instructions and little shrieks of alarm if he fails to either notice another vehicle in close proximity or doesn't respond as quickly to her advice as she deems necessary. But she is not a confident driver and restricts her excursions to a 4 mile perimeter of home. Tuppence's antennae realised that the OG had soon driven beyond her comfort zone. What would happen? The tension in the car was rising again, there were cars getting too close behind them, the OG was muttering 'we're in a 30, get back you moron', there were traffic islands to negotiate where the only person who was bothering to give any indication of which direction they were intending travelling in was the OG. 'Indicate' is one of her favourite and most frequent refrains to the BT or any other inconsiderate idiot on the road. And then they had to turn right across the traffic at traffic lights which never go to green on the right arrow.
Tuppence recognised where they were and her heart sank at the even more horrendous challenge ahead – crossing via a steep dip in the road the traffic racing up the A610 out of Nottingham and then trying to park in Joyce's very steep exhaust and bumper grabbing driveway. They were all in a sweat when they finally got out of the car. Tuppence and Tammas did have a great chase to let off all that pent up angst, relieved to still be breathing and intact. The OG was less sanguine than them as she knew something they were too short-sighted to appreciate immediately. It all had to be done in reverse if they were ever to get home again. Somehow they managed it but Tuppence has promised to be a very good girl and even offered to pay for her own NFC entries if it would mean she never has to be submitted to such a frightening experience again.
Another of my gripes
Have I mentioned that the weather is atrocious, the summer was pretty awful, the longest days went by unnoticed due to the persistent and enveloping cloud cover. The long nights are back which means we are now being walked in the dark in the evening, always an unsatisfactory situation, especially of a Friday night when the Greater Spotted Ilkeston Warbler comes out earlier than usual to fill the night air with his tuneless song. The Lesser Spotted Ilkeston Warbler is very rarely encountered even midweek.
And another gripe
Yesterday I was actually quite pleased to discover that Mrs Patricia Wells still liked me enough to give me 1st in Limit Dog and Special Beginners Dog and Reserve Best Dog at the NSC Open show. I say 'still' because it was only 3 weeks ago when she gave me 1st in AV Special Beginners Dog at the South East Hound Club Open show, an enterprise I am fairly confident my Big Toy has no 'official' connection with. It seems to be universally believed and voiced that any limited success I have at NSC shows is down to my Big Toy being Show Manager rather than down to me, which is very insulting and hurtful to a saluki of my calibre and sensibilities. (And ignores the fact that I was handled in the Dog Line up to Reserve Best Dog by somebody else because the BT was occupied mishandling Tammas). Even the Old Girl was too busy taking photographs of other salukis to find time to say 'congratulations' or 'well done' to me or the BT, which I think is a bit mean as neither of us have multiple chances to feel proud of ourselves. It would have meant a lot to me if anybody at all had been pleased for me. Related gripe: Tammas was 1st in his only class and I have to agree that that most definitely and obviously was a) because his handler was the Show Manager and b) because Moolabeanie Diamond Flash didn't arrive.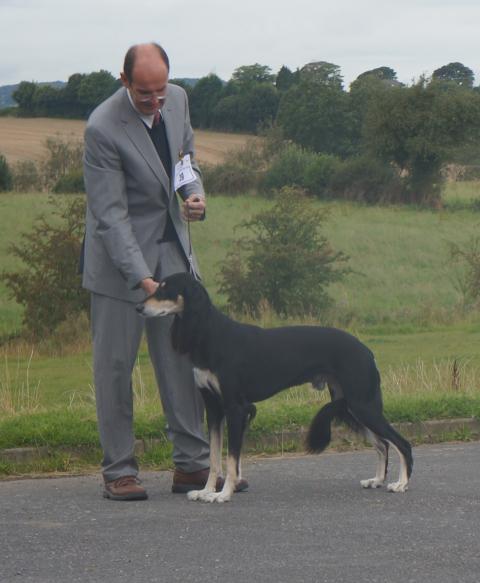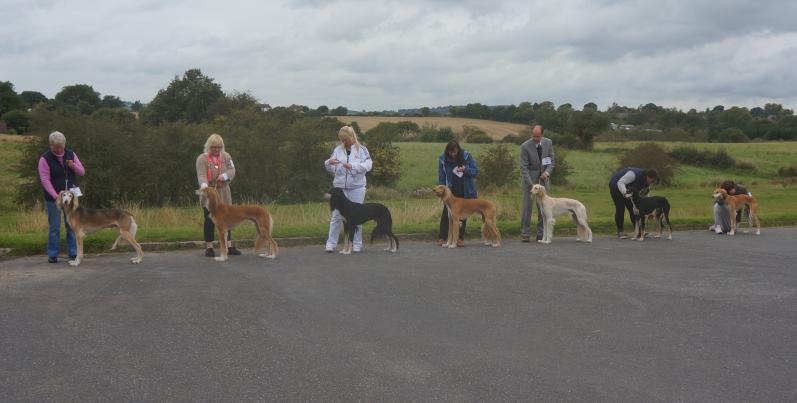 Sunday 16th September 2012 - A Testing Summer

Yesterday marked for us the end of summer, the first full day of Ch. Glenoak Jabari's much admired and deserved reign as Champion, the very sad news of the retirement of Queen Affrika from the show ring and Tammas's exit from yearling classes on his second birthday.

This summer has been a testing time for the household. They've been testing out new diets for Tammas and Tuppence which mostly included trying to learn how to live with feeding 2 dogs raw minced tripe. Tuppence and Tammas absolutely love it. In my opinion it is vile and I cannot bear to be anywhere near them when they are devouring it. Unfortunately neither can the OG or BT who both gag as they try to serve it up. It has not had the desired effect of putting any weight on either 2p or Tammas and the stench combined with the reinstated 'leadership' rule of appearing to eat something out of each dog's dish before the dog gets the food has tested their commitment to tripe to the limit. Tripe is Test Failure One.

Test Failure Two relates to the other reinstated 'Leadership' rules from Jan Fennell's The Dog Listener . Basically the people are supposed to be in charge and should demonstrate this in 4 ways: 1) eat first, 2) go through doors etc first, taking the lead on the walk (hunt) 3) ignore pack dogs (at least 5 minutes) until person is ready to engage with them and 4) decision making re protecting the pack. The OG has read this book several times, the Big Toy is still half way through his first reading of it despite the fact that it's been in the house since before Rosa arrived almost 10 years ago. This could have something to do with it being Test Failure Two, but the overwhelming reason it is not working for them is that I have read this book as avidly as the Old Girl and am word perfect in how to undermine their feeble attempts at leadership.

Let's take for example the 5 minute rule. It doesn't really apply with the OG as she is always there, rarely out of sight, and as she is taciturn to the point of rudeness, some might say, we have never expected her to greet us or speak to us, the best we can hope for is a muttered 'shift' if we are sitting in her seat. But with the Big Toy it's an entirely different story. He comes and goes at will, often disappearing for hours on end. Of course we all get very excited when he comes home and there are strenuous efforts from Tuppence and I to knock him over when he comes through the door. Tammas doesn't engage in this greeting behaviour as he has learnt through bitter experience that I object strongly to him coming between me and the man. Under the OG's direction the BT now tries to go directly to her and greet her, avoiding eye contact with any of us, not saying anything to us and turning aside from our lunges at him. He has to wait at least 5 minutes before he can even acknowledge our existence and then call us to him. Well, of course by then we are in a big sulk and have decided to teach him just what 'ignoring' means. I engross myself in something much more interesting than him - a bit of fluff on the floor (who am I kidding - a huge ball of fluff) or a loose thread or a fly at the window or even Tuppence - and sit with my back to him and play deaf when he eventually calls me. I have passed on my wisdom to Tuppence and Tammas and all of us will only deign to recognise him and forgive him for ignoring us if he offers us a bribe of a special treat. Three - nil to us I think! I so do not think Jan Fennell had wily salukis in mind when she came up with her rules.

Nor are we conned into believing they are leaders because they try to make it look as if they've eaten all they want from our food bowls before we are allowed to eat. For a start we watch with complete concentration all the minute movements that go towards filling our bowls with kibble, roast chicken, tripe, pork pie, gravy and cream and never once have we actually been given a chocolate chip cookie (him) or a Trebor mint (her) in our food. We know they only waft these things over our bowls before eating them. To convince me they had eaten their fill I would need to see her eat 6 forkfuls of tripe and nothing from her own plate later. Like that is going to happpen.

Test Failure 3 has been the campaign to find the Championship show at which I would gain my (and the Owen household's first) Stud Book Number. The plan was to enter me in Open Dog classes where only 2 salukis would show up or Limit Dog classes where only one saluki would show up. It failed miserably despite much number crunching and the OG contrived to enter me in the largest class whichever one she plumped for, resulting in the brilliant mailshot from Ch Glenoak Jabari JW ShCM published below:



To Mr Coco Owen 7/7/12


Have you been deprived of a stud book number and it wasn't your fault?

Are your staff truly incompetent and ruining your glittering show career?

WAIT

You may be entitled to compensation.

We, the only firm specialising in Saluki Law, can confirm you are entitled to one giant bag of gravy bones, one giant bag of Markies and a new football (at the very least).

This is a no win/no fee service brought to you by Thistle and Jabari - experts on Saluki Law and most other things.

Obviously if you win your case, we will expect a few gravy bones next time we see you.

Remember - our advice is totally free (whether you want it or not)!

Test Failure 4 has to relate to Tammas and their complete inability to locate an ounce of maturity in his hairy frame. He is oblivious to the fact that he has been described as THAT BAD that he shouldn't be shown for a year or two and doesn't seem to have noticed that he has stopped going to shows. I have been blamed in some quarters for his failure to gain weight on the basis that living with me makes him so tense he's always on edge. The OG says I keep her on edge too but that doesn't stop her putting on weight. Admittedly the tension between Tammas and I exists and sometimes it feels like we are living in Dog Borstal with cries from the olders of 'Dog In' or more likely 'Don't let him out, Coco is already outside'. The purpose of living by the 4 rules is to try to reduce the tension between me and Tammas so that I don't feel the need to be his minder and can trust them to be good leaders who keep him in his place. The most effective 'weapon' in the OG's arsenal (not mentioned by Ms Fennell) is a well aimed squirt from a handy toy water pistol at whoever happens to be challenging her authority - she's very good at finding the BT's bald spot.


Back to Tammas - he may be no good in the show ring but he's one hell of a swallow chaser by all accounts. Photos below taken at Lisa and John Hudson's Fun Day (from which I was excluded!). So I missed seeing the lovely Peggy and am still in a bit of a strop about that.


Photos taken by Annette Buckley and Renata.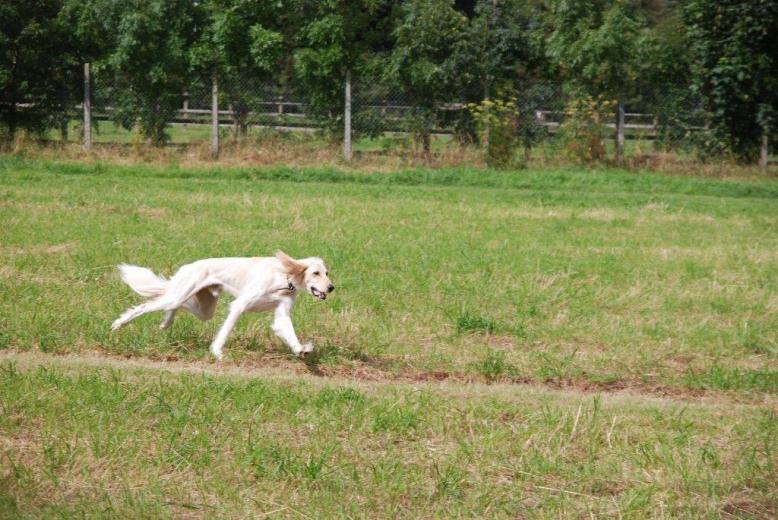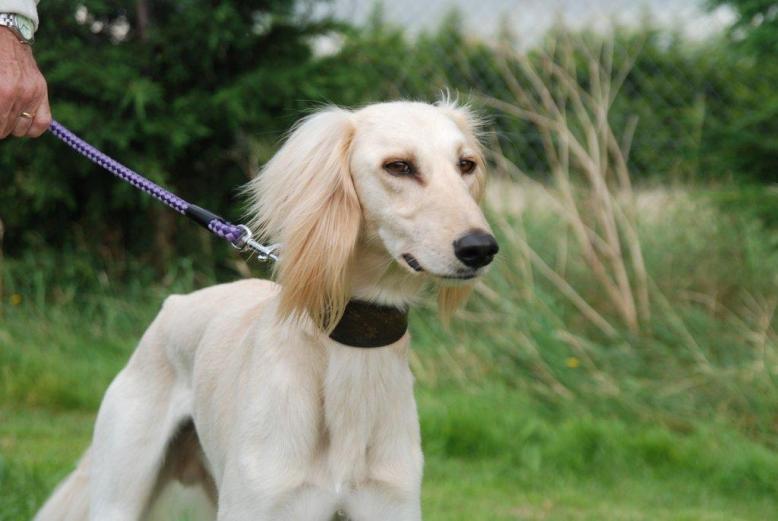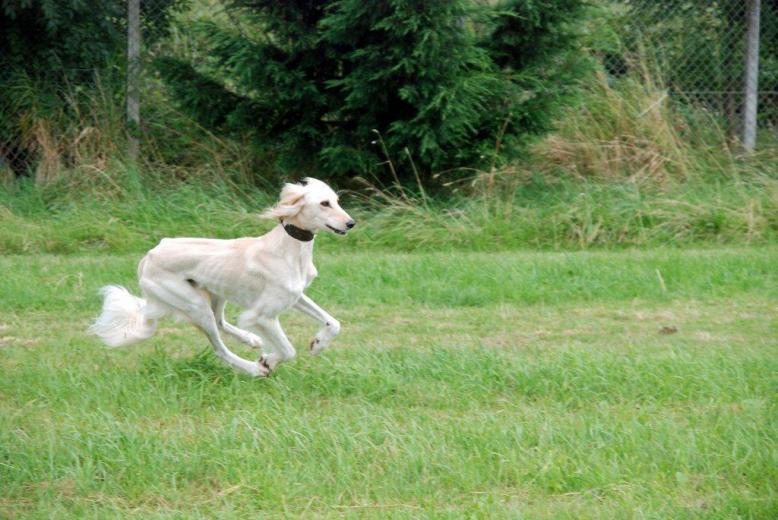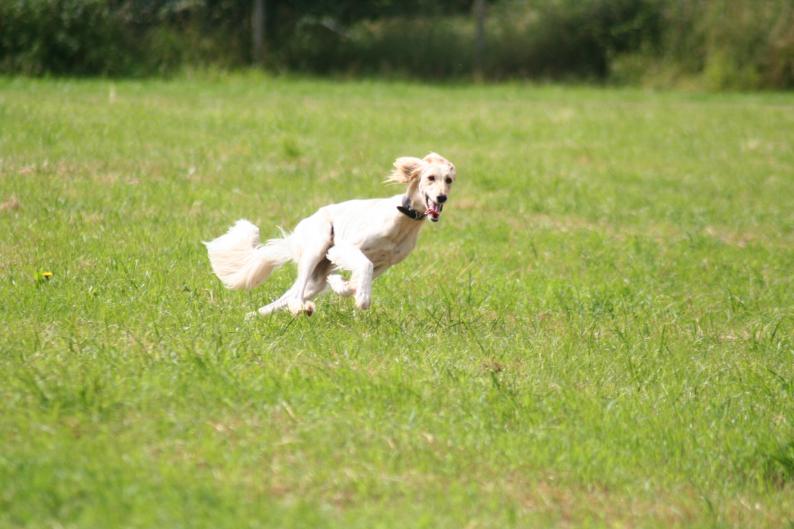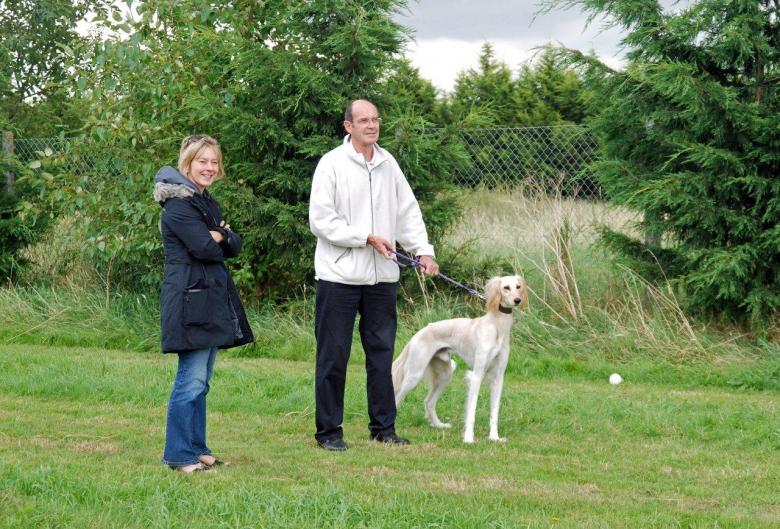 So, almost 6 months since my last blog, is anything else new? No. Our activity levels declined in direct proportion to the rising obsession with the Olympics and Paralympics and Tennis which swept over the household. The immediate legacy for me and the OG is an increase in weight and reduction in condition.

Yesterday we also learned that Auntie Mariel was in hospital having slipped from her chair en route to the dentist's and broken her hip. We are delighted to report that she is in her usual good spirits, making good progress and hopes to be back in the comfort of her home tomorrow under the excellent care of Carers Ruth and Emily whose wonderful nursing skills have been very highly commended by the hospital staff. Auntie Mariel is a bit miffed that despite having a 2 hour operation under only an epidural to replace her hip, she managed to sleep through most of it and was not able to direct operations with her customary zeal. The least said about Uncle Chris's driving and braking skills which somehow led to the fall the better, as we are certain that this most devoted of husbands has already had a few choice earfuls! What a remarkable couple they are. We love, admire and honour them both and that is not just because Mariel has always maintained the best gardens in the world for salukis to play in, nor because Chris is the best (male) cook we've ever met and has the best wine cellar in the universe. Just to be clear, salukis do not drink champagne and wine, that is the OG's forte, but we do so enjoy Uncle Chris's generosity with the beef, lamb, ham....



Friday 23rd March 2012

Last week on the 15th March Tammas ceased to be a Junior Dog and at 18 months old lost any excuse for being a naughty boy in the showring or at home. I wish he'd stayed a puppy instead of growing into a boy almost as tall as me. You won't believe me when I tell you that Tuppence finds him more attractive than me, and excitedly tries to hump him! I have been advised that really she is trying to dominate him and return him to his place at the bottom of the food chain which he has vacated because they've been unsuccessfully trying to fatten him up.No photos were taken of his 18 month birthday or of our trip to Crufts because the laptop died in late January and there is nowhere for photos to be uploaded. None were taken of Tuppence's 2nd birthday at the beginning of January either but that was because they forgot. Luckily for us lots of wonderful people took incredible quantities of photos at Crufts and some of those which feature Tammas and I and our nearest and dearest friends and cousins can be found on the new Crufts 2012 photos page which lives just above my blog on the webpage. The OG is hoping that copying other people's photos does not amount to stealing and that she won't end up in court.

The first 2 months of 2012 have not been a happy time for us and some of our friends. The absolutely worst news is that our friend Maureen Stenson, through whom we rented the fields, died very suddenly in early February. Maureen was a very special woman who loved animals with every bit of her, especially her ponies and dogs. She was known to be the woman you went to whenever any animal in distress needed rescuing or help and she will be very missed. The OG attended her funeral which was standing room only with so many people there. Maureen was brought to the church in a beautiful carriage drawn by 4 exquisitely beautiful black horses and the service was very moving. We are all very sad. This bereavement was shortly followed by the news that the OG's favourite aunt Iris Burrows was also very ill and she died late February. Her funeral was on the Friday before Hound day at Crufts in the beautiful church at Bottesford where Aunty Iris had organised Flower Festivals for many years. She was the artist in the family and an amazing gardener. Again she will be very missed by Uncle Bill and cousins Douglas and Andrew and her lovely grandchildren as well as her friends.

As a consequence of Maureen's death we have lost access to the 18 acres of rented fields but as we hadn't been for some time because of Tammas's addiction to crossing the river and refusing to come back, and Tuppence's newly discovered interest in train spotting, it was only me who was directly affected. Happily they have now found somewhere else to rent to let us run off lead a few times a week. Tuppence is complaining because no trains run anywhere near the 2 acre field at the bottom of Joyce Whiting's garden and Tammas can't find any water anywhere in which to leap, but I think the free range chickens, safe and secure in their own part of the garden, are very entertaining and more than make up for the loss of the boggy bit at the old fields. I also enjoy having a bark at Joyce's 5 pointers - all boys - who watch us as we walk through their garden to their field. An added bonus for the Olds are the superb fresh eggs which they've brought home for their tea after the evening visit. Joyce and Des are dog people through and through, their German Long Haired Pointer was Reserve BD at Crufts this year and Des actually judged the GSPs last year at Crufts. The field is very well fenced and hedged (although 2p is determined to find any route out), it doesn't flood and has already been mown so there shouldn't be anything stopping us having a good run and play. Of course I'm not allowed to run with Tammas (in case I beat him up) and 2p is out of sorts because she's had her latest delvosterone jab and is refusing to play or run unless I agree to her hanging on to my tail, so Tammas usually just plays in the field with balls and the OG while the BT takes 2p and I for a walk and then we swap over.

January ended on a bad note, with my laptop ceasing to work. The Son diagnosed a wornout motherboard and mused for some time on whether to try to mend it or look for a brand new laptop. You'll guess from my lack of communication over the last 2 months that he opted to go with the replacement motherboard. I think he's on to the 3rd replacement motherboard but as my laptop is still crashing I'm finally writing on Little Sis's sparkly and shiny new laptop and hoping that I don't mess it up.

Two days after the motherboard initially gave up the will to live we were subjected to another calamity. The OG had taken us all out on our usual morning walk and we were returning along the main road about 10 minutes from home when she inexplicably went from upright to prone on the pavement. I was just idly observing the world around me and was not prepared for this incomprehensible turn of events. She has since publicly claimed that Tammas tripped her up and has taken great pride in the fact that despite being face down on the ground she managed to hang on to all 3 of our leads. As if we'd have run away. We were far too shocked by her behaviour, you'd think she'd give us due warning if she's about to make a spectacle of herself. I was so embarressed, and she didn't even jump straight back up and pretend it hadn't happened. She just lay there whimpering. We tried to circle her and shield her from public view. I even had to bark at somebody who came along trying to get a better look. Eventually she got herself up and dragged us home. I say dragged because of course we didn't want anybody to think we actually knew this nutcase who was scurrying along muttering to herself and bleeding from several bits of her body. She says she has little recollection of getting us into the house and upstairs into our crates but I can tell you it was not pretty and I hope she never behaves this way again. I thought I'd heard bad language before but ..... She then disappeared for about 2 days, apparently getting to know Derby Royal Hospital quite well before coming home with an ugly heavy plastercast on her left arm with which she threatened to do us harm if anybody dared jump up at her. She refused to take us all out for a walk and instead of cutting down on her food intake to compensate for the lack of exercise, she started a run on Orange and Peppermint Aeros from which the local stores are still recovering. A week later she again went to live at the DR Hospital for a couple of days and missed the snow, although she made the BT visit her on the first evening to bring her a chicken sandwich and a bar of chocolate. This was his penance for having visited her in the afternoon and woken her up from the general anaesthetic induced sleep she badly needed following a vastly expensive (but not gold) plate being fitted that morning in her wrist to mend the broken bones. The BT took over 3 hours to get home through the snow following this mercy mission and we were stuck in our crates for FAR TOO LONG!

Tammas had a really wonderful time at Crufts, meeting up with his breeder Vicki-ann Tompkins and 4 other brothers and sisters from his litter who had all qualified (one even from Bermuda) plus seeing his grandma Sivendra Emilia. He was in his element and the BT was immensely grateful to Vicki-ann for taking Tammas into the ring so that he only had to be worried about my behaviour. I heard that Tammas behaved himself for VA but of course I'd got my eyes covered, just like the OG, on the basis that if we don't watch it can't be that bad! I have to thank the OG for putting me in the smallest class at Crufts ever, thereby allowing me a chance of being in the lineup. We are claiming that that is us done for the year as we believe 3rd in JD at Crufts qualifies Tammas for Crufts 2013 and 1st in any other breed class at Crufts (Good Cit Dog) qualifies me.
I was again the Northern Saluki Club 'Most Points' Special Beginner for 2011, not necessarily an achievement I enjoy! Winning my way out of my eligibility for this award remains my overriding ambition! Tammas won the NSC Points trophy for Top winning Puppy, probably because the top winning bitch puppies didn't put in a claim. Apparently the NSC aren't going to include points won in Good Citizens Classes in future for their points trophies so I probably won't even win the Special Beginners Trophy in future!

Belated Happy New Year to all and congratulations to everybody at Crufts.

Wednesday 21st December 2011
Coco's Quiz


The Fit for Purpose Saluki Owner

Take Coco's Quiz and discover if you are a 'Fit for Purpose' Owner of saluki(s)

1 Accommodation

What living arrangements do you offer your salukis?

a) A country estate with at least 10 acres

b) A comfortable house, paddock and garden

c) A house, garden and access to rented fields

d) A house and garden

e) None of the above. The salukis ate me out of house and home.

2 Food

What quality of food do you offer your salukis?

a) Freshly cooked venison, chicken on silver platters

b) Raw meat diet

c) Mixed cooked meat and complete dried food diet

d) Scraps diet

e) None of the above, I shove the salukis outside at 7am and tell them to forage for themselves and not come back without my dinner. (NB.This answer is only remotely acceptable if you answered 'a' to question 1 above)

3 Finances

How would you describe your financial circumstances?

a) I have cash to spare (you are clearly not spending enough on your salukis)

b) I have enough cash to continue to keep several salukis in the manner to which they have become accustomed

c) I have enough cash to keep one saluki quite comfortable

d) I don't know where the next show entry fee is coming from

e) None of the above. I gave up paid work to become a full time carer for the salukis.

4 Healthcare

What provision have you made to ensure your saluki's good health?

a) No insurance required, I am a vet (and also answered 'a' to question 3)

b) The vet has become a personal friend and is on speed dial

c) Platinum insurance (experience has taught you that silver is never enough)

d) Silver or gold insurance (sucker)

e) None of the above, the insurance company sacked me.

5 Hygiene and Grooming

What measures do you take to ensure your saluki always looks beautiful?

a) My salukis are brushed and combed on a daily basis, their nails are trimmed regularly and they visit their favourite spa once a month for professional grooming. The house staff provide bejewelled snoods to protect their beautiful fringed ears from the delectable titbits served on silken cushions. Sofa and bed covers are changed and laundered daily to ensure no saluki ever feels less than pristine. The garden staff ensure all mud is removed from the grounds before any saluki sets paw outside.

b) My salukis are brushed and combed weekly and showered as required to keep them sweet smelling. Muddied floors are mopped hourly by the member of the serving staff who has had the mop surgically attached to her arm for the duration of the rainy season (roughly September to August).

c) My salukis have a shower and brush up before a show. I manage to trim just one nail per saluki before they realise what I am doing and race away.

d) I don't always shout at my salukis when they rid their paws of mud by jumping directly from door to sofa, missing out the specially purchased mud absorbing magic mats.

e) None of the above. I like shaggy dogs who resemble 'What-a-mess'.

6 Security

How do you keep your salukis safe and secure?

a) The moat and drawbridge keep undesirables out and salukis in

b) I have an eight foot stone wall around my entire estate

c) My paddock and garden have 6 foot fencing and all garden gates are locked

d) Mixture of gates, shrubbery, fencing panels

e) None of the above, the salukis knocked down the fences and tunnelled under the gates

7 Knowledge and Understanding

How much do you know about salukis, their needs and history?

a) Everything, I wrote the book 'The Complete Saluki'

b) Lots, I wrote the book 'Living with Infidels'

c) Some, I read the 2 books mentioned above

d) A little, I read all the Saluki magazines and whatever it says on Facebook

e) None of the above, my saluki likes to keep me in the dark

8 Training and Education

What training do you offer your saluki?

a) I've taught him to read and write and tell jokes

b) I took him to puppy socialisation classes and on to Good Citizens and Agility Training

c) I teach him basic good manners at home (no, you must not eat our cat) and take him occasionally to RingCraft (aka Line Dancing, thank you Jabari for that never to be forgotten image)

d) Hahaha, he is too busy training me to have time to undertake being trained

e) None of the above. I wouldn't insult my salukis by attempting to train them

9 Entertainment

What do you do to keep your salukis entertained and alert?

a) I provide them with lots of companions of the same breed with whom they can enjoy choral practice and play tag. I provide smaller canines and other animal species for their added enjoyment. I replace the chewed up toys (soft, not Papillons) on a regular basis, I take them for long interesting walks on a twice daily basis and regularly introduce them to pastures new on holiday.

b) as above but without the smaller canines or other animal species

c) as above but without the same breed companions

d) I let them have control of the remote

e) None of the above, the saluki ate the remote.

10 Creature comforts and home furnishings

Do you let your salukis sleep on your bed?

a) What do you mean 'my bed'? Of course every bed in the house belongs first and foremost to the salukis.

b) No but they do have first call on the sofas

c) No, salukis in my household have their own dog beds

d) No, salukis sleep in crates

e) None of the above, the salukis ate all the beds

11 Physical attributes

Do you have the necessary physical attributes required to care for one or more salukis?

a) I have X-ray vision enabling me to see any minor physical problems my salukis are experiencing. I have slow motion vision enabling me to see that their movement in the show ring is true, not hackneyed or knitting, and to see that they do indeed hold their topline on the move. I have eyes in the back of my head so I can see trouble coming from behind and take action to avert impending disaster, and I can see squirrels, foxes and cats from afar, before the sighthounds, and take avoiding measures. I have an elastic body and can be pulled in 3 different directions by 3 different salukis without falling over. I never trip over recumbent salukis. (That may be because all sleeping salukis in my house are on the beds not the floor).

b) I am physically fit, have a good eye for a dog and can see when something is wrong. I have learned to bounce back up when pulled over.

c) I am making a good recovery from being pulled over when my saluki dragged me after a squirrel I hadn't noticed.

d) I am still in plaster.

e) None of the above. The salukis ate my glasses and now function as 'seeing eye' dogs.

12 Showring and Temperament

Do you have the correct temperament for showing your Saluki?

a) Yes, I am a successful breeder of Champions and I know all the judges, so I know that if they don't give me the CC, at best the judge is having an 'off' day and, at worst, they have been nobbled by the competition. My salukis are always the best. I am resilient and always have high expectations.

b) Yes, I do not breed but I have such a good eye I always get the 'pick of the litter' and train my dogs to perform well in the showring. I too know all the judges so I know that if they don't give me the CC, at best the judge has forgotten his glasses and, at worst, he is judging by the Afghan Hound breed standard. My salukis are always the best. I am resilient and mostly hopeful.

c) Maybe, I've been around a while and my face is getting to look a bit familiar even if not recognised. I've had some success, the odd CC or reserve CC and I've been under most of the judges by now so I know if my salukis don't at least get placed it's because I'm not enough of a 'face' yet, even though my salukis are actually the best. I am usually resilient and quite hopeful.

d) Probably not. I've been around a while but have never even earned a stud book number never mind a reserve CC or CC. I don't have a face, my salukis, despite obviously being the best, think the show ring is an adventure playground or an opportunity to publicly humiliate me as a reward for any minor slights I may have inadvertently inflicted upon them. I am not resilient, barely hanging in there by the skin of my teeth which usually get kicked in if I am ever foolish enough to allow hope to spring.

e) None of the above. I have been sacked from the showring for growling at the judge and snapping at the steward. I ran away from the showring and became a gibbering wreck. I hate showing and know the best dogs stay at home with me.

13 Love and Affection

Which statement below best describes your feelings about your salukis?

a) Salukis are my life, my joy, my every waking thought and the centre of all my dreams. My only wish is to be a devoted slave to the salukis who grace my home, to keep them safe and healthy and happy.

b) Salukis are delightful creatures who have given me much pleasure. I love living with them. My wish is to provide them with a secure satisfying and healthy life.

c) There is but one dog and that is the saluki.

d) I like most dogs but I love salukis.

e) None of the above. What??? You don't even like salukis!!! Then why on earth are you wasting your time on this quiz?

What your answers show about your 'fit for purpose' ownership of salukis.

Mostly 'a's: Excellent

Well done. You are obviously 'fit for purpose', well-breeched and have an excellent approach to providing for salukis. You should immediately send me your name and address, mark your mail 'for the attention of Coco', so that I can add you to the list of saluki homes I am considering making my 2nd residence.

Mostly 'b's: Very good

I like your attitude to salukis, caring and comfortable, sensible and intelligent. Not too subservient. I can come to terms with that. You too can send me your names and addresses for further consideration.

Mostly 'c's: Average

OK, but I fear you may not be up to meeting my needs and providing my creature comforts on a long term basis. Perhaps I'll visit for the occasional holiday.

Mostly 'd's: Poor

Oh dear, I'm afraid that if I really wanted to remain a Special Beginner and stay with the Big Toy/Old Girl I wouldn't have gone to the trouble of devising this quiz.

Mostly 'e's: Beyond the pail

You just aren't trying, so not worthy.


Monday 19th December 2011
The trials and tribulations of walking 3 salukis together

In September Tammas reached the grand old age of 12 months and finally became eligible to join Tuppence and I on our walks. Autumn has consequently proved to be a frustrating time for us as we have faced the daily trial of being taken on our morning tour of the locality. This involves walking on the 'road' through the woods (which is only marginally less muddy than the paths through the woods), and thence along paths and roads in the country park before returning home via the main road for nail trimming road walking.

I set off with great enthusiasm once I have established that I am not required to wear the halti. 2p and Tammas are less keen as they have to wear their haltis, so the OG is usually worn out before we set off having enjoyed a chase around the house trying to catch my reluctant walkmates. My enthusiasm lasts at least until we get to the nearest shrub on which I offer my first 'mark'. Tammas feels compelled to make an offering of his own so I have to stop dead in my tracks, retrace my steps and mark over his donation. The walk proceeds with this stop start motion for the entire duration of the journey.

Tuppence only feels the need to pee once and has never shown any interest in where Tammas and I pee. She does however like to stop and check out at least 100 different sites before selecting the location for her deposit, over which Tammas and I both like to leave our marks. She is also the nosiest of salukis and walks along backwards if a dog behind us has caught her eye. After just a few of these stops and retreats the OG looks like a rather fat maypole with leads all wrapped around her. So even when we are interested in moving on she's the one who stops and makes us wait until she has untwirled herself.

She then shuffles along at our 2 steps forward, one step back pace, muttering under her breath that the only reason she ever wanted a dog in the first place was so that she had an excuse for going for a nosy walk in the neighbourhood without feeling like an aimless vagrant or a peeping tom. She claims that the last time she actually thoroughly enjoyed a walk, without a shred of anxiety about what might befall her while walking, was back when she only had the virtuous Rosa. (And even then she ended up with a broken wrist, a grazed knee from a drag along the ground after a cheeky squirrel, and having to offer apologies to the owner of an aged and utterly innocuous deaf/blind German Shepherd who Rosa had unaccountably taken against).

Eventually she issues the instruction to 'JUST WALK' and inevitably that is when the real trouble starts. We have on successive days:

1) been scattered off a narrow path by 2 horse riders in deep conversation galloping up behind us complete with 4 loose dogs. These riders added insult to injury by then strolling at a leisurely pace in front of us down the wide traffic free country park road so we had to go even slower than usual to avoid overtaking them and risking being charged at again. (Apologies to Jabari's PA Jacki and Georgie's Peggy who are both accomplished and responsible horsewomen, but a few of our many local riders could put a saluki off some riders for ever).

2) been approached by a loose elderly excited and inquisitive spaniel who wouldn't leave us alone even when called by her equally elderly companion so we stood practically strung up on very short leads by the OG trying to keep us calm, quiet and under control. Why do the owners of loose dogs always say of them 'he/she/they are friendly, won't be any bother'? I want to eat them just for making the OG so tense that she attempts to strangle us. And why do we invariably encounter packs of 3 - 4 humans with (off lead) 1 - 5 small (and eminently edible, breakfast-sized!) dogs walking abreast towards us, and why is it always us, on leads under one fat but small human's control, who have to disappear off the path/road, trying to blend into the hedgerow or undergrowth? Sometimes I think we have acquired the long sought after magic of invisibility, given how little consideration is shown us by other multi handed dog walkers.


3) been nearly run down by a young male motorist who actually mounted the pavement next to us as he drove along our main road. Fortunately I was on the outside nearest the road and just glared at him. If it had been Tammas heaven knows what would have happened as he is a bit wary of traffic and has an unfortunate habit of barking and jumping at certain white vans. He hasn't yet let us into the secret as to which white vans he finds offensive. Most he ignores and no pattern has emerged about the size, make, engine size or gender of driver to which he objects. His unpredictability helps to keep the OG on her toes and makes the trip more exciting for her.

4) been witnesses to 2 road traffic accidents for which we do not accept responsibility in at least one case. I don't think it was because the driver was too busy observing our collective beauty on the other side of the road to notice that the car in front of her had stopped, that is until she ran into it. On the previous occasion it probably was our fault. The driver reversing out of his drive onto a very wide verge was looking at us (possibly trying to see past us?) when he reversed straight into the back of another car that was already parked on the verge. We scuttled off as fast as possible, always allowing for necessary markings, on both occasions.

5) been the objects of much interest to (invariably) young men who accost the OG wanting to know where we are from, how much we cost and whether we are good coursers. She tries to ignore them and walk on briskly despite being hindered by us. Tuppence looks coy when they ask if she's for sale, (they all like the look of her most), then a bit taken aback when the OG (untruthfully-ed) says 'she's been done' (she never told me, 2p complains) (it explains a lot, I think) and then I give them a bit of a mouthful, roughly translated as 'sod off' which generally has the desired effect and they slink away.

It has been suggested that, in order to make the walks more relaxed, the OG should walk us one by one or at most in twos, but she knows she would be followed by howls of very loud protest from whichever one or two of us were left behind and demands from the neighbours to 'shut those damn dogs up'. Also sorting out which 2 to take on any given walk would require a calculation similar to the one about ferrying stuff across the river backwards and forwards to ensure the cat doesn't get chance to eat the canary, or something. So I think we are stuck with the current 14 leg daily survival test.


Thursday 8th December 2011
It seems way too early to me but we have been 'posing' for Christmas cards.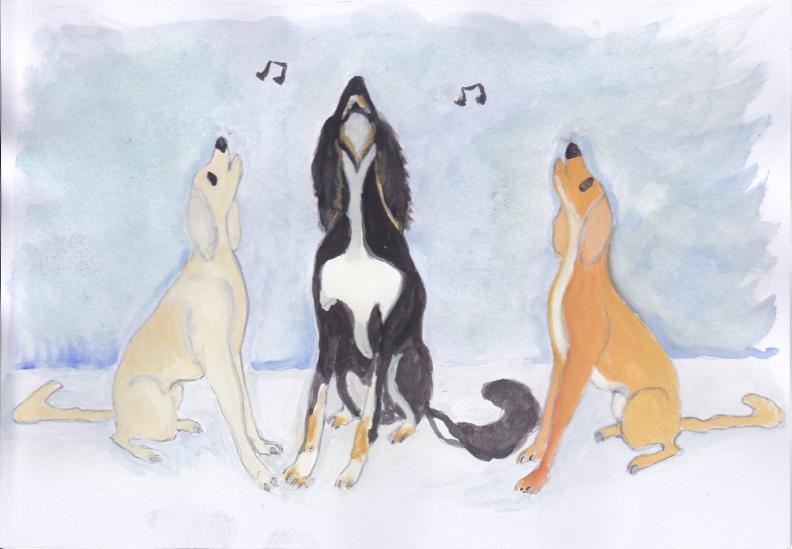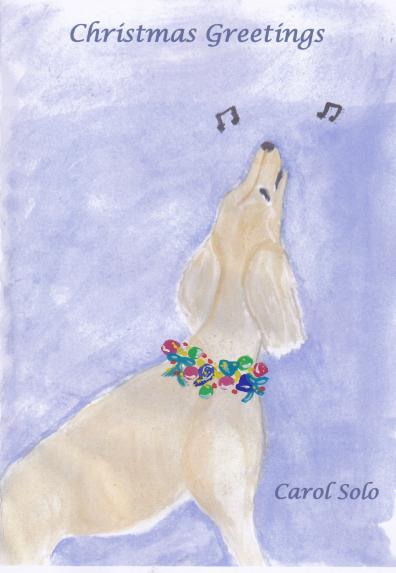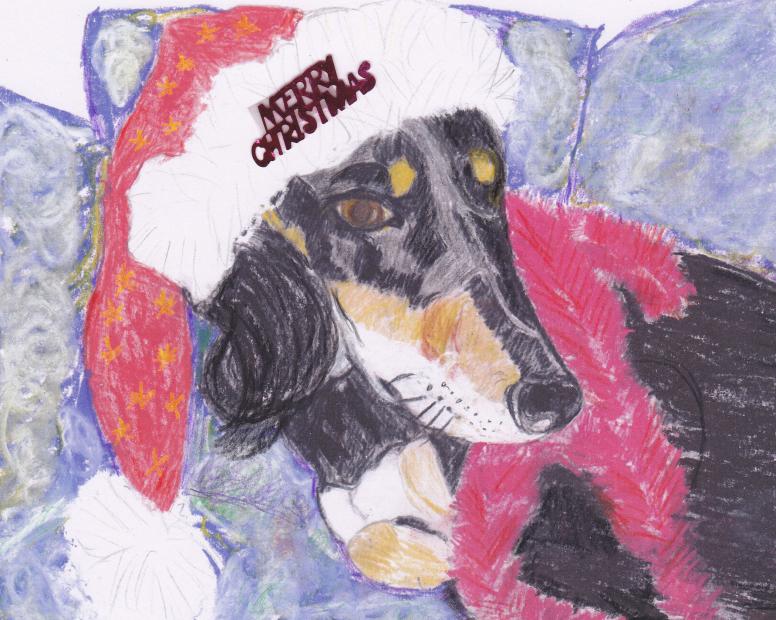 Us Singing Carols Tammas Solo and Moi!! I'm speechless. Where's my other eye?

Wednesday 16th November 2011

Hahaha, I thought that everybody (except the always wonderful Bloomfields) had completely forgotten my birthday - I was 3 years old on Monday 14th November - no presents, no cards, no FB greetings but then today I discovered in Dog World online that the judge from Midland Counties had given me a completely unexpected birthday present, an instruction to the Big Toy regarding Tammas who, and I quote "should stay at home until he learns some respect for his owner and the show ring." Imagine my anticipated delight at not having to share a bench with this naughty boy again, and the uplifting pleasure of seeing him berated in such a public arena. At least Tammas's temporary banishment from the show ring was sweetened by the judge also saying she 'liked him very much' and 'He's too good a prospect not to persevere with'.

Tammas has now lived here for a year and has been getting a bit too big for his boots ever since he impressed the socks off the Old Girl and BT just because he rescued from the river the throw toy the OG had thrown in the wrong direction. I'm not sure that a willingness to jump into cold running river water and finding and bringing back a toy is admirable in a saluki, but they seem to think it was very clever, and he was declared to be a very 'good boy'.


Monday 19th September 2011

The mysterious affair of the disappearing chocolate cake



Last Thursday (15th September) should have been memorable because it was the puppy's first birthday and it was to be celebrated by his first 'legal' run in the fields in the company of my good self and 2p. But exciting as this was, it was nothing compared to the fun we had watching the Old Girl and Big Toy ransacking the house and garden, looking for the remains of a very rich chocolate cherry tart that the OG had made the previous weekend for guests Niece Corinne and her athletic, but completely mad, partner Sam who was running in the Robin Hood Marathon.

On our return from the fields the Big Toy went to the fridge to cut himself a sneaky piece of tart before supper and when he couldn't find it accused the Old Girl of eating it all. She was not amused, and as he can rarely find anything without her input, she searched the fridge for herself. It was not there. She emptied the fridge and it still wasn't there. They both searched the fridge at least another 6 times that evening fully expecting it to have returned.

She accused the Big Toy of having left it out on the worktop the previous evening, and of having put our lives at risk. It contained 3 oz of cocoa powder in the pastry alone, cherries steeped in brandy, and the chocolate filling contained 200gm of 85% chocolate, all of which are deadly to salukis. The 250ml of double cream would have gone down a treat though!

Deliberations went on for hours as to how we could have eaten the tart and the metal base it was on. It was established that even the greediest of salukis (me) wouldn't eat metal. The deduction from this was that the tart had been carried somewhere, devoured and the base was hiding somewhere in the garden. By this time it was dark so searches with torches were commenced. In the meantime the Old Girl, remembering that the Big Toy had gone to bed early the previous evening claiming to be ill, had searched his study, the bathroom etc in the suspicion that he'd sneaked upstairs with the tart to eat it in secret. She didn't search the loft as she can't handle heights but the garage got a thorough going over.

The torchlit search revealed nothing more than fallen damsons, pears and mud. Her next idea was that we had eaten the tart in situ on the worktop and that the base had fallen off and slid under the fridge or cooker so these areas of the kitchen got an unscheduled and unexpected clean but the base was still missing.

A search on the internet (not for the base) revealed, after the Old Girl had calculated the amount of theobromine left in the remaining two fifths of the tart, that had we been suffering from chocolate poisoning, one of us should be dead or all three of us would probably have been violently sick by now, at least 24 hours later, and the only symptoms we were displaying were bewilderment at this hive of activity at this time of night and a reluctance to join in the searches after the first hour or two. Exhausted and frustrated we all retired to bed about midnight.

The next day the Old Girl searched cupboards and drawers sure that she would find the missing cake unaccountably stashed in the wrong place by the Big Toy. To no avail. The holes we have dug in the garden, and which we feel add a little something to the landscape, proved in daylight to be empty. It was neither on the compost heap nor hidden under fallen leaves.

We

still seemed to be well. It remained a mystery.

Chatting via Facebook with the Son on Friday evening about his weekend plans the Old Girl casually asked the Son if he knew anything about the missing tart. He wrote back that he had no knowledge of the tart or of the missing Terry's chocolate orange bar! What missing Terry's chocolate orange bar? It transpired that the Son had called in chez nous on his way home from work on Thursday evening, and finding nobody at home - we were at the fields - had searched, as is his wont, for something to eat. Eshewing anything savoury he had lighted upon the chocolate items in the fridge, and thinking to save his mother's expanding waist line, had purloined said items and taken them to the safe environs of his flat. Logical really.

We

have graciously accepted their grovelling apologies for believing us individually and/or collectively to be little more than thieves.

To make matters worse the Son has now developed what he believes to be 'chickenpox' and is very poorly. Perhaps he's allergic to chocolate in such vast quantities. The Olds both had chickenpox as children so they are safe. The next internet search will be to enquire whether innocent salukis can catch chickenpox. We don't think we are in danger, we have never yet, despite our strenous efforts, been able to catch chickens, poxed or otherwise, squirrels or even the rabbits in the field.

Below are photos of Tammas on pigeon, butterfly and bee watch on his birthday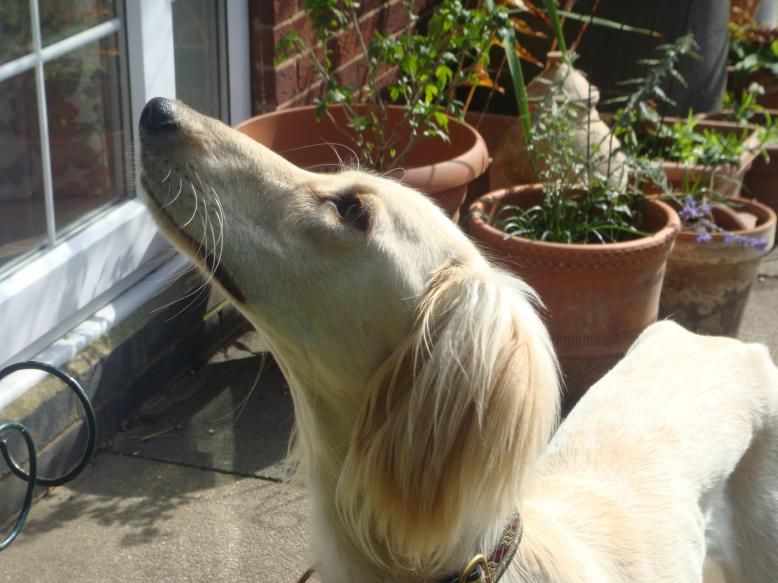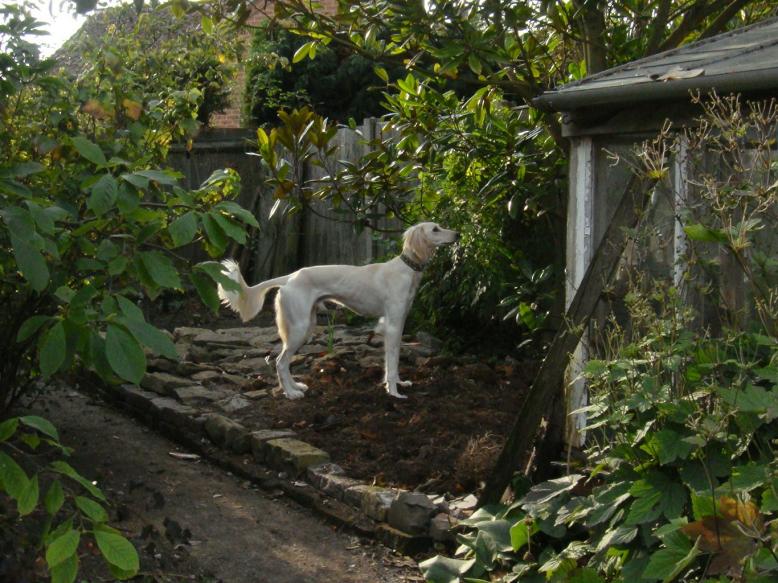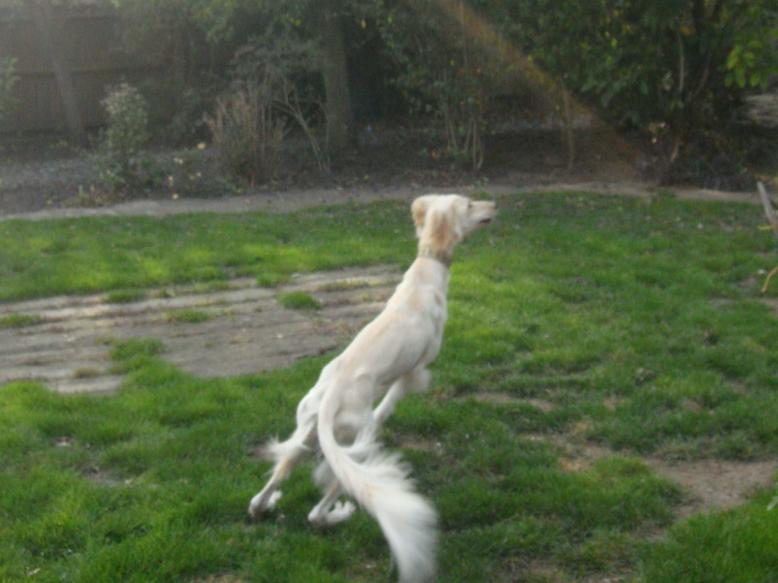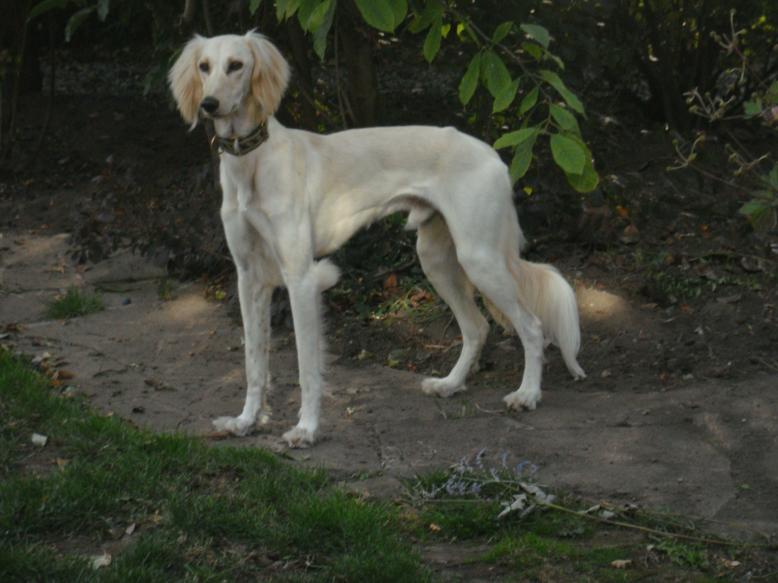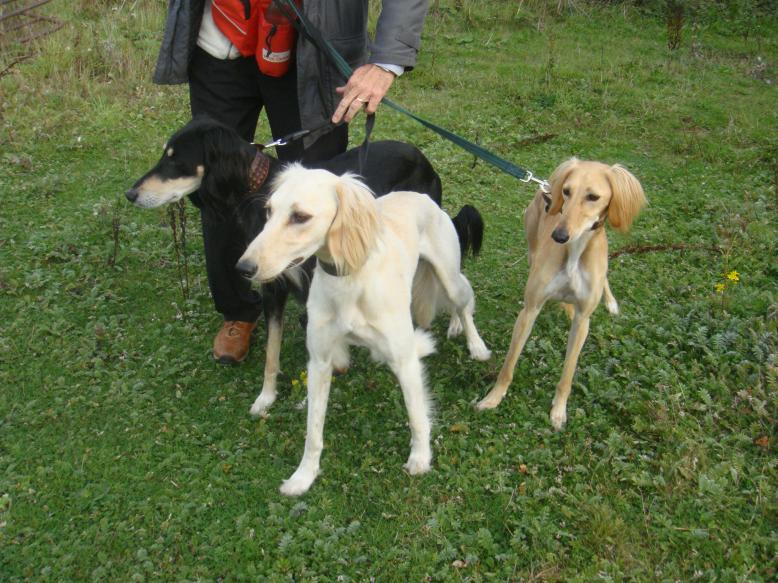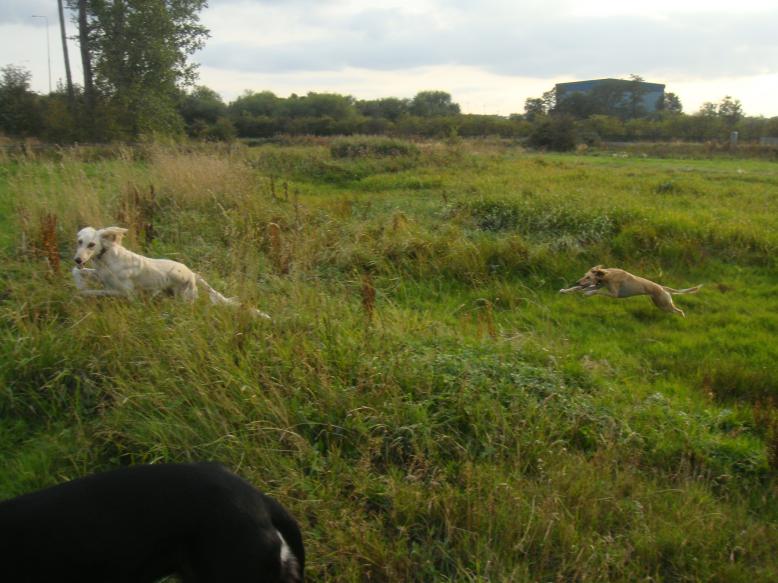 Above are 2 photos of us in the fields on Tammas's birthday
Tuesday 6th September 2011

Well, that's it. Summer is officially over, the wind is blowing, the rain is pouring, the mud is back, the pears are falling off the trees and the ground is littered with damsons and plums which Tammas likes to squash and then trail through the house.
It's only 2 days since we completed our Grand Summer Tour of the British Isles (well England and Wales really) and Tammas is already bored and intent on destroying anything soft in the homestead - including 2p, cushions, bedding.
The Tour has been so long and extensive that much of it has faded into obscurity. This year there were no life threatening scenarios unless you count the time I nearly died of shame when I was forced to walk in the Dales with the Old Girl wearing her new and truly horrendous bright pink wellies and mac. Fortunately there was nobody else about on the top of the moor so I was not subjected to the ignominity of being seen with her.
The absolute highlight of the Tour was when we visited the lovely Vivienne Brett and her place of work, Cholderton Estate in Wiltshire, had a ride in her rangerover, and she took us to look at some stones in a field. I wasn't initially entertained by the stones but then they started to move about and turned into .... hares. It's a wonder we didn't rock the parked car over as we leapt about in a frenzy of excitement. The OG tried to take photos on her phone but couldn't find zoom and still doesn't know how to download them so I will borrow a few of the photos Viv had taken earlier to illustrate how amazing this experience was. Until then we'd only ever seen and lived with bronze hares.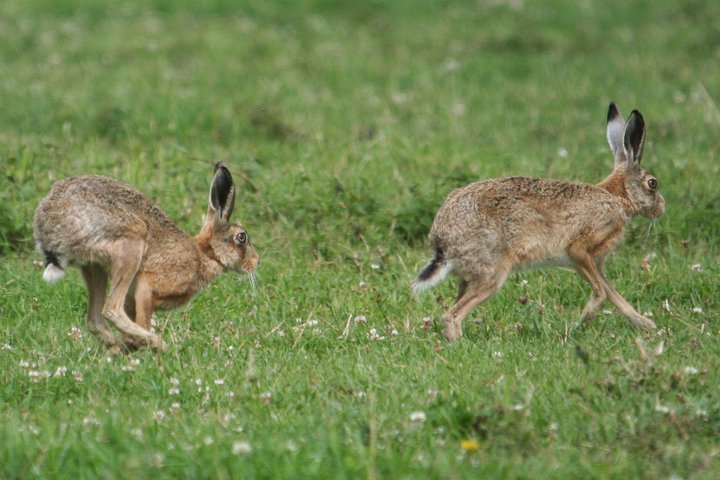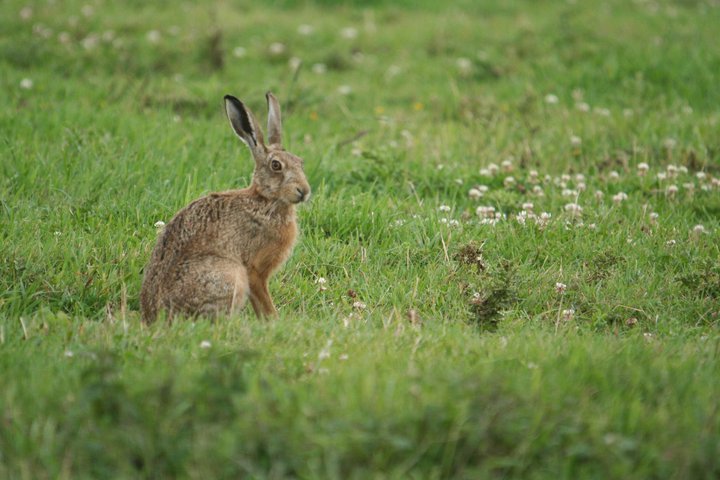 I was a bit miffed that we didn't get to ride with the Big Toy on the combine harvester or the tractor, and I was less than impressed that we weren't allowed to chase the myriad of fowl who wander at liberty around the farm. Thankfully the cows, bulls, and steers were in pens and couldn't attack me despite my attempts to wind them up. 2p was so calm and collected you'd think she hadn't been part of our encounter with these horrendous beasts last year. Tammas, as becomes the most recalcitrant puppy in the known universe, was as badly behaved as you are imagining, barking, growling, pulling, leaping. He made my efforts look feeble.
We salukis were a tad relieved that the OG and BT had finally opted for staying in a lovely pub called The Shears instead of in Viv's campervan. We like our creature comforts and camping is not an activity I for one ever wish to experience.
Other good moments included seeing a faun in a field near The Spears, having a run on lead on the beach at Exmouth after the Paignton show, and having the Topsham ferry across the Exe all to ourselves there and back.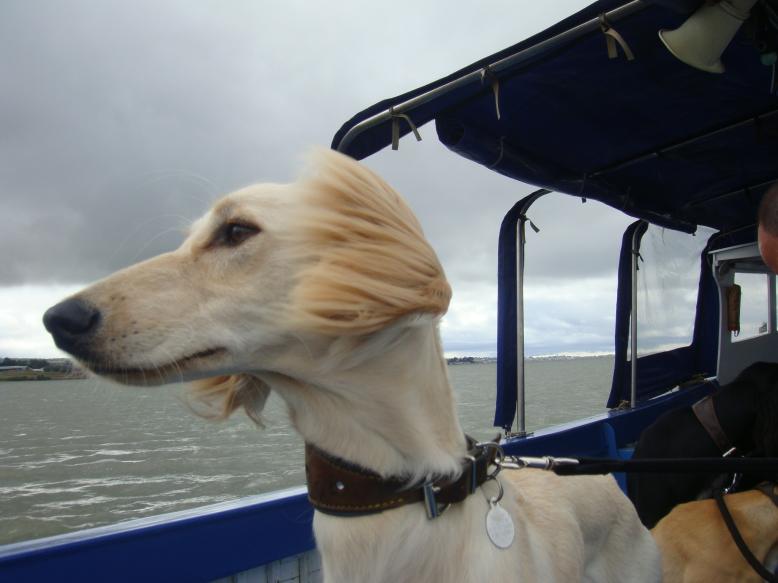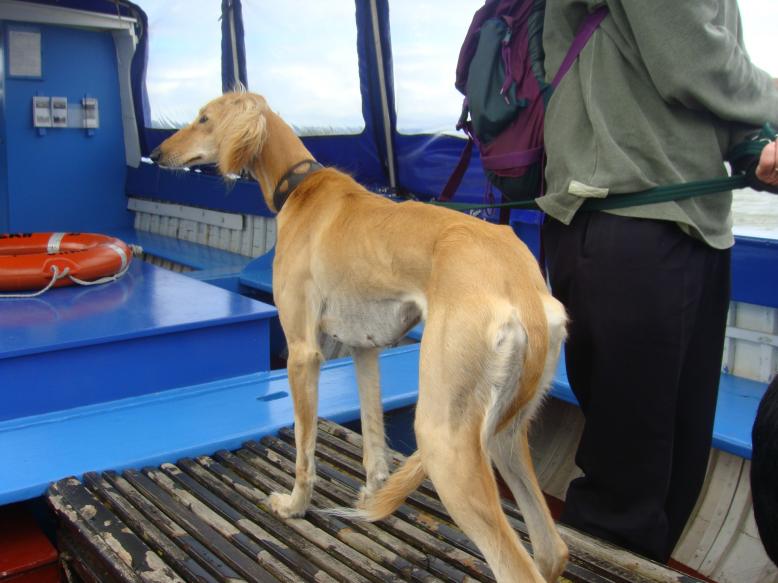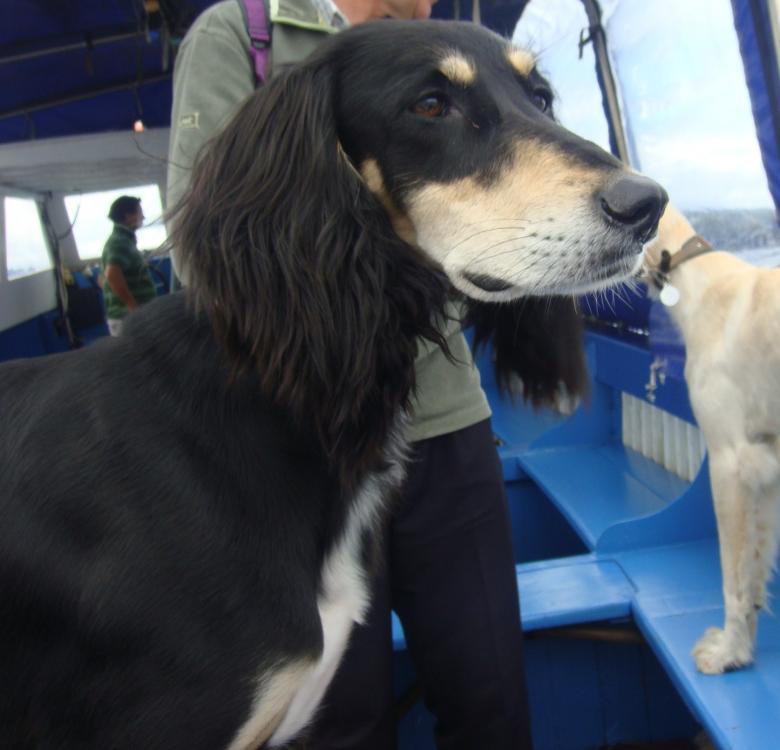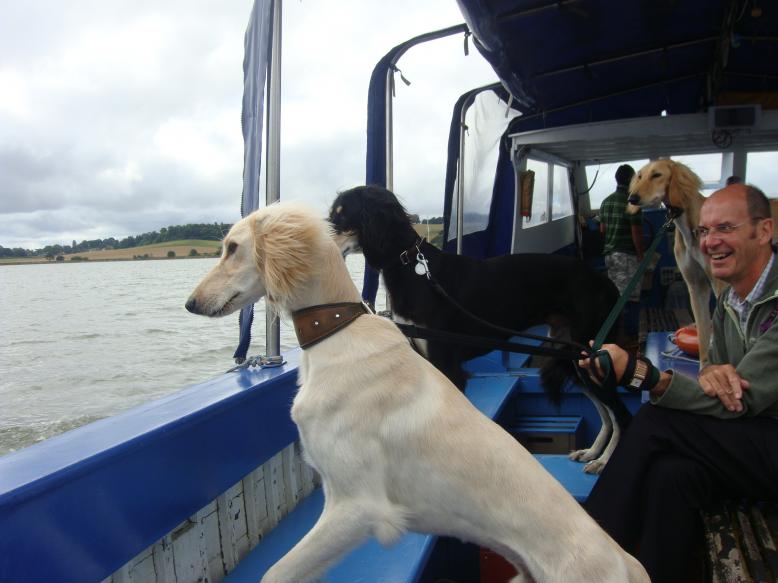 We were welcomed back at The Exeter Inn with real warmth and had 2 lovely days in Topsham, one of our favourite places. The judge at the show didn't care for me or Tammas but the BigToy was delighted to be described by her (temporarily until the mistake was pointed out) as a 'young man with a great future in dog handling'.

Monday 18th July 2011

Salukis like to party!

We have just returned from a lovely weekend away in Kent to celebrate Uncle Chris's 60th birthday. We have jointly decided that this is how we want to spend all weekends in future - partying, not showing. I have started a petition to that effect and 2p and Tammas have added their pawprints.

The advantages of party going include staying at Grandma Joan's house. This is great fun as she is a big softie when it comes to naughty puppies and slightly older salukis and lets them run up and down her stairs as much as they like. And the door to the bedroom doesn't shut properly so we can all jump on the bed whenever we want to - which is a lot of the time. And she gives us ham and other tasty treats when she thinks the Old Girl and Big Toy aren't looking. And the whole house is carpeted throughout so everywhere is comfortable for a lie down. The only hard surface Tammas could find was in the bath so of course he had to jump into it just to remember what it felt like. Luckily nobody was bathing at the time. It's so nice at Grandma's that sometimes we don't want to leave. Once Becca actually refused to get in the car to come home. It's just a pity that it will probably take Grandma a whole week to clear up after us. Never mind, we left her some treats like our sausage rolls and goats milk to keep her going.

The party itself was stupendous. We hadn't been looking forward to it much because we thought we would have to stay in the car while everybody else had a good time eating and drinking. But the weather was not good so most people stayed in the house and we were allowed to run free in the garden with Molly and to keep a close eye on the caterers who were cooking the barbeque outside under a gazebo. We think they welcomed our company. We were able to ensure that nothing went to waste and that the odd party attender who decided to eat outside didn't feel too lonely. Tammas performed a sterling job making sure the water in the champagne bucket didn't overflow. We had so much fun, eating steaks, chicken and sausages, and then chasing about so we didn't gain an ounce, unlike the Old Girl who managed in one day to replace the 4lbs she'd lost whilst practically fasting for the previous week.

It was the best party we have ever been to and a vast improvement on the last 4 weekends spent at dog shows. I think the grown ups enjoyed it too judging by the mellowness of the journey home without the usual bitter comments about wasting time, money and energy going 'under' people whose names have been recently added to something called 'the never again list'. We now feel well qualified to offer our services at any further barbeques being planned, we can advise the chefs on just how long to cook the perfect steak, we can escort the guests to their chosen seat and make them feel very special by paying them very close attention and we are very good at clearing up after the occasional careless guest who might otherwise leave a mess. Even Tammas is good at it, so we are hoping for lots more invites.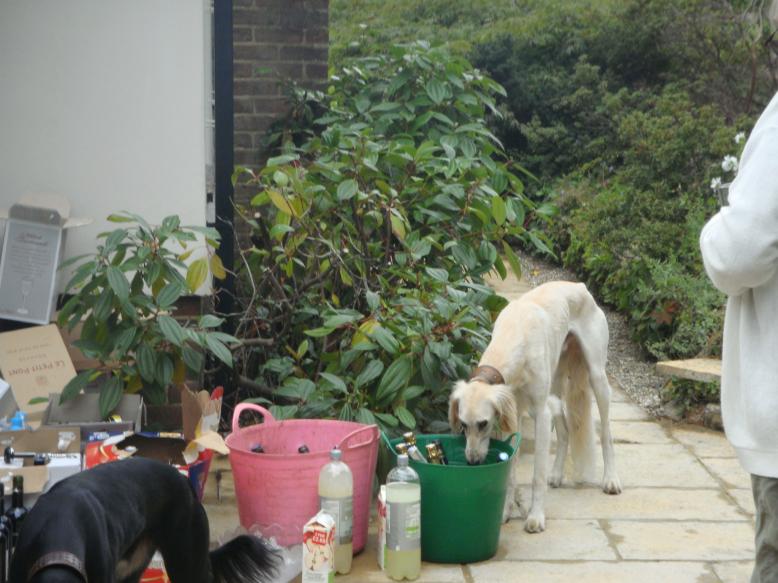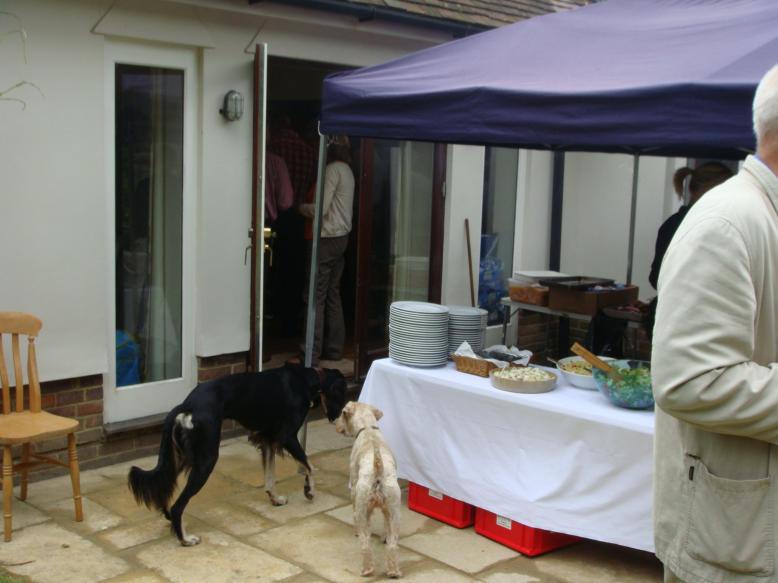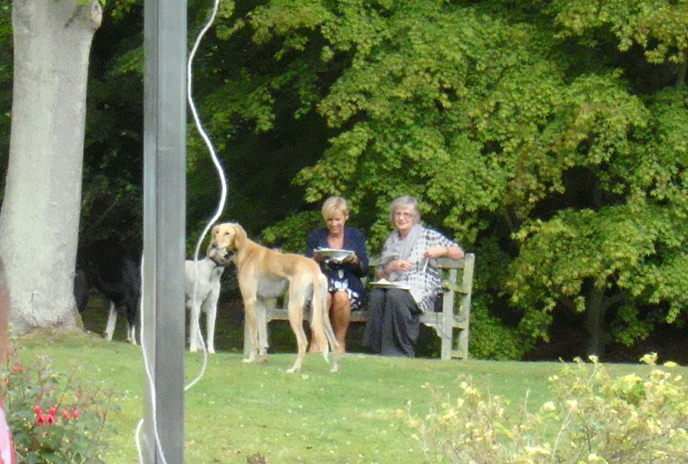 Thursday 5th May 2011
The puppy Tammas has just gone to Sharon to be 'groomed'. Miracles are required to tame his shaggy coat. I am taking advantage of his rare absence to update you with the details of my latest misadventure which was all the fault of said puppy. It's also taken me a whole week to get over it and to be able to refer to the incident with my customary aplomb and good humour. As the puppy hasn't yet learned to read or discovered my blog I feel free to describe myself as 'good humoured' without fear of being challenged.
So, a week ago today in the school hols we went on one of our twice weekly trips to 'our' fields. It takes about 15 minutes each way to drive there, plus several hours of showering and drying 3 salukis and one Big Toy on our return, so it requires the best part of a day for each visit. The fields are bounded on one side by the River Erewash, at the far end by the Nutbrook and on the other side by the railway line, so since Pip's demise they have been safe and secure for salukis and the Olds have suffered no further heart failures over disappearing salukis.
Tuppence and I enjoyed our usual chase in the first 2 fields. Since her season the tables have been turned and it's me that brings her down now, well actually she just lies down if she thinks I'm getting too close and I have to try to jiggle her back on to her feet for another run. We also had a race in and around the 'pond' which should more accurately be described as a smelly boggy bit which freezes over in winter and makes a nice ice rink. Pip loved it. The weather has been so dry there's no water in it at the moment, but the puppy isn't allowed off the lead in this area as he'd be sure to find any drop remaining. Not being allowed off the lead frustrates the puppy immensely, and for the past week or two the Olds have been letting Tammas have a bit of a run off lead in the third and last field with the Nutbrook boundary, before going back on lead for the walk back past the 'pond', under the M1, and through the first field to the car.

And how did he repay their kindness? Only by going into the Nutbrook for a paddle! He made it look like fun so I joined him. Where I go 2p is sure to follow and she did. All 3 of us had a little paddle. Tammas then disappeared around a kink in the Nutbrook, and before the Old Girl could mutter 'you little monster' he was across the brook and in one of the fields opposite that Pip was so fond of visiting. Tammas came and stood looking down at 2p and me from the opposite field and of course 2p decided to join him by scaling the 6 foot sheer bank on the other side of the brook. Well I couldn't be letting my underlings leave me behind so throwing caution to the wind I followed 2p, and in the blink of an eye all we salukis were racing about in the wide blue yonder completely inaccessible to humans. We danced, we sang, we raced and chased and had a great time. The Olds patrolled the home side intermittently calling to us between screaming at each other.
The Big Toy was about to try to cross the brook in his good shoes when the Old Girl was inspired to shout 'sausages' to us. In an instant Tammas and 2p jumped down the bank and back into 'our' fields. They were welcomed with treats, hugs and put on leads. I stood at the top of the bank and completed a more thorough risk assessment than that carried out before scaling the bank to get into the field. It was completely clear to me that the Air Rescue service was required as there was no way I was jumping down 6 feet (or 2 metres for my younger readers) into Lord knows what depth of water. I mooched about for a bit, revisited the edge which only confirmed my initial findings and nonchalently moved away for another race around. I destroyed a few stalks in the field, attacked a bush and generally made a show of being big and strong and brave. I stood again and again at the bank edge and they thought I was crying when I was in fact trying to persuade them to call out the nice Firemen from Red Watch who I felt sure would have speedily and willingly built me a bridge across.
You will be aware that I am a very intelligent saluki who is able to consider things, reflect and make mature adult decisions based upon wisdom and experience. The same cannot be said for Tammas. He is utterly fearless but stupid so barges into things with not a care in the world. Tuppence isn't fearless but she is quite stupid, or so I've always believed.

However on this occasion she was a heroine. She was on the puppy's long extending lead (he was on his very short 'on no account are you moving away from me' lead) and the Big Toy directed her to go down the home bank, across the brook and scale the bank on the other side to join me. This she did. Then he asked her to come back and show me the way down that didn't involve making a massive leap into the abyss. This she did. I watched and didn't believe what I saw. Tuppence repeated this procedure 4 or 5 times back and forth across the brook before I was persuaded that she might have something. Of course just to show I'd made up my own mind I finally found my own route down the bank, across the brook and back to safety. Despite the Olds trying to treat me with respect on my return to the fold, I'm sure I keep finding the puppy looking at me with a tiny bit of contempt in his eyes so I've had to be extra hard on him since if he puts a paw wrong. As soon as I was back in my field I had a long race around, asked what everybody was hanging about for and demanded the promised sausages. They were not forthcoming as they were still in the freezer.
Of course I haven't said anything to 2p about her part in 'my rescue'. I don't think she'd like me to. She knows her place and it isn't to be braver or cleverer than me, but secretly I am indebted to her and love her even more.

We haven't been back to the fields.
Tuesday 15th March Part 1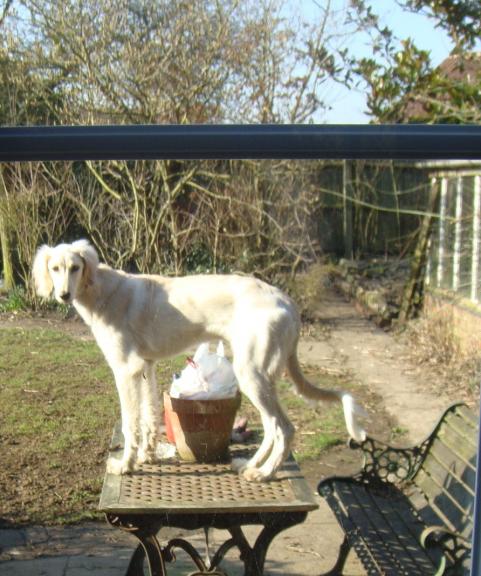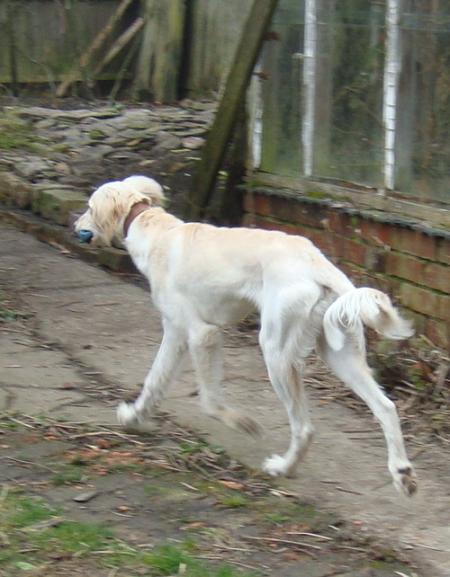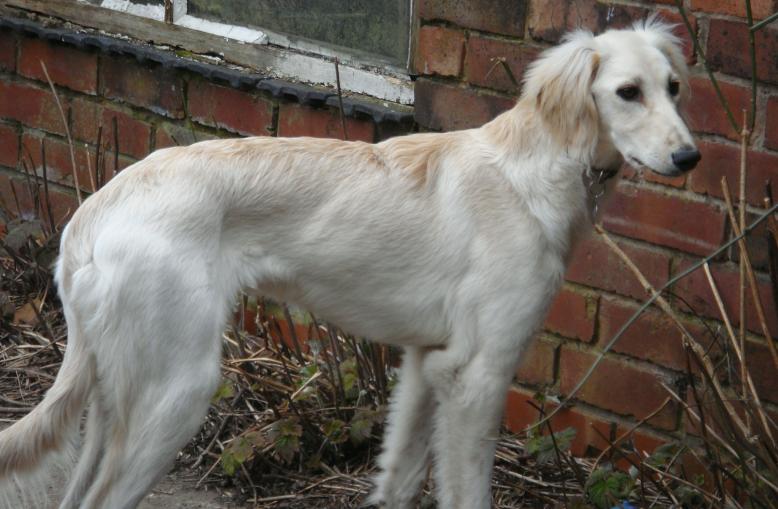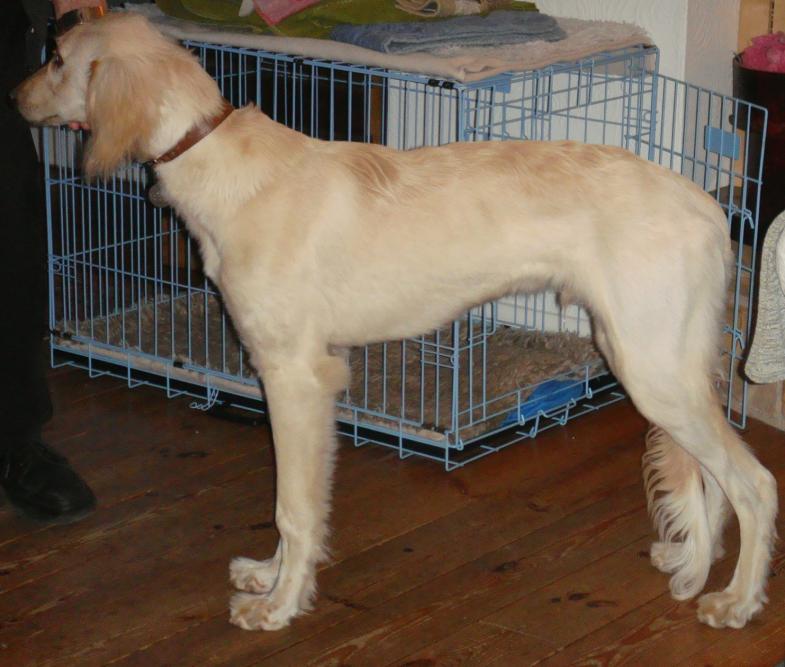 The new puppy Tammas is 6 months old today. In many ways he is growing on me. It is quite nice to have somebody in the household who treats me with the respect and deference I deserve, and Tammas clearly recognises that I am the alpha male - not that there is much competition for the role – you've met the Big Toy! Tammas greets me each morning with some gentle licks of my face and rarely intrudes on my space in the house or garden. I like a saluki who knows his place. He is however very advanced in some ways, catches balls, toys and treats with aplomb – a skill it took Tuppence and I well over a year to acquire.
The saluki chez nous who doesn't know her place is of course Tuppence. This doesn't mean I don't like her but it does mean she is not as amenable as I would wish. Where to start? Tuppence is in her first season, started 5/3/11, and I really want her to have my babies. Imagine how lovely they would be, especially if they inherited my glossy good looks and her erstwhile lovely quiet gentle temperament. Tuppence does not want to have my babies, she favours 2 of my paler and gorgeous cousins, (and the grown ups don't want her to have anybody's babies) and this has turned her from the companion of my dreams to the bitch from hell. I can't do a thing right for her. I have given her all my best moves, tried every wile known to man and beast, been by turn winsome, plaintive, seductive, autocratic, playful, generous (I let her eat my chicken – I'd have given her my last Rolo if we were allowed them), charming, demanding, attentive, in short irresistible. And what does she do? Snaps, snarls, nips, barks, swears – I thought she was a sweet innocent but the language she has spat in my direction definitely belongs in the gutter. This has done little to cool my ardour, I intend wearing her down by:
1) crying all through the night every night in my crate, separated only from hers by the puppy's crate, in the hope that she'll eventually get so tired she'll respond 'Do what you like, just let me get some sleep.' So far the only responses I've had from her (and everybody else) are 'You're giving me a headache', and 'For f**ks sake, Coco, shut up!'
2) catching her unawares when her sharp end is busy eating,
3) impressing her with my win at Crufts,
4) using those 3 special words universally favoured by frustrated males to reluctant females – 'I'll be quick'.
5) taking advantage of her happy tail-wagging return from her days out at school or Denise's kennels and jumping on her in mid tail wag. This is not proving effective as she correctly blames my behaviour for her temporary banishment from home all day and gives me a right mouthful.
6) embarrassing her in public on our walks with the Big Toy by whining and trying to jump on her for the whole duration of the walk.
7) summoning her back from school/kennels by howling the whole day at home.
8) sneaking up on her when she's having a doze on the settee.
9) lulling her into a false sense of security by trying to hump the Big Toy instead.
10) sheer will power, force of character, height, weight and reach.
Crufts was a nightmare for me. I hadn't slept for over 48 hours beforehand, there were beautiful bitches everywhere who only reminded me of what I'd left behind, and I was in a state of great anxiety in case the ambitious and mature for his age puppy took advantage of my absence and succeeded where I had failed. I was relieved to learn on my return that 2p had found him just as resistible as myself.
On the evening of Crufts Hound Day the heavens opened and the back garden was awash with frogs returning to mate noisily. Initially I watched trying to learn from their techniques, but they made it look so easy, and I was furious that ugly flippy floppy amphibeans were having more joy than me, a handsome saluki. It didn't help that Tuppence thought they were very funny, intriguing and entertaining.The frogs were so engrossed in what they were doing they didn't seem to notice that the pond whence they spawned no longer exists. In a probably pointless rescue mission the Big Toy spent much of Sunday collecting up mating frogs to take to the nearest wild life pond in a bucket. I hope they don't get run over crossing the roads trying to return to the garden.

The Old Girl spent much of the day door keeping, ensuring that no two salukis were allowed out into the garden together while at the same time ensuring that 2p was never unattended by a chaperone in the same room as either of us 2 males. A third or fourth arm for grabbing collars and opening/shutting doors would have been useful.
Tuesday 15th March 2011 Part 2
So, back to the puppy. Tammas has had to learn to be pretty independent playing in the garden on his own as we will not be allowed to play outside with him until he is 9 months old. Nor can he be let off the lead at the fields till then. So only half his lifetime to go. This is because Tuppence would run him ragged even though I'm not really interested. His favourite games in the garden seem to include chasing the leaves when the wind blows, digging holes obviously and barking at the saluki he thinks lives in the greenhouse. He gets very cross with this saluki as every time Tammas barks at it this saluki barks back and jumps about just like Tammas getting crosser and crosser. And then it hides if Tammas ever gets into the greenhouse which makes him even more frustrated. This odd saluki even looks as much like a polar bear/golden retriever cross as Tammas does. Tammas also likes watching the pigeons which seem to live on the rooftop. He does his best to scare them away but they just fly around and return when his back is turned.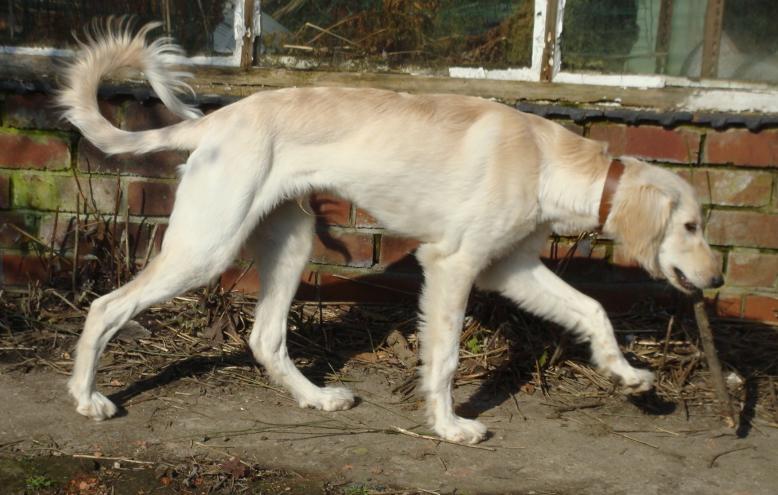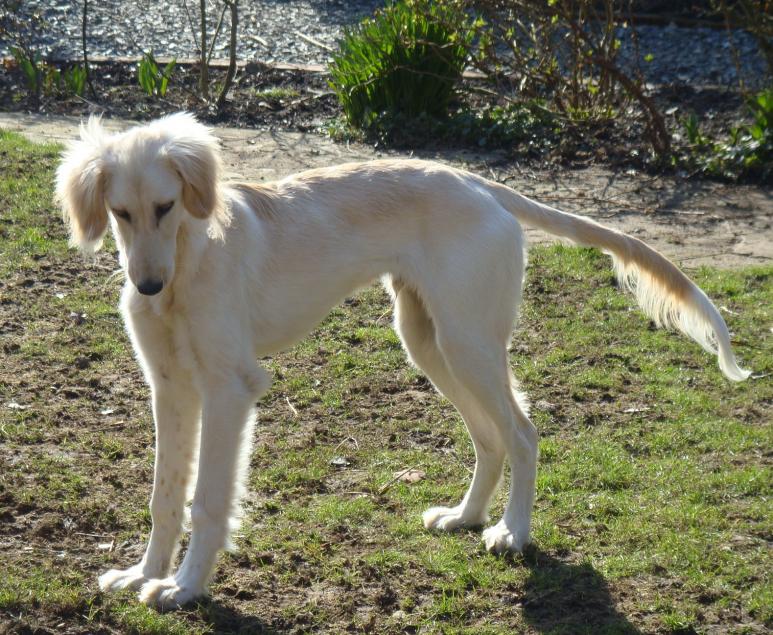 Like all of us he enjoys chewing on the OG's precious plants and in a desperate effort to protect some of them she spent a whole day erecting fences around two of the flower beds when Tammas went with the Big Toy to Kent to be introduced to Grandma Joan and Mariel. Tuppence and I stayed at home to keep the OG company. Of course as soon as Tammas returned he knocked over her new fences and got stuck back in to digging up the beds. His biggest achievement, independently assisted by Tuppence and the fox, was to tunnel 4 feet down to Pip's grave under the Magnolia Grandiflora. The OG was so not pleased. Pip is now protected by a layer of stones from the dismantled pond. Tammas has turned his attention to trying to uproot the magnolia and or kill it by shredding its leaves. His latest deep excavation is in the bed near the greenhouse. We think he is trying to tunnel into the greenhouse and take the saluki in there by surprise.
Tammas rates himself as a bit of a stand up comedian but as you'll see from the photo some of his jokes fall a bit flat with 2p and me.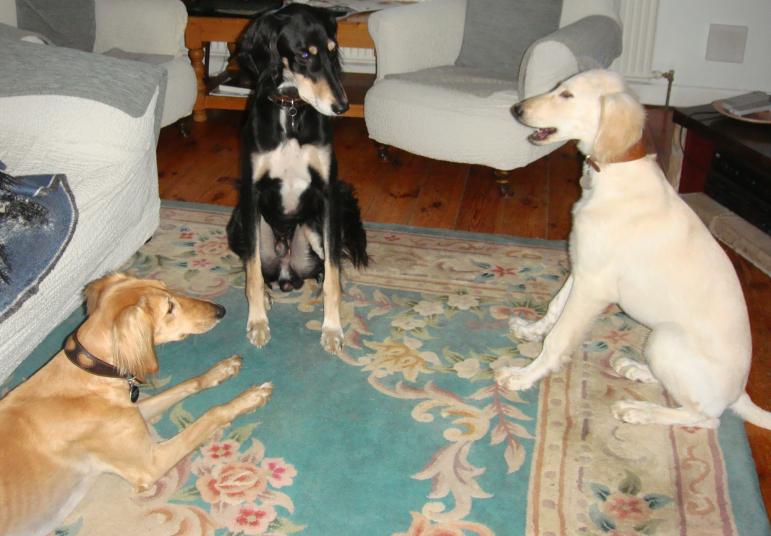 Tammas is destined for a life on the stage, hoping one day to achieve his ambition of becoming a renowned opera singer. I think it's a Scottish thing. To this end he has insisted that we all join the in-house choir and choral practice is a mandatory start to the day. It only needs one member of the pack to leave the room for half a minute and he imposes an impromptu extra practice. Tuppence and I try to be helpful, and this has had the added bonus of helping Tuppence overcome her shyness and self consciousness about performing in public. Before Tammas arrived we didn't even know she'd got a voice. Mine of course is the most melodic, but what Tammas's voice lacks in maturity he more than makes up for in enthusiasm. Life here is rarely quiet.
He is also an enthusiastic eater. He is so greedy he gets more food in his mouth than it can cope with and he ends up scattering 'kibble' all over the kitchen floor. Combined with Tuppence's messy eating habits – you can always tell when she's had a drink of water – it looks like somebody's pee'd – the kitchen floor is constantly covered in bits of dog food which is, judging by the OG's cries, not comfortable to walk on barefoot. Of course as self-respecting salukis none of us would deign to eat any dog food which has touched the floor, even though we can be totally relied upon to immediately hoover up anything edible designed for humans that accidentally falls anywhere. The OG has secretly (she thinks) been feeding Tuppence extra sausage rolls when Tammas and I are shut out of the kitchen, but of course we always know because 1) we can smell them, and 2) Tuppence's eating style scatters crumbs everywhere. We don't really mind because Tuppence is usually very good at letting us have first stabs at her food including the choice titbits. In fact she is normally so deferential they have to feed her in a different room from us so that she gets a bit of a chance.
Tammas has been on his first trip to the Yorkshire Dales. Happily there were no cows around and route marches were kept to a minimum on account of him being too young to walk very far. He did get the chance to go in a few choice hostelries (the Bridge and the Blue Lion) and to sleep in front of the log fire at the cottage. I was a bit put out when the combined populations of Richmond and Reeth were so taken with the polar bear cub that they didn't notice me! At least he got a bit more used to traffic, other dogs and people and stopped being so 'jumpy' that he got under my feet.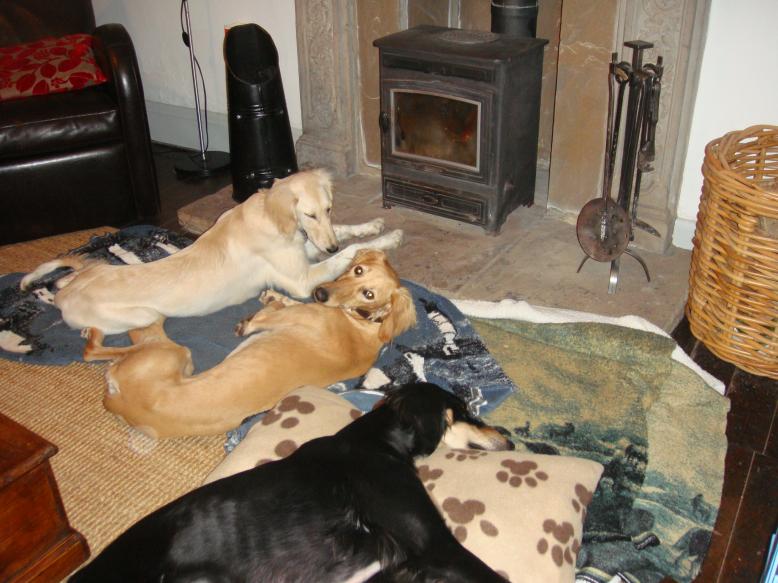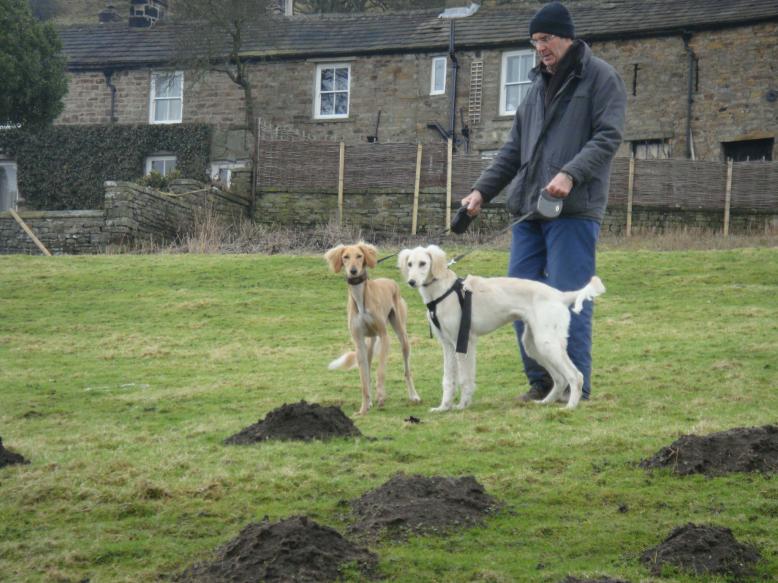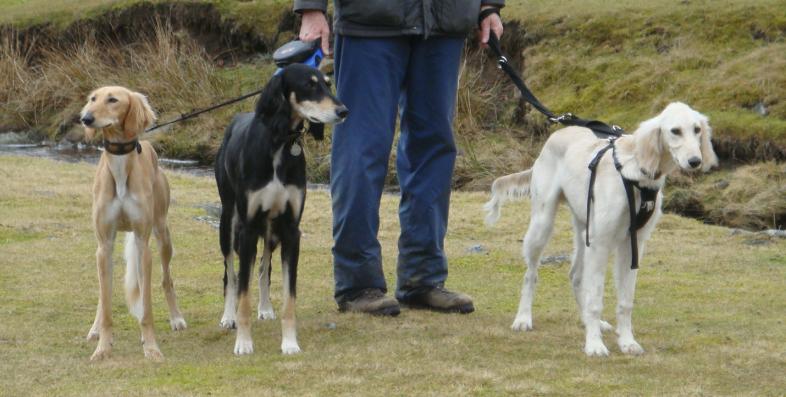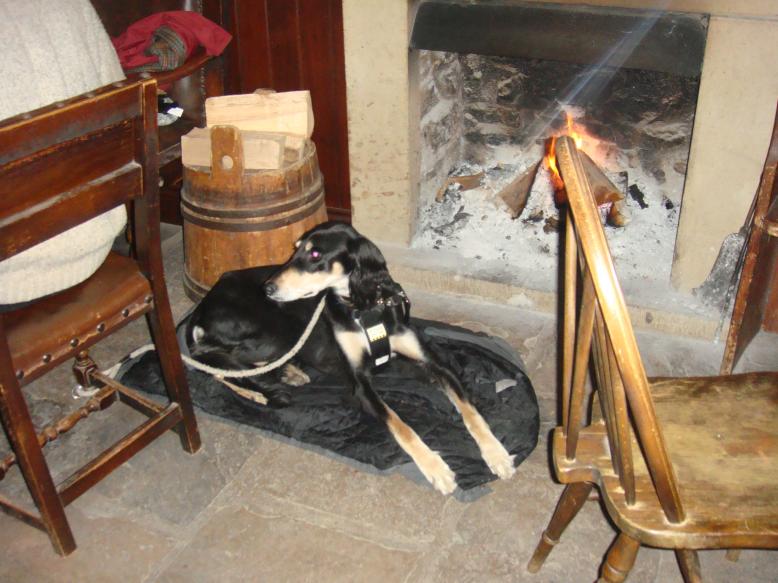 The very gratefully received invitation to Yorkshire came midweek between 2 weekends of trials and tribulations with cars which began when the Son (MSc Automotive Engineering with Distinction and Best Overall Performance Prize – the only trophy in the house that doesn't belong to a saluki) borrowed the Big Toy's diesel engine Audi ' because it is more economical', and kindly topped it up with petrol on Sunday evening en route to returning it. Mid way between service station and home the car refused to go any further. Son very confused. Rang home. Big Toy jokingly said 'sounds like the sort of thing that can happen if you put petrol in a diesel engine'. Whoops!
The Breakdown Assistance to which both Son, Big Toy and Old Girl belong refused to assist because Son wasn't driving his own car and Big Toy wasn't in the Audi. Shame on Britannia Rescue. Several hours later car was towed at great expense to garage to be drained of the offending fuel the following day.
Big Toy drove (for the first time since he'd collected it) to school on Monday am in Old Girl's 'second' car, a Proton. Got stopped on M1 and learned from very nice PC that although he was insured to drive any car third party this did not actually apply to a second car he owned. (Old Girl is insured through her own insurance on her KA to drive the 'second' car because she doesn't own it! Saluki and human brains befuddled.) 6 points on licence, £200 fine and car to be impounded if insurance not immediately instated. Half an hour later and over £400 poorer for immediate Third Party insurance, the Big Toy was back on his way to school. At least he didn't have an accident and learn he wasn't insured.
Following weekend on Tammas's first visit to Kent, Audi hit a pothole in Hildenborough on Friday pm. Tammas and Big Toy waited an hour for Breakdown Assistance to change burst tyre. Got to Grandma Joan's after midnight. Spent next day buying new tyre. Sunday am Audi refused to start. Breakdown Assistance had to come out again to start car. Morning spent looking for and buying new battery. Late for lunch at Mariel's. Still Tammas did get to play in their new garden with Molly, the aged wheaten terrier who I'm sure would have much preferred to see me.
The Audi has behaved itself reasonably well since and was no trouble in Yorkshire even though it was carrying 3 salukis and half a household of goods and clothing. Travelling light is not an Owen forte.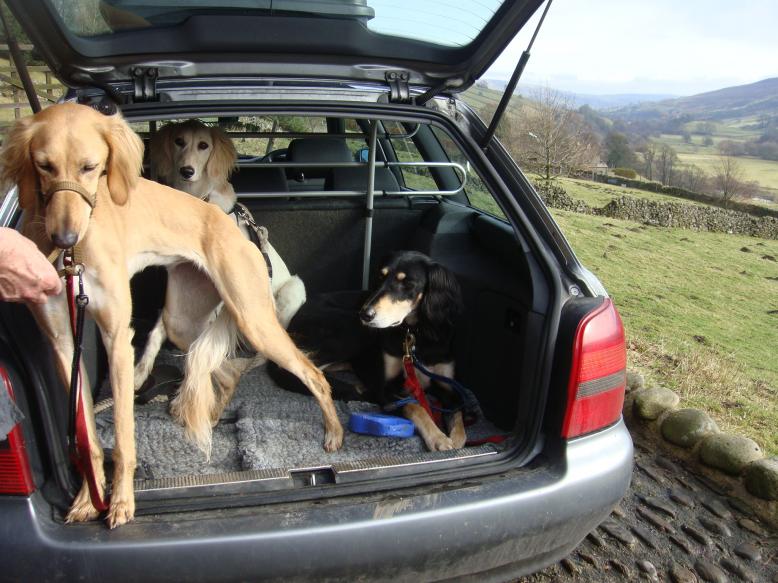 The Big Toy is still awaiting his 'summons' to court to plead guilty but with mitigating circumstances. The insurance company have admitted that they did not give clear advice when he rang them in the first place to insure the Proton. (They bought it on an impulse because the Son's car is a much loved but unreliable old banger and they thought he might want to replace it. He was very impolite about their generous offer – implying he wouldn't be seen dead in it. So it's sat on the drive ever since getting in everybody's way awaiting a time when it might be needed in an emergency!)
Thursday 3rd February 2011
I don't think I've done anything naughty enough recently to tell you about, in fact it is probably fair to say that the mantle for naughtiest saluki in the house has definitely passed to Tammas, who is beyond compare the rudest saluki it's ever been my misfortune to encounter. Tuppence and I sigh over him on many an occasion.

Tuppence has decided that my new role is to be the 'fount of all knowledge'. Until now this role has been held by the Old Girl and she has long wished to relinquish it but the Big Toy would not accept her resignation, on the grounds that he'd never be able to find his car keys again or get insider information on what was going to happen next on TV. Tuppence is one of life's little worriers and she is plaguing me with questions about why people do the things they do. She just cannot understand their behaviour and expects me with all my wealth of experience to explain it to her. I'm more of an action saluki than a philosopher saluki and I must admit I share much of her confusion.

Some of the most pertinent questions she has posed:
Why do they never give us the right chew? Every time we have to sort it out amongst ourselves to find the specific one that individually suits us. In this matter I have a further question of my own. As the senior saluki I am always offered first pick of the chews and dentasticks, but how am I supposed to know which one I want most until I've checked out which one Tuppence most favours. (I like a second opinion).

Similarly, why do they never put our food in the right bowl? Again we have to waste time checking each other's bowl until we find the exact food we each want.
Why do they make us shower on returning from the field even though we've already bathed in the boggy bit?
Why do they wash our muddy feet every time we come in from the garden when they know we are going to want to go outside again immediately?
Why do they have 2 external back doors and only let us in through the one furthest from the settees? We can see where we want to be through the French windows. That's why we bang on that door. And we are gifted with a good memory, so even when the curtains are drawn we still know where the soft furnishings are.

Why are they allowed to have pots with mud and twigs in on the windowsills but we are not praised for bringing mud and stuff into the house? Why do they get upset if we knock their pots of mud onto the floor? They seem to like clearing up mud off the floor. They spend enough time doing it so they must enjoy it. Why would they waste time doing things they didn't like?

Why, when we have succeeded in getting the carpets, floors, our bedding, the sofa covers and furniture cloaked in the requisite amount of our hair for our comfort, does she wash, vacuum and do all in her power to eradicate our efforts? Doesn't she know it is futile and that we will work even harder to replenish the stock of dog hair in the environment by the very next day? We get no help from the Big Toy with this as he has no hair (to spare).
Why do salukis have to go outside to toilet and people don't? Why do they have water in the toilet bowl if they don't want us to drink it?
Why, if she minds salukis eating the fat balls put out for the birds, doesn't she tie them out of our reach? Actually I think I know the answer to that. It's because she's a short-arse who can't stretch as high as even a Junior saluki can, and the Big Toy who is at least 12 inches taller than her is never around in daylight. Not that he would be much use. I recall when she was standing precariously on a rickety chair, hanging the new curtains, he helpfully said 'Oh, don't struggle like that, get the stepladders!'

Wednesday 22nd December 2010
I've put it off for way too long, time to put paw to keypad and wish everybody a HAPPY CHRISTMAS and a Healthy and Successful New Year.

Not much has happened here to write about so I hope that will suffice.

I have of course been exceptionally busy keeping Tuppence under control. She'll soon be out of Puppy and I think she's decided to be a 'right little madam' when and if she grows up. She's putting in plenty of practice already. The Old Girl recently instituted a new rule vis-a-vis the entering of the abode, to whit salukis are only allowed to come in via the backdoor when they have been outside playing in the snow or digging up the garden. I am an obliging boy who will come in when called but Tuppence is putting on unmerited airs and graces and adamantly refuses to use the tradesman's entrance, even when enticed with dentasticks, chews, toys or other treats and titbits. This has lead to a few showdowns. The Old Girl is almost as stubborn as 2p, and has the added advantage of being utterly determined to protect the expensively refurbished sofas and chairs from the ravages of a British winter brought in on 2p's feet. The end result is that the backdoor to the utility room and thence to kitchen is left open and the rest of us freeze while OG and 2p engage in a battle of wills. Eventually the OG shuts the door muttering obscenities at 2p who dashes to the back of the garden at the speed of light and gets her own back by digging another hole. This does nothing to improve the OG's temper and reinforces her resistance to letting 2p in by the French doors which now appear to be draped with dirty brown net curtains - a consequence of 2p petitioning for entrance in the time honoured way by banging with muddy paws on the glass. On some notable and not to be repeated occasions 2p has only been allowed into the garden on a lead with the OG flying on the end of it through thicket and holes.

Even the Big Toy, who is an absolute pushover for a pretty bitch, has been known to get a bit fed up with her refusals and especially with her favourite game in the garden which is to dig holes in the new lawn laid in September. In the certain knowledge that she would dig to Australia given half a chance they researched ways to stop her and at ridiculous expense had barrier 6cm plastic mesh laid before the returfing. This stuff is supposed to withstand heavy car traffic and is used for grass parking at events. Although she hasn't quite managed to dig it up, her attempts being hindered by 6 inches of snow and then a compressed layer of ice, 2p has managed to remove most of the grass and topsoil. Combined with her multitude of 2 foot holes in each of the remaining flower beds that weren't dug up and turfed (to give salukis more space to run) her efforts have rendered the garden makeover a resounding flop. I did warn them, but they did not heed my advice. We are quite glad they didn't listen to the landscaper's advice either which was to get rid of us rather than the plants!
We don't seem to be very popular at the moment. The lovely Mariel (Big Toy's Big Sis) and her husband (Wonderful Chris) have moved from their big country house in Goudhurst, where I enjoyed myself so much last Christmas with the girls Molly and Lydia, to a smaller but even nicer country house in Benenden and unfortunately we are now Canines Non Grata. I think that means unwelcome. I'm sure they didn't mean me! The blame lies with he who should not be named but as that takes so long to type I'll call him Tammas. I was trying to avoid mentioning him in the hope that if I didn't acknowledge his existence he might return from whence he came, but I'm just not that lucky. At the moment he's disturbing my train of thought by digging lumps of coal out of the coal scuttle and scattering them on the rug. You'll never guess who has joined him in this new game. You're right, 2p who I fear is easily led when it comes to mischief and several bulbs short of a Christmas light string, that is to say 'not very bright'. My only consolation is that Tammas is looking more like a black and tan with every venture into the coal scuttle. Back to my train of thought - oh yes, whence he came is some place called Scotland and by all accounts (Jacki's at least and she should know as Thistle is one of Tammas's many relatives) this is a place full of noisy tartan coloured game birds who sing rude songs and like to be chased. Actually that sounds right up my street. Anyway because of the unwarranted arrival of puppy Tammas we have been uninvited to Kent and must make do with Christmas and New Year in not so sunny Ilkeston. To get my revenge I'm thinking of invading Scotland in April for the Scottish Hound Show and quietly depositing Tammas back where he belongs, I'm sure he'll be much happer there! Scotland has been warned.
You mustn't think I've borne the whole responsibility on my young head (I was 2 years old in November the day after he appeared) of looking after a 10 month old puppy and a 2 month old puppy. That pleasure has been shared by the Old Girl who kindly gave up paid work to help me, so there has been one good by-product of his arrival. I no longer have to spend several hours shut in the kitchen with Tuppence who used to get so bored she started eating the kitchen cabinets, clearly only when she'd finished on my ears. My tail is growing back but my ears have still not recovered.

I end the year as it began, still celebrating my eligibility for Special Beginners.
Sunday 5th September 2010
I have been prodded in the nicest possible way by Cousin Georgie into keeping all 4 of you abreast of my latest adventures (see Saluki of letters). I apologise for the delay. I have been busy training 2p, helping with the garden reorganisation, advising on the decorating and trying, without any success, to find my missing feathers. I think 2p has swallowed them all.
The school holidays started well enough with a trip to the Yorkshire Dales, my favourite part of the world. It was 2p's first visit to the area and she took to the rivers, becks, gills etc like a duck to water. I retained my dignity and refused to get my feet wet. At least in the Dales she wasn't allowed off the lead and I got some peace from her practising her bring downs. She's got these off to a fine art now and I dread our visits to the field where she has perfected her technique.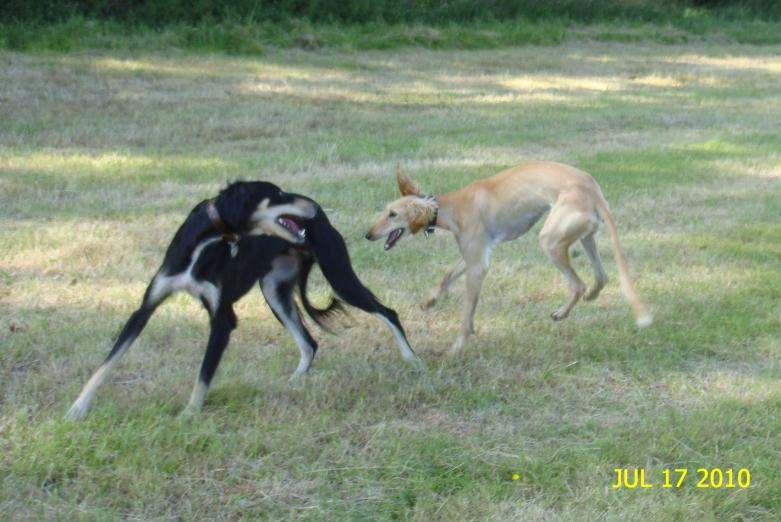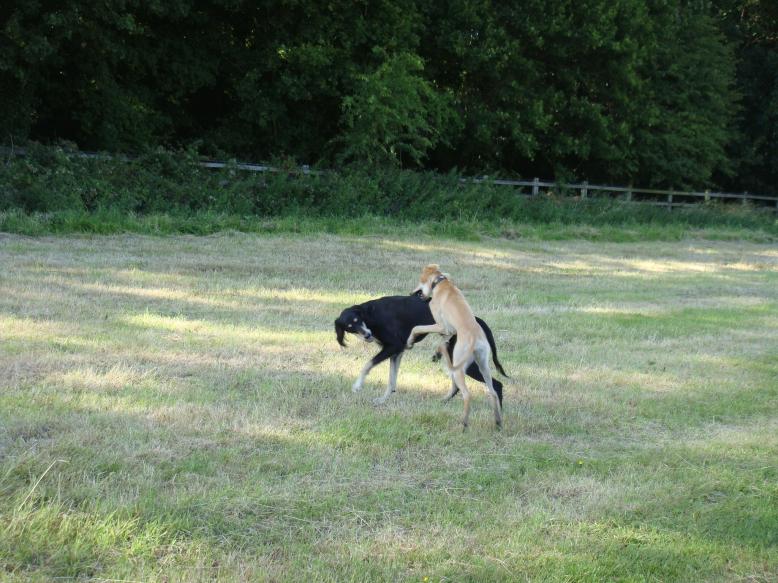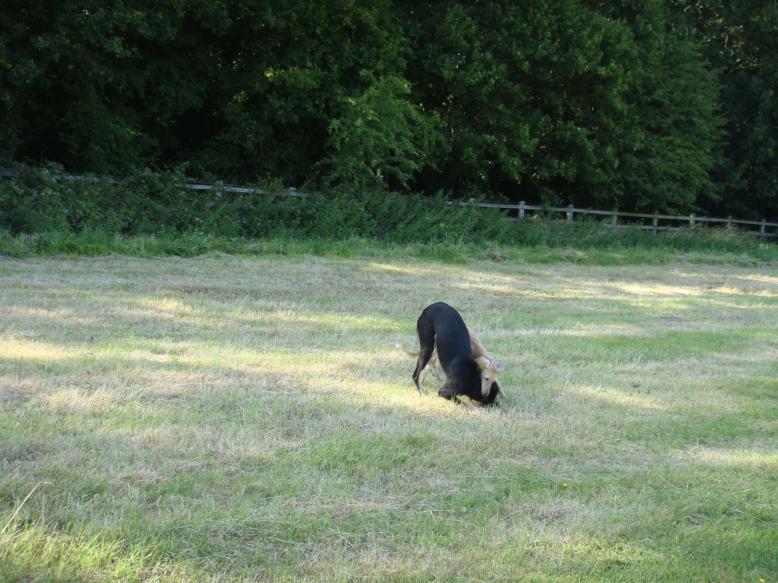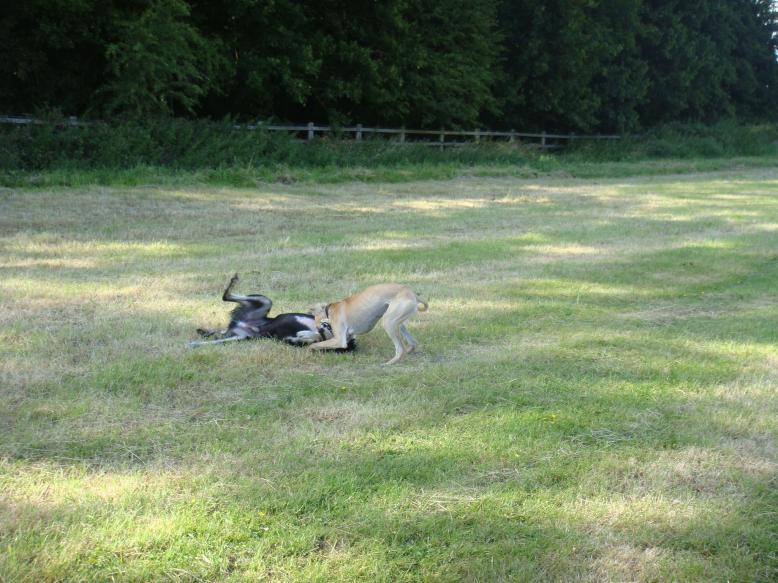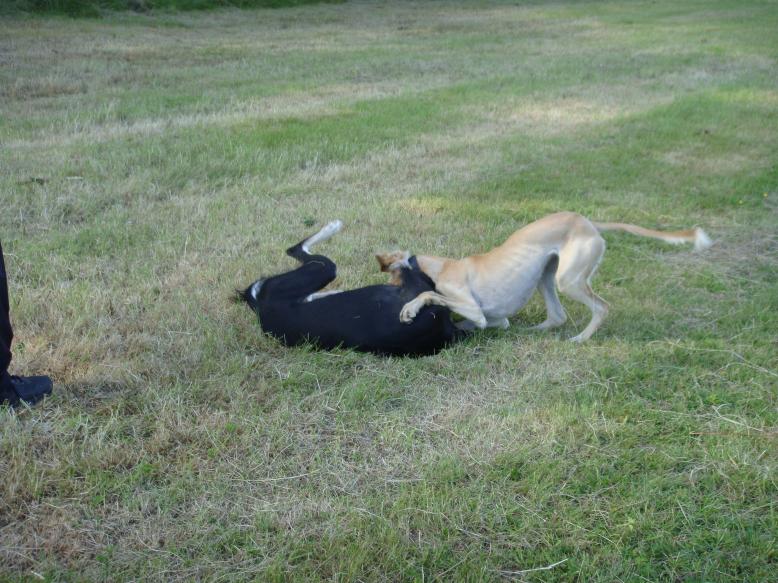 So, there I was in the Dales hoping for a bit of rest and relaxation, a few trips to my favourite pub -The Bridge at Grinton where they are great with salukis and other dogs, an expedition to the Blue Lion who also know a thing or two about making a saluki feel at home, some undemanding walks along the river, a chance to check out the sheep in Arkengarthdale and do some browsing around Richmond, Northallerton and Reeth, not to mention some cosy nights in by the log fire. And what did I get? Well, all of the above but with some over the top route marches thrown in, uphill and down dale over and over again.

They saved the worst for the last day when we went for a walk up Gunnerside Gill. The last time they did this walk, which was new to me, was with Pip and Becca and it was where Pip discovered a route across the Gill and made a short lived break for freedom. Without his help this time they missed the route back and we all ended up having to walk up past the falls to the bridge at the top of the Gill. The little leisurely trip down memory lane turned into a cold, steep and hungry trek. After several hours of walking we got back in sight of Gunnerside on the other side of the Gill from where we had started. All should have been well.

Alas there was a herd of cows and their calves in the common field, complete with public footpath, right next to the village. As it was a steepish climb down the hill the Big Toy had me and 2p on the leads and the Old Girl marched ahead leading the way. She's a bit feeble about being pulled over on downward slopes ever since she broke her wrist (walking Rosa) and last year sprained her ankle on similar terrain with Pip and me. 2p and I walked as discreetly and quietly as we knew how but they had seen us and the belligerent boss cow started bellowing to the others, and within seconds the Big Toy, 2p and I were surrounded by mother cows and their calves, with all of them calling to each other to come and join in the fun. If I could fully understand cow speak I'd say there were shouts of 'Fight, fight, come on you bovines!' I was not impressed when the Old Girl, naturally wearing her red coat, escaped through the stile and left us to it. The big noisiest boss cow who had started all the trouble butted the Big Toy and knocked his glasses off, and he was even more encumbered by my strenuous efforts to jump into his arms out of the way of all those hooves. I don't know what 2p was doing but in circumstances like these, as the Old Girl had clearly demonstrated, it's everyone for themselves.

The Big Toy got us under the shelter of some small trees and we were stuck. Cows from all over the Dales were coming to support the action. The Old Girl kept bleating at us to go back up the hill but we were totally confined. I'm surprised we could hear her as the noise all these beasts were making was deafening. I fully expected that at any moment people would be rushing out of the village houses, barely 40 yards away from where we were hiding, to at least check out what all the fuss was about and possibly to issue Noise Abatement Orders.

Eventually the Big Toy begged the Old Girl to try to get help. She inevitably went into the nearest (and only) village pub with which she was reasonably familiar from previous visits. Eschewing her natural inclination to order a large G&T, she went straight to the bar and asked the barman if he knew whose cows they were. He tried to be helpful but didn't know as it's common land and the herds move about regularly. She explained that her husband was surrounded by cattle, just mothers and calves, no bulls. And an idiot sitting at the bar with his back to her said 'Well he shouldn't have gone into a field with cows and calves in then, should he!' She turned on her heel, said thank you so much for your help. The barman suggested she try the Blacksmith's forge, could be his cows, so she walked back to the smithy which was next to the field, banged on the door and although there were lights on upstairs nobody bothered to answer the door. Perhaps they couldn't hear her knocking over the crescendo coming from the cows just yards away.
By this time she was in a bit of a temper, so even though she knew a vet and her dog had been killed by a herd of cattle in Yorkshire last year, she stormed back through the stile gate, waved her frightful red hat at the cows and shouted at them in no uncertain terms to move away. They had obviously heard about what happens when her bit of a temper becomes a full scale rage, and most of them scuttled away like frightened sheep. The Big Toy retrieved his glasses from the ground and his rucksack and moved with us towards the stile. The Old Girl got there first and had it open in time to let the Big Toy, 2p and me through just before boss cow and a few of her hangers on reached us wanting Round 2. I didn't half give her a mouthful when I was on the safe side of the stile gate. I think she had it coming, so I do not regret my bad language at all. I had been as quiet as a mouse for over half an hour penned in by her and her cohorts.

The Old Girl loudly ranted the whole 20 yards from the stile to the car that she would never grace Gunnerside or the Kings Head with her presence again, that they had lost her business forever. It was just a shame that later the same day the Big Toy took it upon himself to drive back to the Kings Head to ask if her pretty blue saluki purse (which had gone missing sometime during the day) had been handed in there. Other than that they aren't ever going back to Gunnerside.

On their return to Derbyshire the blue purse, after extensive searching, turned up in the blue bag, masquerading as part of the base. On the positive side, if the blue purse hadn't hidden itself so successfully, the Big Toy would not have had the unexpected pleasure of bumping into Mike in Reeth in one of its many hostelries as he trawled round trying to ascertain if anybody had handed in said purse. They hadn't obviously.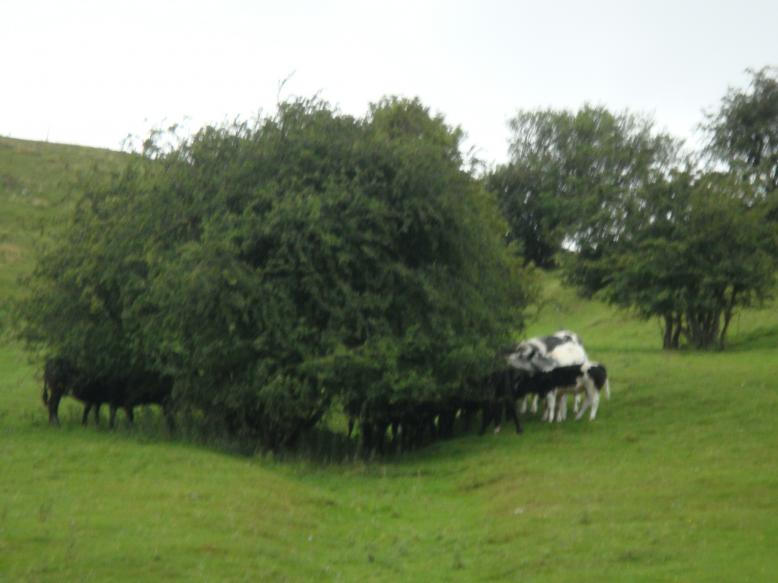 The Big Toy, 2p and I are under there somewhere!
To restore my self esteem after the above episode, and to quell the rumours emanating from one quarter of my readers that this is not all my own work please find photos below of me hard at work on the laptop and/or reading Zola's funnies and other correspondence. When these photos were taken 2p had not yet completed her work on my ears and tail and I still looked vaguely saluki like.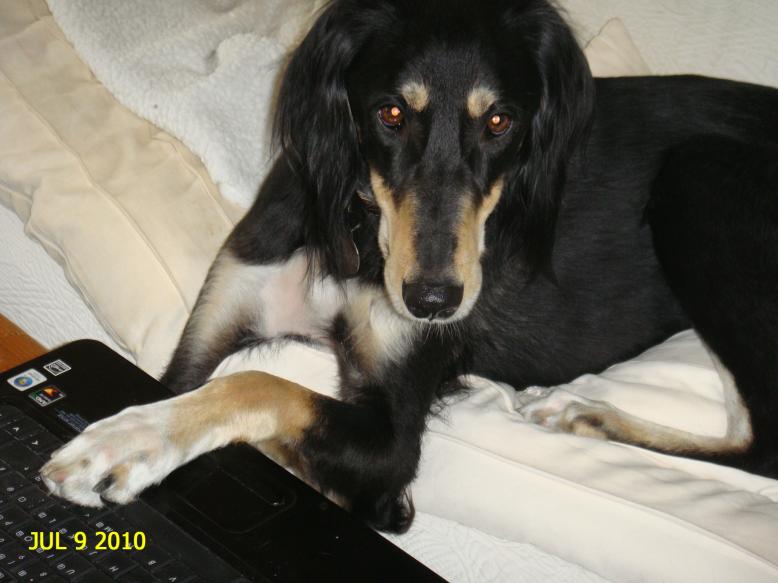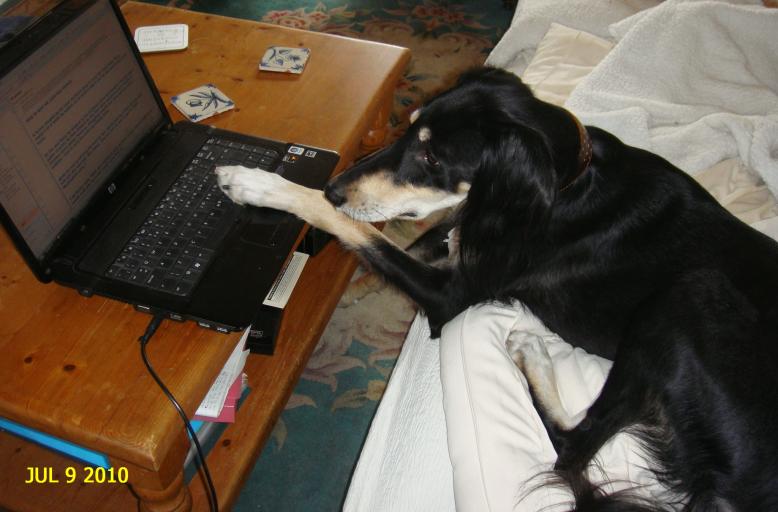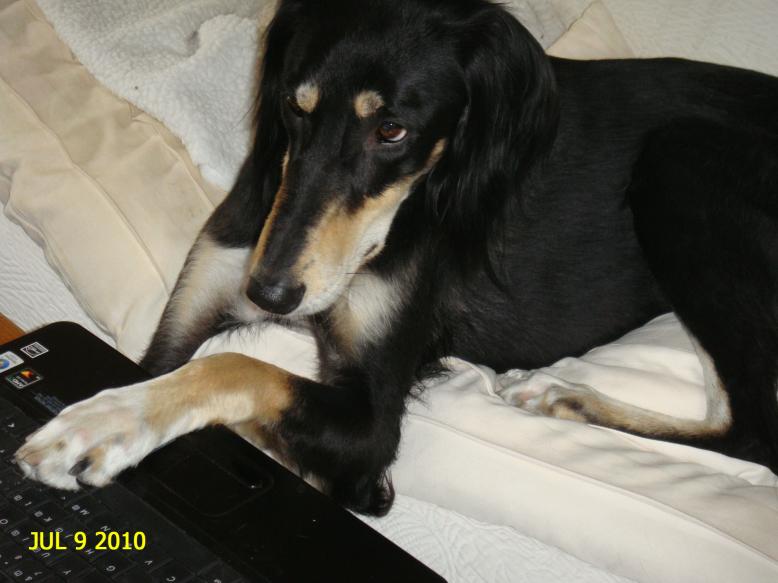 Thursday 10th June 2010

I have been helping the Old Girl to polish trophies today, only one of them was mine. I've given it up as a bad job because she said my licking was just making them smeary, not clean, and I didn't really like the taste of silver polish. So I've returned to my regular task of keeping Tuppence off my favourite chair. Of course my favourite is always the one she wants to be on with the result that we've managed to get muddy paw prints on each and every item of furniture. The weather has been foul for the past few days since they dug up most of the flower beds and every time I set foot outside it somehow gets caked in mud. I don't get as dirty as Tuppence who is much closer to the ground than me. She thinks they cleared the beds so she'd be able to have a really good mudbath whenever she chooses and to make digging them up easier for her. She doesn't like to appear ungrateful so she obliges them by digging and rolling at every available opportunity.

My Cousin Jabari who is truly a saluki of letters now with JW, ShCM and CC after his name is under the mistaken impression that because Tuppence is a girl she must be feminine and dainty. Wait till he meets her and he'll soon find out she's really a tomboy sent here by the England Rugby team for undercover practice. I'm the mutt she practises her flying tackles on. She launches herself at me with all four feet aimed at delicate parts of my anatomy, and I'm sure it must be Pip's ghost telling her to bite and pull my ears - just to get his own back on how grievously I mutilated his ears. It's me that ends up crying 'enough' in our play fights. She only stops to fall asleep or to plan her next assault.

Tuppence has some very strange habits. She'll play outside for ages and then goes into the house for a pee. Even at my most excitable I never actually pee'd inside on purpose (except to punish the old girl for making me wear the halti). Mostly she does it on the wooden floor rather than the Chinese carpet. The Old Girl is grateful for this as it is the only thing she owns that she claims is an heirloom. I think if it's that precious to her she's mad to leave it lying about on the floor for all and sundry to walk mud on to, and for bored salukis to chew bits off. Imagine how careless she'd be with something she didn't think was special. Tuppence is a chip off the old block (Pip) in many ways. She loves to bite plants and bring twigs into the house to gnaw on, also stones, pots, tiles and quite disturbingly snails. The BT and OG keep having fits about this and have already made an appointment with the vet to discuss the dangers of lungworm. Tuppence won't be told and just carries on regardless with her mission to divest the garden of these loathsome creatures.

I feel quite old when I see 2p hurtle around the garden, she doesn't so much run as fly and leap. She chases me! After a bit of this though I just stand still and let her keep running in circles around me until she gets distracted by the need to dig or chew or roll (or go inside for a pee). She hates birds and tries to chase them out of the garden. I don't like the pigeons and have always done my best to see them off, but 2p doesn't even like robins and blackbirds. Seems reasonable to me so now we share in the task of telling them to get lost. I still haven't heard her bark but she's a very accomplished moaner, saving her best for when she's in her pretty blue crate (belonging to Elaine and Neil, her joint owners) and everybody else has gone to bed. She wakes everybody up including me. I'm now in Pip's big green crate at night with plenty of room for a big boy to make himself comfortable. Guess who wants to share it with me. I'm not for sharing yet, I'd never get a moment's peace. My ears would be but a shadow of their former selves and she likes to stretch out. See picture below of us on my favourite settee.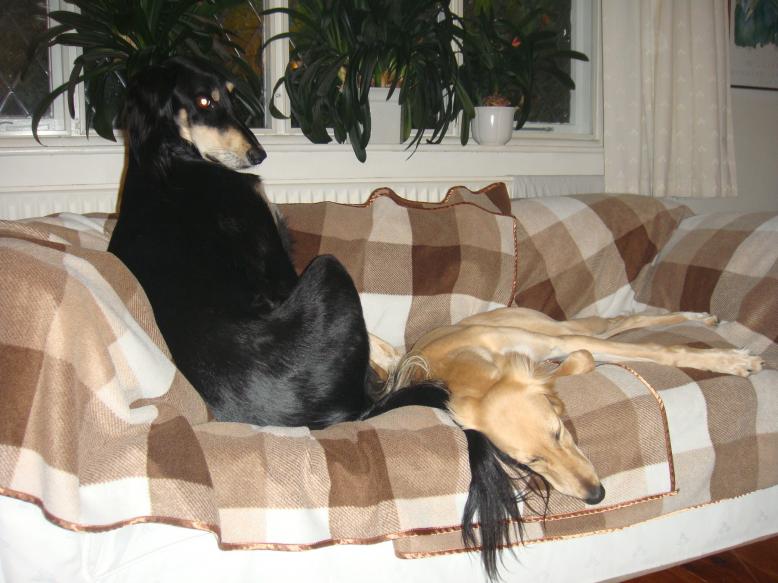 This photo shows how I prefer to enjoy this settee: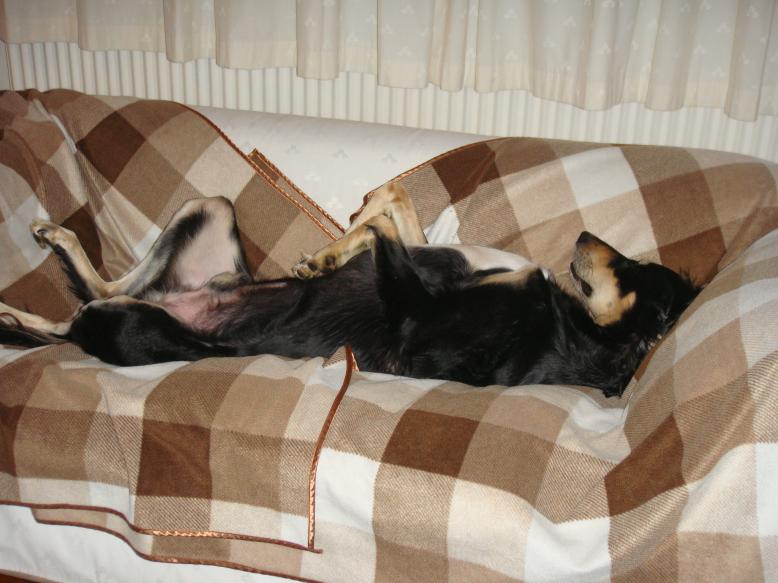 I don't know where 2p was when I got this rare opportunity to have a nap alone, perhaps she'd gone to her first ringcraft class. The Big Toy said she behaved beautifully, let the judge look at her teeth (he was taking a chance - they are very sharp), go over her and she trotted around the ring quite nicely. This obviously means she'll be a nightmare when it comes to the real thing. Neil has been warned.

You'd think a little scrap like 2p would be in awe of a big bruiser like me - I'm still a heavyweight - but she isn't frit at all. She's quite a madam and holds her own in encounters with toys. Pip always graciously gave in to me and let me have any toy in question, but 2p likes to hang on until I give up.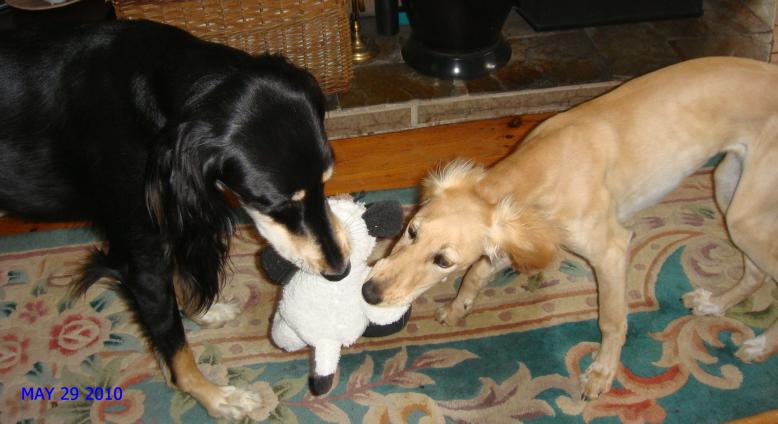 Guess who won this battle: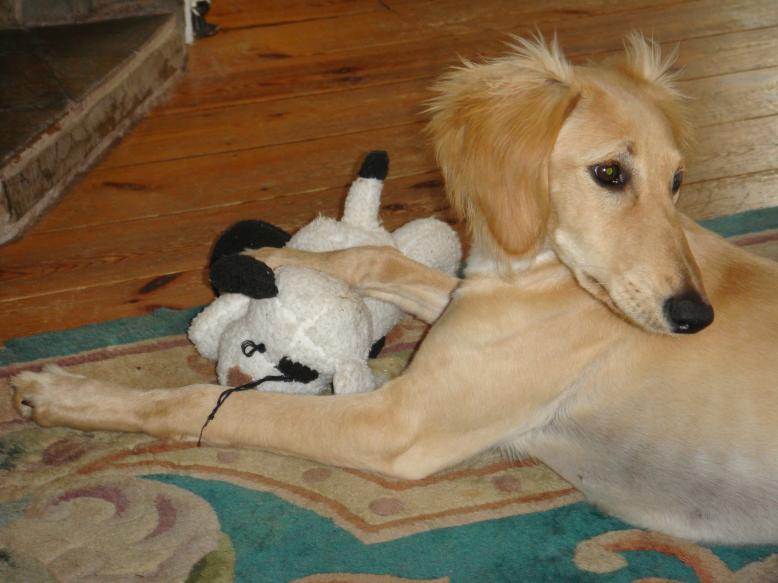 The vet has finally decided what was the matter with me. It would seem I had a nasty kidney infection which produced the poly-arthritis like symptoms. He came to this conclusion after I finally had a clear urine sample. Not being a medical dog I wondered if this was due to it being the only sample not to be extracted via a catheter. When the vet wanted yet another sample the Old Girl and Big Toy took me outside with a bottle, a funnel thing and a rubber glove, told me to pee so I did, and we went back to the vet's room with a brimming bottle. He was quite impressed that I pee'd on command. It is supposed to be a good news that it was a kidney problem as I shouldn't have any more problems with my joints. But the long period on steroids has left my immune system depleted and I am at risk of further infections. And I've still got all the weight to lose. All this on top of losing my lovely Pip has left me quite depressed. To counteract this I am now on Bach flower essences recommended by Helen Graham, and a crash course in being 'big brother' to the bouncy new bitch in my life Tuppence. I suppose it's a good thing I haven't got my erstwhile energy or the OG and BT wouldn't know what had hit them as 2p and I tornado through the house and environs.
Return to Top

Saturday 15th May 2010

Yesterday I was 18 months old and I am now no longer a Junior. Yippee. To celebrate my half year birthday the Old Girl and Big Toy took me out for a very long car journey. I was a bit miffed because I had to travel in the boot. Since Pip's sad demise I have normally travelled on the back seat with the Old Girl so that she can distract me from fussing about other dogs who dare to be in the vicinity of my car on our travels. She makes me focus on her by tempting me with tiny treats. The exception to this is when I am wet and dirty and I get relegated to the boot and they put up with my barking. But yesterday morning I was not wet or dirty so I didn't understand why I was in the boot.

We were in the car for ages. I knew we weren't going to a show because we didn't get up at the crack of dawn and I hadn't had a shower. And then they left me in the car while they disappeared inside a house I didn't know. I was not best pleased. But then they came out carrying the best present a boy could want - a Pip coloured little bitch puppy! Not only does she look like Pip but she's related to him, his second cousin. Her mum is Pip's actual cousin. She sat on the Old Girl's knee on the back seat and I tried to inspect her through the grille from the boot. Happily they soon found a pub to stop at with a garden and I was allowed to get up front and personal with her. Her name is Tuppence - the Son is appalled - and she didn't mind me drooling over her so much she needed towel drying before she could get back in the car. She didn't say a word but I could tell she liked me too. She's very quiet and very well behaved. Puts me to shame but I'll learn to live with that. It took us over 5 hours to get home, and they've given her my crate (actually it was Pip's) to live in.

I don't mind, I am in love. She still hasn't said anything and she still hasn't put a paw wrong, no car sickness, no accidents in the house, slept all night without a murmur. She's just climbed up on to the settee for the first time so I think she is going to make herself at home quite quickly. She's very pretty and smells divinely of puppy urine. And she hasn't tried to eat my food or disturbed me when I'm having a well earned and prednisolone induced rest. She has made no derogatory remarks about my weight or lack of waist, even though she's very slim and has a tuck up to die for. I think the good days might be back. Pip of course will be spinning in his grave, outraged that they never got him such a lovely present and they knew he'd always wanted a little saluki bitch to play with. I don't think he ever thought of me as a special gift.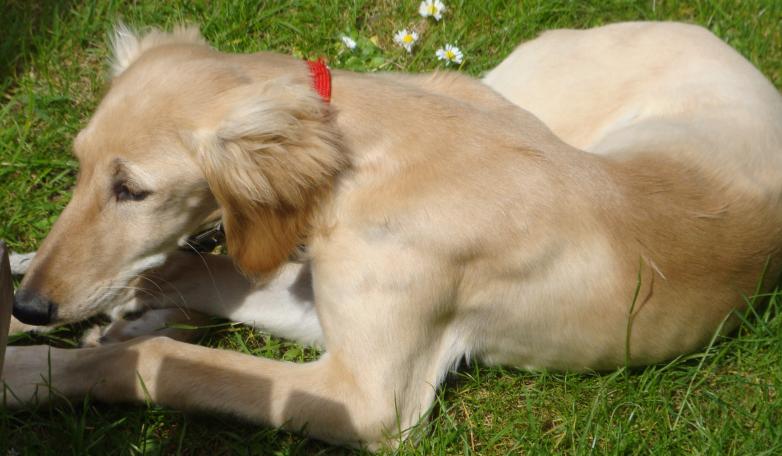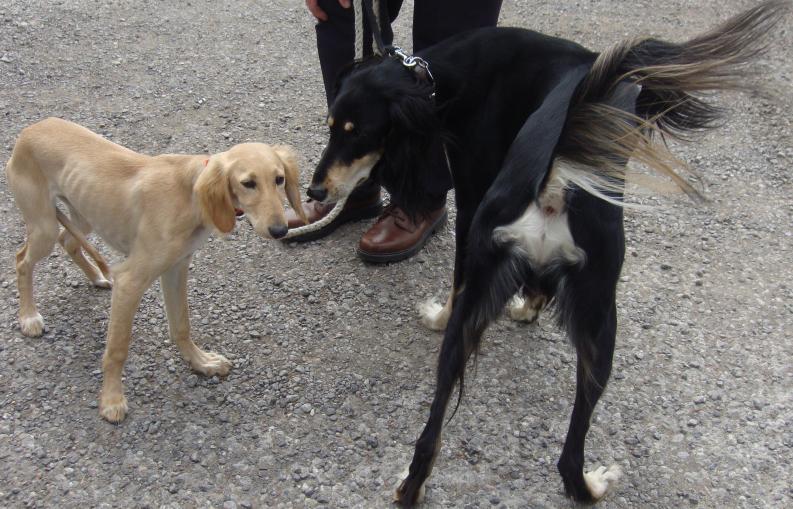 The Old Girl has already taken 83 photos of Tuppence. I'm on a few of them, and most are rubbish, but when she was loading them on to the computer last night the Big Toy thought she was looking at old photos of Pip as a puppy until she pointed out that Tuppence has a few bits missing that Pip was very proud of.

Other news from the last 3 months: A week after Pip died (26/2/10) I learned how to catch treats, balls, toys. Still haven't mastered catching the frisbee. Two weeks after Pip died I did astoundingly well at Crufts, coming 1st in Junior Dog and Good Citizens Dog, and 3rd in Yearling. 5 days later I went a tiny bit lame, went to the vets for my boosters, was given a nasty antibiotics jab and painkiller jab instead because I had a slightly raised temperature, and 2 days later I was completely off my legs and had a raging temperature of 40 degrees C. I was very, very poorly and I'm still not completely right despite being on a high dose of steroids (prednisolone) ever since. My temperature came down almost immediately after the 1st prednisolone injection, and my weight has risen spectacularly. I now weigh in at 28Kg and almost none of it is muscle so I have a long way to go before I can be called svelte again.

I have started to feel like playing again in the last couple of weeks and am enjoying chasing a ball and bringing it back sometimes. Mostly though I prefer to be running to catch something edible. The rabbits in the field have had a lazy time while I've been unwell, and have taken to not disappearing whenever I appear, but sitting about sneering at me saying 'hey, fatty, you won't catch me. Call yourself a sighthound, you haven't even noticed we are here!'. Actually I have seen them but if I pretend not to see them I feel under less pressure to put them through a workout. Anyway I'd never catch them, as they cheat and run under the railway fence and into the nettles which I don't like. No, I like to be sure of a reward these days for any exertion so I will run between the OG and BT to have a treat tossed to me. I don't think this is helping me get thinner.

I have developed a liking for toothbrush heads. Admittedly it is an acquired taste and they do take some digesting. They never did find the one I actually bit off and swallowed. The Old Girl went out and bought some more toothbrushes since I was so keen and we have great fun as I try to bite it off and she tries to brush my teeth.

I didn't get my Junior Warrant even though I earned 27 JW points. As these were all at Champ shows I don't qualify as 3 needed to be from Open Shows, and the only Open shows I've done any good at have been the ones where other salukis didn't turn up! Don't know if there's a connection. I was the top winning Dog in 2009 for the Northern Saluki Club points trophy, with 80 points. This was because the NSC is much more generous than the KC and lets you have the points for turning up even when nobody else does. And I did turn up a lot last year. Pip was runner up adult dog with 54 points, but he earned every single one of those points because he was always up against competition. I am very proud to have been his mate and tormentor and miss him like crazy. I just hope his second cousin is as much fun to live with. I think she might be!






Thursday 11th February

Last night against all the odds and in the most unfavourable of circumstances I passed my KC Silver Good Citizens.

This was probably because I had to wear the horrible halti, and to be honest, I'm so sad about what is happening to my lovely mate Pip, that I haven't got the heart to be trouble.

They are saying now that it is leukaemia and that things don't look good. Too upset to write anymore.



Friday 5th February 2010

The smell of microwaved liver is pervading the house again, which is mitigated only by the even stronger smell of roast chicken. I wouldn't mind but it's not for me, well I might get the odd morsel, but most of it is for Pip who has been very poorly and losing weight and still not playing with me or even going for a run. All he does is lie about the place, moving from one chair to the next as the mood takes him, giving me a really hard time when I get back home if the Big Toy takes me out for the day - almost won't let me back in the house with his growling.

It isn't my fault that he's not up to going to shows or agility classes and has to stay at home with the Old Girl. And you won't believe what she's been making him wear. I'd be growling if I was him, but of course he's much too polite to complain to the people in charge, so he just mutters at me.
I think the reason they have been making Pip wear trousers is because the vet (vet number 4 to be accurate) wanted to cut off his testicles, and the Big Toy and Old Girl believe that if they cover them up, the vet won't be able to get at them. Very strange things have been happening to poor Pip's testicles.

First they swelled up to the size and colour of a cricket ball which led to an emergency visit to the aforementioned vet number 4 who wanted to chop them off. By the time he'd got back from that visit to the vets his ear leathers had developed lumps all over the edges of them, a bit like the one he had on his neck in the autumn. Of course with this threat to his nether regions hanging over him Pip went into a massive depression and spent as much time as he could guarding and licking his bits. They tried collars and tee shirts to stop him being able to reach them, but he's a very supple saluki and outwitted their every effort until they came up with the trousers. If I didn't feel so sorry for him I'd post a photo. Maybe when he's better.

Vet number 5 (the boss) demanded to see him the same evening and gave him a reprieve on the castration front, said he'd injured himself running through nettles or something and having scratched himself had exacerbated the trauma by keeping licking himself. She gave him some ointment which made him cry and jump over the furniture if anybody went near his very sore testicles with it. Human beings with perfectly good skin had to wear disposable gloves to apply this stuff, and they wanted to put it on his cracked and tender bits! To Pip's great relief his Breeder, the divine Elaine, suggested sudacreme instead and Pip now has the softest most pliable pretty mottled pink and grey balls in salukidom.

Not that any of us are taking them for granted. The Old Girl sleeps downstairs with Pip and me to make sure he doesn't lick himself in the wee small hours. I like to tease them both by having a noisy slurp or two of my own bits, which I have learned to value highly. She sits up in the dark, tells Pip to stop it, and he's not only innocent but knows exactly what I'm doing and how much I enjoy it!

The Old Girl feels very responsible for the disaster Pip has experienced recently. She has not been taken in by the 'nettles' theory as Pip not only always has run through nettles, he actively seeks them out on walks as he is most fond of them for toileting, which makes clearing up after him a hazardous task for them. After the Big Toy and I returned from the Manchester Show where we'd learned about a saluki having a catastrophic reaction to sniffing a plug in air freshener thing, the Old Girl realised what she'd done differently on the day before Pip's problem revealed itself.

In a moment of drunken New Year bonhomie she had invited Sue and Mike to come for an evening. In the cold sober light of the following week she'd realised she'd have to clean, so on the Thursday of their visit she tried to do an entire year's cleaning in one day. She failed. I could have told her it was impossible, especially as I had added a few obstacles earlier in the week (like digging and munching a 10cm hole in the carpet just in front of the fireplace). In order to make the place smell less like home she had decided to 'febreze' the settees and chairs as well as washing the covers, but she hadn't had time to go shopping for the branded stuff, and had thought it fortuitous as she walked through the Vic Centre on her way home from work that there was a whole display of its £ equivalent in the Poundshop.

This she subsequently liberally sprayed on the above mentioned furniture having turfed Pip and I off. She later recalled that Pip got back on the settee while it was still damp. Another thing she'd done differently was dust the lampshade in the dining room. This action took the light so completely by surprise that it stopped working and by 4 pm she was working by candlelight. The Big Toy on his return from work thought this was by design to hide all the cleaning that hadn't been done and made no comment. This in itself was very strange as he normally comments on or questions everything. Pip and I kept out of the way as much as possible while the clean up was going on and had a brief walk with the BigToy in anticipation of Sue and Mike's arrival with their massive Irish Wolfhound.

Pip was unexpectedly unwelcoming of Finn, by whose advances in the past he's been bemused but not offended. They put it down to Pip wanting to protect me. These people know nothing. I think, and so do they belatedly, that Pip was suffering already with an allergic reaction to the fabric freshener used earlier in the day, and that he did not want anybody, no matter how attractive, going anywhere near his backend. Of course the Old Girl and Big Toy had not paid any attention to Pip's rearend that evening and it was not until the following morning in daylight that she thought she'd seen an unexpected pinkish glow from that area as he stepped up on to the settee. 25 minutes later vet number 4 was keen to get his knife out, and the sad saga of Pip's balls commenced.

The Old Girl sent out an SOS to Salukiphiles and from across the land came back messages of concern, advice and support. Petitions have been launched to preserve Pip's balls, there may even have been a Facebook campaign, and I believe Pip's testicles have since been listed as endangered species with all the rights to protection such listing implies. Personally I think the hate mail to the vet was going too far. The Old Girl has naturally decided that this sorry episode excuses her from ever spring cleaning again.

Now all we've got to do is get to the bottom of what is making Pip so tired and thin. Vet number 5 keeps saying his red blood cell count is low, gives (obviously I mean sells) him medicine to help him make more red blood cells, and then takes more blood off him to send across the country for tests, thereby depleting his bloodstock.

I haven't met the vets yet - wisely I stay outside in the car and bark at every passing cat and dog en route to them. The OG & BT thought that if I wore the horrible halti in the car it would stop me barking, but it doesn't. It does however make me behave at KC Good Citizens classes and I am now due to take my silver test for the third time next Wednesday. I failed on the last 2 occasions because I would not wait for 2 whole minutes without moving. The BigToy made me wear the horrible halti at the class last Wednesday and I didn't put a foot wrong. He was very pleased to learn that I can wear the halti for the Test.

Happily for me I don't think they let salukis wear haltis in the showring yet so I can still have fun in there, like I did at Manchester. Witnesses have agreed that it was the lovely Mark Cocozza's fault that I thought it was playtime for Juniors when he tickled me under the chin. And then he described me as 'very naughty'. Cheek.
Return to Top



Sunday 10th January 2010

I am bored so I have decided to add some photos to illustrate my blog. I am bored because although we have been to the fields every day, Pip has resolutely refused to play with me, even tho' he's now being treated for his ear infection. His Breeder says his reluctance to exercise is probably due to a pulled muscle which it could take ages to recover from. I think they should borrow a playmate for me who will run.
The Old Girl said she wanted to do some office work on the computer, but I said my needs come first, and anyway she only wanted to do office work as a more attractive alternative to what she should really be doing, which is steam cleaning the carpets after their brief encounters with soot, and their year long relationships with everything Pip and I have trailed into the house from the garden. She's in a bad mood because although she has washed, dried and ironed all the curtains for the Son's new flat, he won't let her go and hang them or even allow her a sneak preview of his new floor and settee until it's all done. Enough about her.
Here are the pictures taken before and since Christmas of what should have been fun times in the snow.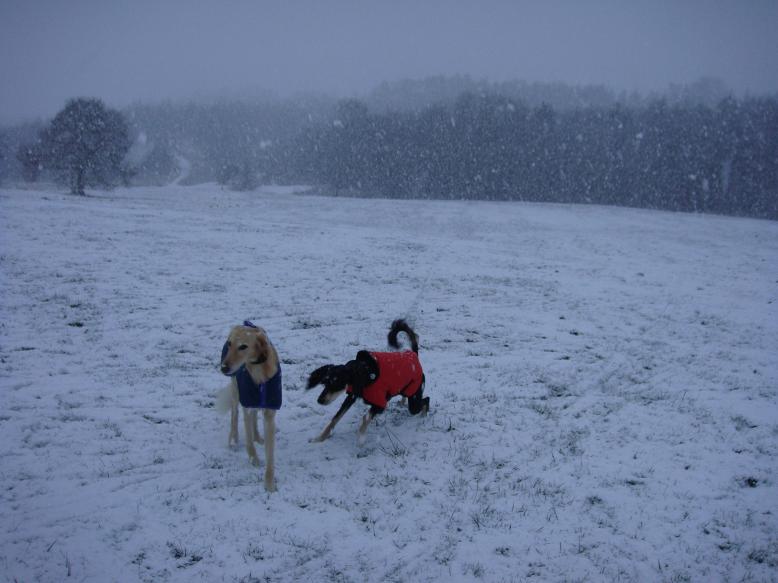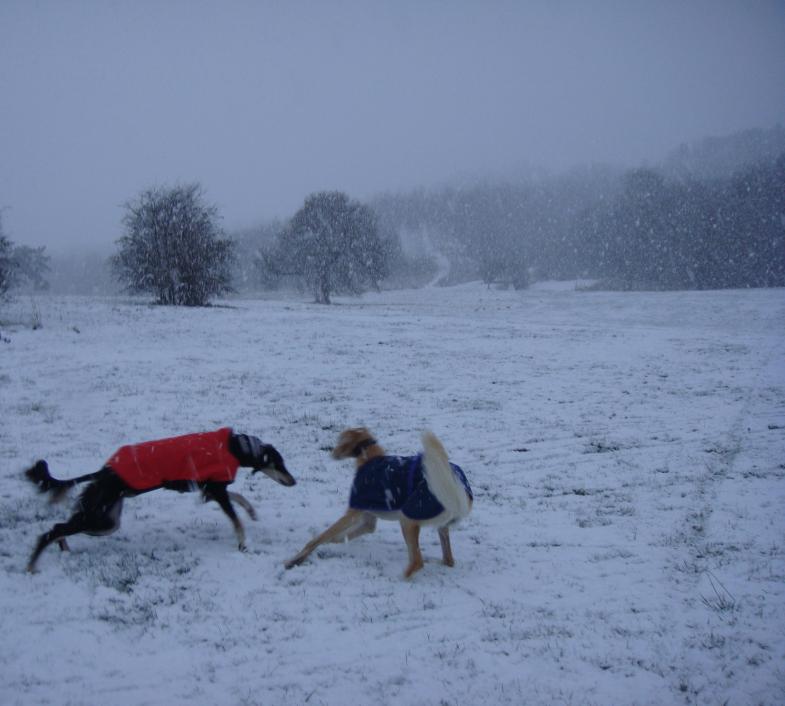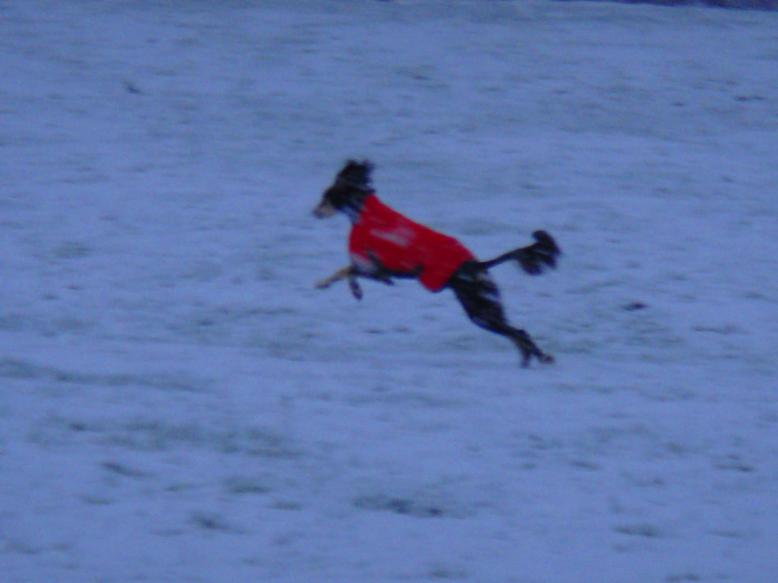 As you can see in these photos I am wearing my new warm pink coat and Pip is wearing his old blue raincoat. I am doing my best to engage him in a little lighthearted fun in the snow, but he refused to have anything to do with me and in the end I just had to enjoy running in the snow on my own. It was his refusal to run in the snow that made them realise there was was something very wrong with him as Pip's love of snow is legendary.

The next photo shows that thereafter my pink coat has been purloined by the hardiest of salukis, and I've been relegated to the raincoat. I didn't really mind. I was too busy having a good time running around to get cold.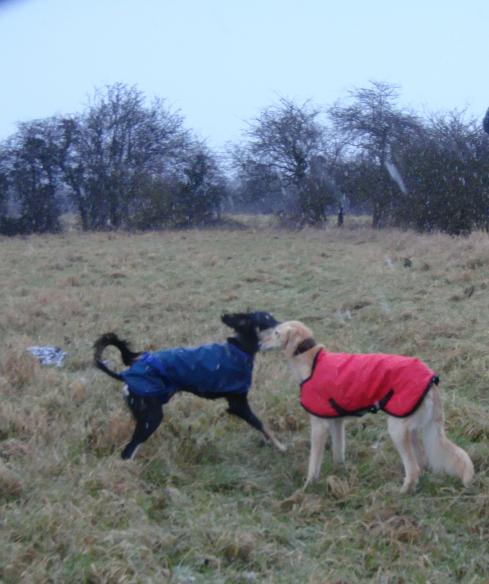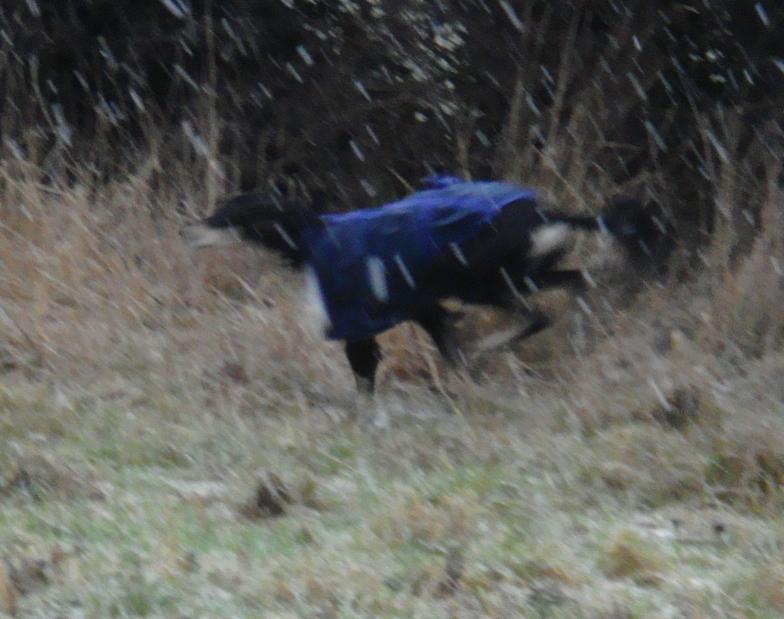 To make up for not running with me Pip did try to introduce me to his third favourite activity which is walking on water or ice skating. I'm not sure it's for me, which made Pip even sadder.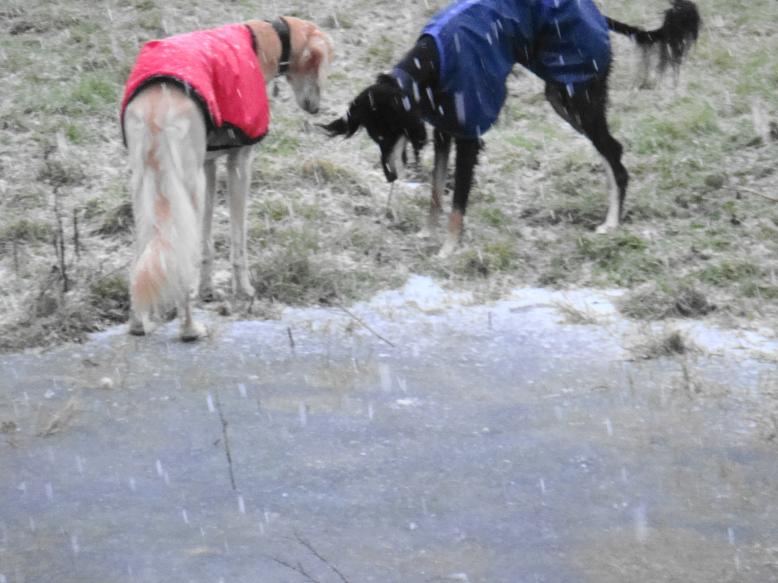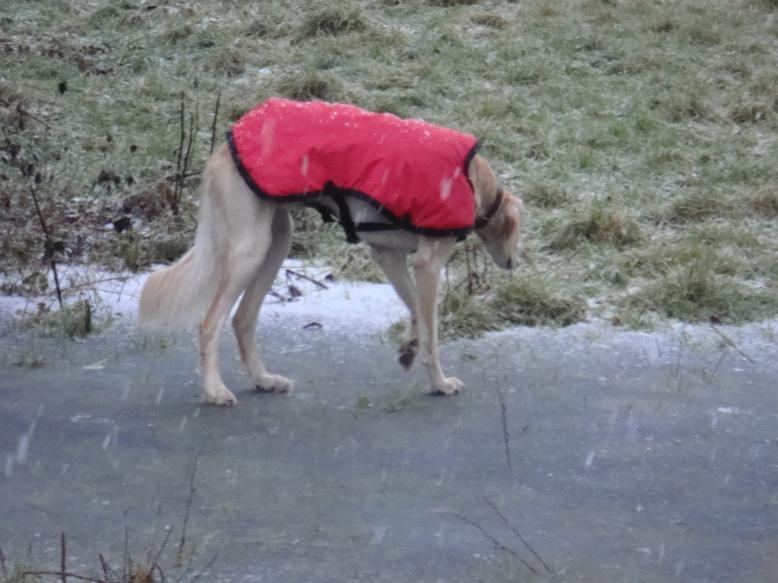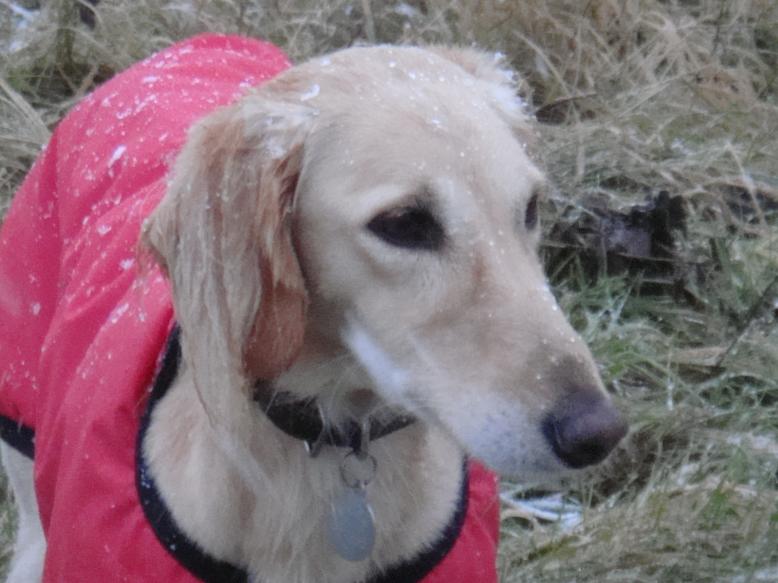 So today I thought I'd try to cheer him up by jumping on him from the bushes. It's time he learned that you never know who is lurking behind you.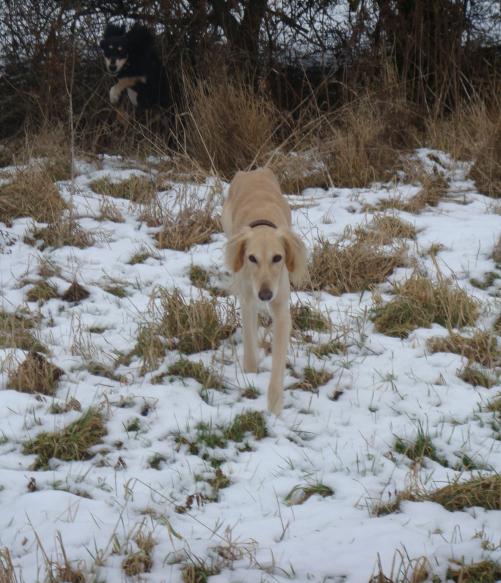 Friday 8th January 2010

I am happy to report that the Son has got the computer mended and I can resume communicating via email and here. I've got so much to tell you that I don't know where to start. Most important is the news that after being taken 3 times to the vets because he has become so lethargic and sad looking, a vet has finally realised what is the matter with Pip. I've been trying to tell them for ages that he's got an ear infection. Why else would I spend so much time sniffing his ear? You'd have thought any vet, faced with a dog as unhappy as Pip has been - refusing treats, snow fights, and runs in the fields - for no obvious reason - would have checked his ears. The Old Girl and Big Toy are defending their ignorance on the basis that as Pip has always enjoyed a good dig with resulting ears full of mud, they didn't realise the gunge in his right ear was anything more than extra dirt. Now they are arguing over the best way to get drops into his ear and antibiotics into his stomach. Poor Pip. He's missed out on lots of fun in the past few weeks. I think he has come up with a very good reason for being excused the awful haltis for the foreseeable future, but it's probably too extreme for me to follow suit. The vet told the BigToy that Pip was such a brave and stoical dog that it wasn't good for him as he'd not let anybody know how much pain he was in. Obviously I wouldn't be so daft. I learned early from Becca that you should cry if somebody even looks at you funny.

I started the New Year making a New Friend, I needed somebody to play with on New Year's Day as Pip was intent on spending all day under the Dining Table. Luckily Little Sis's granddaughter who is more than twice my age (she will be 4 in March) came and we fell in love. She played hide and seek with me, and peek-a-boo, and fed me secret treats from the table. Just when we were getting a bit bored with these games, the BigToy laid on an unexpected and exciting floorshow for all the guests, by setting the chimney on fire. He'd bought some new 'firesticks' from Sainsburys which had been burning quite slowly in the fire for over an hour when, just as we were opening presents, there was a roaring noise in the chimney and on investigating outside we found that roman candle like fireworks were shooting from the chimney pot. The Big Toy ran through to the kitchen and fetched 2 little bowls of water to throw on the fire. The fire in the grate went out but the roaring continued. The Son had the bright idea to run the hosepipe from the garage through the house to the sitting room as a more efficient way of getting water to the fireplace, and for about 10 minutes we all sat in a semicircle around the fire watching the BigToy squirting water up the chimney. When the doorbell rang and a passerby arrived to tell us the chimney was on fire, a decision was taken to ring the fire brigade.

This meant that Pip and I were put into our crates, but I made so much fuss that Little Sis let me out and Big Dave, her husband, restrained me (and nearly choked me to death) for almost the whole one and a half hours that Red Watch's finest Stevo, Mark and Ben worked on sweeping the chimney. We all thought it was very good of them to come out at such short notice on a Bank Holiday and to work so hard for so long (and to look so handsome in the process) for no fee. And they made no mess. And they had all the right equipment to get past the blockage in the chimney which made getting their sticks up very hard work. And they didn't seem to mind performing before the select audience watching and commenting from the stalls. And they all liked dogs. And they took my New Friend, her Dutch Papa, the Big Toy, the Son and Big Dave on to the Fire Engine for a look around, and they gave my New Friend a special book and stickers that she could take to Nursery for Show and Tell. And, according to the assembled females, they were gorgeous. Not that this was of any interest to me - I was far more taken with their special toys and brushes and helmets and gloves. And they were very good humoured, they made everybody laugh, they made everybody feel so safe it never occurred to anybody to feel at all anxious (except of course the OldGirl who was a bit worried that she hadn't cleaned as thoroughly upstairs as she might have done, when they had to go up to check the loft and all internal walls linked to the chimney - we live in the equivalent of a teepee with the fire in the centre of the house). Actually she wasn't too worried as she'd had a fair bit to imbibe at lunch, and had made a token effort to clean upstairs in case anybody wanted to use the bathroom. (Note to Jabari from the Old Girl - tell Jacki that you just never know when 3 gorgeous hunks are going to want to inspect your bedroom - so keep that duster handy!)

The blue flashing lights of the fire engine looked very festive in the snowy twilight as it sat outside the hovel for a couple of hours, brightening up the day for our neighbours, who have shown considerable restraint and not once bothered us with demands to know what happened. Perhaps they don't like to come to the door because of the loud greeting with which I like to welcome visitors.

The BigToy assured the firemen that the chimney had been swept about 2 years ago. Pip whispered to me that it hadn't been done while he'd been resident and he's 3, nor had he ever heard Rosa or Becca mention anybody shoving brushes up the chimney. It has to be said that the BigToy's ability to estimate the passage of time leaves much to be desired. He thought the last excitement laid on for the relatives on New Years Day was also 2 years ago when Rosa and Becca had a spectacular fight over a bowl of trifle. The Old Girl reminded him that this happened 5 years ago, (while Rosa was actually alive) just before he and the Son went off skiing, leaving her and the Relatives to sort out Rosa's emergency operation to remove the canine broken in the course of the fight. He solemnly promised the Firemen that he would get the chimney swept before he lit another fire, and the Sweep came today and found almost a half inch of soot that Red Watch had somehow missed. The Relatives now have very high expectations of what entertainment will be laid on next year. I don't think they'll be able to top 3 firemen, a fire engine and a fire engine driver who I didn't meet. The OldGirl is very cross with herself because at no point while these gorgeous hunks were in her house did she have the presence of mind to use her clever new phone or her dinky pink camera to take any photos of the Firemen, the Fire Engine, the audience, the fireworks from the chimney, me or of Pip who dozed through it all.


Monday 28th December 2009

I have just returned from the sublime gardens of my aunty Mariel and uncle Chris in Kent where I had great fun running with some older females,- Molly the resident and aged soft coated wheaten terrier who is universally loved by all (except for the Jack Russell also called Molly who lives next door, and whom it is our Molly's ambition to kill, dismember and generally destroy for having in earlier years had the temerity to stick her nose through the garden fence - the vet bills run into £1000s for her efforts so far to fulfill this ambition) and Lydia, a visiting and aged rescue rottweiler, who until her arrival in Kent had been on her last legs in Blackpool. It was a good job for me that these ladies enjoyed my company as Pip, who insisted on coming, was not up to the task of guarding, surveying and keeping in check the 14 acres of beautiful Kent countryside, (home to the dexter cattle, retired horses, chickens, geese and wild pheasant) which surround Chris and Mariel's amazing house. Pip has been on antibiotics since before Christmas as he has lost the desire to run, chase and generally have fun. The Old Girl and Big Toy are very worried, but I'm just making the most of all the opportunities allowed by his malaise, twice the turkey, ham, cream, play for me. In my own defence I have stopped teasing him in the hope that he'll soon return to his more reactive self.

I did hear tell that I was getting a new toy for Christmas, something about a squeaky snowman which the Big Toy said made almost as charming and loud a noise as my favourite squeaky pig, but I haven't found it yet. Perhaps it's because we aren't celebrating Christmas at this residence until New Year when all the Derbyshire family come for dinner and presents. Or perhaps it's got more to do with the Old Girl muttering ' over my dead body....' She's been in a strange mood since she got her new reading glasses and made the mistake of keeping them on while she looked in a mirror.... It transpires that at precisely the time in her life when she most obviously needs to wear make up, she has lost the ability to apply it without a magnifying glass. The term 'precisely' should not be taken literally - she's been wearing reading glasses for their designed purpose for at least 15 years! Nobody told her they could be used for anything else. In future she plans only to engage in intimate conversations with people over 60 who have lost their glasses.

I have tried to employ the Old Girl's new present of a very sleek pink mobile, but none of us can work out how to use it although it promises to make the tea and wash up afterwards, so I am reduced to communicating from the Big Toy's laptop. As he keeps asking for it back, I'll finish with the observation that much as I love Donald Sutherland, especially in Don't Look Now, what idiot cast him as Mr Bennet in the Old Girl's favourite - Pride and Prejudice? Just to reinforce how old she is the Old Girl calls for 'Three cheers for David Rintoul - the definitive Mr Darcy - eat your heart out Colin whatshisname'.

Both Pip and I keep wondering what we have done wrong in former existences - how come we, the most elegant and beautiful dogs in the history of the world, have returned to the hovel in smoky Ilkeston, while Molly and Lydia (aged, female and verging on the overweight) stayed in the exquisite environs of Goudhurst with open log fires and free range geese to bark at. I liked Goudhurst very much. Having refused Mary and Joseph on their way through the village to the Church on Christmas Eve, the staff and customers at The Vine made amends and had plenty of welcoming room for 2 salukis who were received with the appropriate oohs and aahs, and more importantly treats, once the procession had entered the Church. We are thinking of moving. In the North they like salukis, in the south, west and Wales they like salukis, but in the East Midlands, if you are not a whippet, or related to a whippet, you just don't count.




Thursday 17th December 2009



This is for the benefit of my 2nd reader, the Old Girl's Little Sis, who told me to pull my paw out and get writing 'cos she didn't want to have to wait till next year for my further ramblings. In case you are wondering who my first reader is, and you know who you are, it's my cousin Jabari (JW; ShCh) who likes to know what I've been doing so he can repeat the same tricks for Jacki and Alan, his respective Old Girl and Big Toy. Anyway I'm back in trouble again. I should have seen it coming. It's all down to these blooming haltis. (Just as an aside - there's something funny happening outside - white bits are falling off the sky!)

Back to the haltis, I'd like to send them back where they came from. There is a battle every morning that the Old Girl goes to work. She rises at 6.15 am in the dark, showers, puts on dog clothes and comes downstairs to take us for a walk. Of course we both hide, jump off the settees and into our crates, in the certain knowledge that if we bury our heads in the bedding and can't see her, she won't be able to see us. Obviously she finds us by smell, and eventually gets haltis on both of us and onto a shared lead. She then drags us out into the cold, dark and usually wet morning. By this time she has been downstairs 10 minutes and is running late and swearing at us. Once we are through the door I appear to have given up fighting and trot along beside her with my head up high (so it doesn't pull my face so much), but the Softie Pip struggles all the way trying to get the halti off and with his nose practically on the floor. He hasn't learned yet that it's more comfortable with one's head up, probably because he's never tried that method. Nor has he learned my new trick for punishing her for making us do the walk of shame. It came to me in a flash yesterday morning. Do you want to know what it is? It is so simple and so effective. All you have to do is keep your legs crossed while you're on the walk, and then let it all out when you are back inside the house! And not stop until you've finished, even though she's opened the French doors, tried to shove you through, shouted at you and even smacked you.

It helps if you are like me, a rather unusual saluki who isn't very sensitive about being shouted at or smacked. It would be no good for me if I was sensitive as I get shouted at quite a lot. For months I thought my name was CocoNO yelled at full throttle. Everybody tells them they should discipline me, take control of me and dominate me. I think the only thing they haven't tried is strangling me and that's only cos I can run away faster than them. I don't mind being told off. I like the attention, wag my tail, jump up for a kiss, sit closer for a cuddle, fetch a toy for them to play with and simply do my best to be irresistible by showering them with affection. I am a saluki who does not bear a grudge, unlike Pip, Rosa, Becca and all my forebears. I think they find that quite charming, and it probably explains why I'm still breathing.

Especially with what happened when the Big Girl came home from work yesterday. Because Christmas is coming she got out a very special and rarely seen toy. It makes a lot of noise and makes the floor less gritty and hairy. I like to bark at it and try and jump on it. She grumps around with it, moves furniture and tells me to get out of the way. Periodically she switches it off and digs out clumps of hair and strands of wool from dismembered tug a toys from the head of this noisy beast. Pip who is 2 years older than me ignores it because he has seen it at work on at least 5 more occasions than me. As part of the Christmas clean up the Old Girl had stripped the cover and cushion covers from my favourite settee to wash - don't worry I'll soon have it back to normal. She obviously hoped that a quick vacuum under the cushions of the other sofa would suffice, but when she lifted my blanket off she made a terrible discovery. I'd saved some of my flood for the sofa with the consequence that the sofa, the sofa cover, the cushion covers and the foam cushions had all been drenched. I'd forgotten about it and felt a bit ashamed. Pip told me off worse than she did -'not the done thing, my lad, letting down the good name of salukis' and all that twaddle. Pip prides himself on being a very clean boy, no accidents at all. Obviously I'm talking toilet matters here. Coming in covered in duckweed, mud, slugs, seeds and general debris does not count.

I think the other reason why she refrained from doing me some damage was that she had had a telephone call from the Weald Smokery to say she'd won the raffle prize of a hamper when she ordered one a few weeks ago. For anybody wanting to try their luck next year the address is www.wealdsmokery.co.uk. Great food apparently, not that we dogs get to eat much in the way of smoked venison and duck, unless we are very sneaky and quick. The Old Girl is quite precious with her food, guards it with her life, but the Big Toy has lost his dinner (meat and potatoes - not brussels or beans, thank you very much) on more than one occasion through sheer absent mindedness or the stupidity of leaving it unattended for the briefest of moments.

The result of my little mistake yesterday is that the washing machine has been working non-stop trying to keep up with all the covers that need washing. The Old Girl has been reduced to using biological washing stuff to try to deter me from repeating the same thing in future. She is very upset about that as any contact either of them has with anything washed in biological stuff brings them both out in big itchy ugly red rashes. Another way of keeping them off at least one of my preferred seats.

She's fighting a losing battle trying to get the place looking fit for Christmas anyway. Nobody except the closest of family (maternal grand-dam and Little Sis) has been allowed across the threshold since shortly after my arrival, because the place is such a mess. Only people with impaired senses of smell, sight and hearing would willingly accept an invitation to the hovel in which I am forced to dwell. It most certainly is not fit for a saluki or two. I do not take full responsibility for the state of the place. Pip also helped with tearing the wallpaper off the dining room wall. He also contributes a significant amount of hair to the environment. If truth be told it is Pip who insists on going into the downstairs loo for a drink, Pip who has dug up the downstairs loo floor tiles trying to get out, and it is me who realises where he is and me who goes and pushes the door open to rescue him. I suppose I do do most of the barking whenever anybody dares to ring the doorbell, and I do sound quite fierce. We take it in turns to try to shred the the rugs or scratch the wooden floors. The accumulated odours of damp dog, pigs ears, wet washing, the BigToys shoes, mice in the garage, the Son's leftovers, the Old Girl's boots, and little accidents mean the Old Girl has not issued any invitations to their wonderful friends to visit for almost a year. She and the BigToy are nonetheless eternally grateful to the support of their non-saluki owning friends, Pat, Sue and Mike, and Fiona and Russell, who have collectively made an almost unbearable time tolerable. (And it definitely was not my fault that both of their former employers chose to behave badly in the same week. It was just a coincidence that the Old Girl sprained her ankle walking with me in the Dales at the same time). I think they should also be thanking their lucky stars for the maternal granddam ( who I lurve - but who isn't always sure about me) and the Little Sis and her brood for everything.

Today is special because the maternal granddam (who I lurve) is moving in up the road. I keep expecting to get chucked off the computer while the Old Girl goes to help unpack, but there is so much packing to be done at the other end the removal men are not ready to leave yet. They've still got to get the big settee downstairs! (Another aside - that white stuff dropping from the sky is now all over the ground, and the Old Girl has just made me go out in it even though it is very cold. She didn't even let me put on the gorgeous (but pink) new coat she bought last weekend at LKA. Never mind - I'll get my own back while she's out unpacking - hee, hee, hee). I also keep expecting to be cast off the computer because for the past few months it has been turning itself off without warning when it has had enough. Sometimes it just refuses to work, sometimes you only have to look at it and it shuts down. So the Son has decided that the week before Christmas is a good time to send it back for repair. Perhaps they'll see it again in Spring. This could be my last missive for a while.

Today is also special because tonight I am going to my first Christmas party at my Ringcraft class. I make a point of being good there and nobody who sees me at the shows would think I was the same dog. Pip went to the Agility Christmas party last Sunday with the BigToy. They had a great time, coming last in every race - sausage and spoon race, sackrace and recall race. They also got there too late for the food. The Bigtoy's excuse for coming last was that he has a hernia. Pip's was that he couldn't concentrate with the Bigtoy trying to jump about in a black bin liner, and he preferred chasing the other dogs in the recall rather than return. The Old Girl and I had been invited but she declined on our behalf, saying that 3 hours in a cold equestrian centre with loads of yapping dogs was more fun than she could cope with.

MERRY CHRISTMAS AND A HAPPY NEW YEAR 2010 TO BOTH MY READERS.


Sunday 6th December 2009
I don't seem to have done anything much lately to write home about, except go to shows, and come last. The paternal grand matriarch says this is because I have been behaving particularly badly, but the Old Girl thinks I always behave the same way, and the Big Toy who actually takes me into the ring thinks I'm getting better! The Softie Pip has been doing quite well at the shows where the judge doesn't like me, but I was doing OK at the shows where the judge didn't like him. We have in the past been to the occasional show where the judge liked both of us, and even more shows where the judge didn't like either of us. What can I say - it's a trip out and a chance to humiliate them for continuing to make me wear the halti. They've even made the Softie wear one which has done nothing for his temper and he's even started getting very cross with me if I nip and bother him too much. I think he's taking his displeasure at the halti out on me, because he always used to let me get away with blue murder. The Old Girl says it's because Pip can read a calendar and knows I'm not a puppy any more and must mend my ways.

Speaking of calendars - have I mentioned that there is an enormous photo of me in the SGHC calendar for next year - sunning myself in the field. I am well chuffed. Naturally all the relations will be getting a copy of the Calendar for Christmas. Won't they be chuffed? I have heard mutterings from the relations about the Old Girl and Big Toy 'thinking more of those damn dogs' than they do of the relations, but after a quick poll with other salukis I learned that that is not unusual. Most relations of most saluki owners think the salukis come first (as of course we should). Mind you the Son has threatened to move out if the Old Girl forgets his name and calls him Pip or Coco again. As this is inevitable the date has been set for 4th Jan 2010. So he'll need a calendar too. I must remind her to order another one.

Anyway my latest news is that I am to have my own page on another website being set up by Karen Smith for Caryna Salukis. I'm trying not to take it too hard that the rest of them are all Champions or have CCs and RCCs after their names, (but I am in the calendar!) To see my page (when Karen has received it), and those that already exist go to www.carynasaluki.webs.com. On this page I will go by real name which is Caryna Curetes, but everybody calls me Coco or monster cos nobody knows how to pronounce Curetes. Most people think I'm named after the clown - can't think why, but actually, and I think this might be even more insulting, I'm named after their email address.

I should by rights be in the pub by now (that is if they'll let me in again cos I made the mistake last week of having a colossal flood in the bar which took several grown men by surprise and an inordinate amount of time to clear up), but the Big Toy is late back from a NSC committee meeting and the pub will be too full to accommodate us. We'll just have to go to the field again instead. Perhaps today I won't chase Pip into the river, normally not a problem, but yesterday it was so deep and running so fast he actually had to swim hard to get out. He wasn't pleased with me and showed me the full force of his anger by baring his teeth at me and grumbling. He has got quite a lot of big teeth. It's been so wet even the boggy patch fully resembled a pond, as I discovered too late to stay as dry as I prefer. Pip took refuge in the pond and dared me to come in after him but having got drenched once I just ran around the edge.

We have just returned from the field. I've never seen it like this with the entrance calf high in water, but Pip tells me that last year it was over knee high in water for some weeks, and the Old Girl, having shorter legs than the rest of us, couldn't get in at all.. Pip did not have to go far to get into the river as the river had come into the field. The dustbowl under the M1 was flooded so we couldn't get into the other 2 fields or to the pond. To make up for this I tried very hard to chase Pip into the field high river which was racing past, but the screams of 'no' in unison from the humans just stopped him on every occasion and I got put on my lead for pestering him. No fun at all.

I am usually a very happy and bouncy chappy, but I was very upset to hear from the Old Girl that Zendi, a ring mate/rival of Pip's, has died. We don't know how, but we are very sad for the family. Pip says he was a lovely gent, always behaved very well, so all our thoughts are with the Shakespeares and the Cairdeans. On this very sad note I am going for a rest. (Editor's note. A lovely photo of Zendi in action is in the calendar for March).


Saturday 7th November 2009
Today is another special day, because my big soft mate Pip is in the doghouse and I'm not. In fact I'm quite flavour of the month with the Old Girl. (The Big Toy mentioned that although she is the only Bitch in the house, some females object to being described as bitches, so to stay in her good books I'm trying to rename her in my head). I'm not sure what I've done right, but I do know that Pip has 'got it on him' according to the Old Girl. I don't know what that means either, but I don't think it's good. He does not look any different to me, still wet, muddy and featherless, perhaps a bit noisier than usual with lots of impatient moaning waiting for our walk, waiting to reach the field, waiting to get in the garden, waiting to dry and waiting to be released from the doghouse.

Anyway as well as not being in trouble today I particularly enjoyed our trip to the field this morning. The sun was shining, the rabbits were racing, and I had the pleasure of watching Pip jump the railway fence to follow a fox across the railway line. Most of the foxes we see are near home when we are on leads so we can't give them what for, but today we both noticed the fox at the same time and went hell for leather after it.

Although I did manage to jump over a gate into a field full of cows while in the Yorkshire Dales last week ( after only one pre-agility class), something Pip had never thought to do after 18 months of agility training, I did not think one bedraggled fox merited me leaping over a 5 ft fence through brambles and nettles. I decided discretion was the better part of valour and left the showing off to Pip who flew over the fence as if it wasn't there and disappeared. He completely ignored the Big Toy's and Old Girl's screeches to Stop, Come, and No, probably because he didn't understand what they wanted him to do. Naturally they grabbed hold of me and made a big loud fuss of me. This seemed to have the desired effect because Pip turned up further up the line on the other side of the fence. Of course he couldn't remember how to get over the fence, and the Big Toy had to somehow lift him back over. Good job he's tall.

We were allowed back off the lead once we'd got past the M1 bridge where there are loads of nettles and thistles, so we don't like walking through that bit. We had another good chase which always ends with Pip in the river, and then back to the car and home. As soon as we got in Pip asked to be let out into the garden, and came back in with muddy feet - he'd obviously been digging holes without me. The Old Girl took him straight out to hose him down, and while she went to get a towel to dry him, he ran off and dug another one. Once she'd repeated the hosing down and dried him he was marched into his crate and told to rest. Of course I had been too tired to join in the garden adventures and had just found a nice clean chair to snooze on, so I didn't have to go in my crate. In fact I haven't moved since. I'm a good boy!






Wednesday 14th October 2009
This morning has been quite exciting as the Bitch decided to take me and my soft mate Pip out for a long walk without the Big Toy, who has suddenly taken to disappearing early every morning just after he's broken something in the bathroom and disturbed my sleep. It's not the noise of the crash that wakes me but the bad language that follows. Yesterday it was a glass soap dish dropped into the shower and today an expensive bottle of the Son's aftershave. We are not looking forward to tomorrow's offering.
You might think going for a walk is nothing to write home about, but this was a novel experience, as due to circumstances beyond my control, the Bitch has not been amenable to walking with me and Pip without company.

I knew something was up when she put this strange thing on my face and attached my lead to it. I DO NOT LIKE IT. I made so much fuss that she eventually took the lead off and reconnected it to my beautiful collar. But she refused to take the thing off my face. I've seen my sister with one of these things on her face, and apparently my Breeder, who is normally right about everything, swears by them for stopping us pulling. She left it on my face and no amount of rubbing my head against any number of objects including her would dislodge it. I AM NOT HAPPY. It's not fair. She didn't put anything on Pip's face and he's stronger and faster than me, even though he does let me bite him incessantly. He used to have ear feathering before I came along and I soon put a stop to that.

She walked us miles on short leads. We met several other dogs, and she just would not let me get to know them. She wouldn't even let me bark or growl a greeting. She's no fun, and in the end I decided to just trudge along next to her. Then we got to a field with nobody in it and she let us off the leads. So to spoil her fun we decided not to have a run, and that softie Pip even did some waits practice. Of course he got treats for doing nothing for 2 minutes, but I wouldn't demean myself by joining in for the rubbishy treats she'd got in her pocket. I was a bit tired after the running in the field we'd done yesterday, and I am only a puppy and wanted a drink of water. She'd taken us to a stream on the way to the field. The softie had gone in as usual, but I'm a rather superior being who doesn't like getting his feet wet. She tried the stream again on the way back, but I still refused to drink. I made it plain I just wanted to get home, so she took us on a short cut.

The short cut involved crossing a bit of a ditch which had filled with water since the last time we'd crossed it, so the Bitch, holding a lead in each hand, jumped across safely, telling us to jump at the same time. BUT WE DIDN'T. Of course, as she'd taken us out on short leads, and with the ditch being a couple of feet wide, what with her being on one side, us being on the other, and my flash of genius to move backwards away from the ditch and dig my heels in, I GOT MY OWN BACK ON HER and she fell in. More bad language. She belatedly let go of both the leads so Softie and I had a quick conflab, and considered racing away into the wide blue yonder, but on mature reflection decided that it would be more fun to jump the ditch and watch her limp home with a boot full of stagnant ditch water. I don't know why she complained so much. Only half of her fell into the water, the other half was dry. Actually it made her smell more interesting than usual, so I was quite keen to be near her. Softie also likes a strong scent to sniff at, so he didn't mind.

The downside of this achievement is that she disappeared as soon as we got home, flinging boots, trousers and other interesting garments on the floor, and hasn't spoken to me since. I think she's having a sulk. We've been giving her lessons, but she's got a long way to go yet. After all sulking is a saluki speciality. Pip's actually better at it than me, but I'm learning fast. When she comes out of hers I'm going into one of my own because I've still got this damn thing on my face!